Over the years, I've taken a huge variety of energy bars and food on rides. These are a quick review some of the bars I buy most often.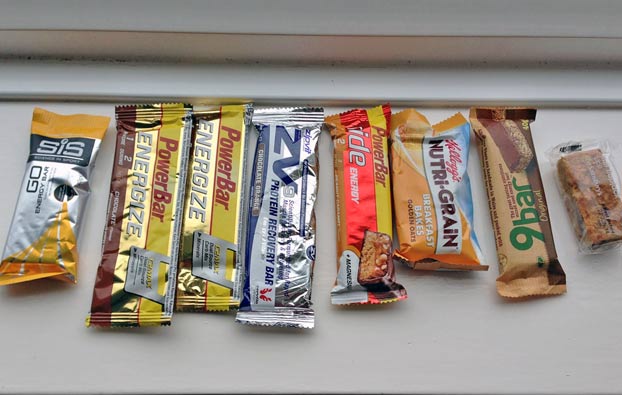 What to look for in an energy bar?
High level of carbohydrate / low fat.
Mostly complex carbohydrate, with some carbohydrate which sugars. Medium GI index.
High concentration of energy for size.
I tend to take a variety of energy bars. I'm not particularly fussy which brand. But, a bit of variety helps in various aspects – even if just making eating of the bike more palatable.
Specific Cycling energy bars vs non-Specific energy bars
For a specific energy bars developed for the cycling market, you will pay around £1 – £1.50. You can get a similar level of carbohydrate through much cheaper non-specific energy bars. For example Kellogg's Nurti Grain contains around 35g of Carb, but only costs 40p. If you don't want to pay £1.20 for 30 grams of carbohydrate, you don't have to.
However, I still like to pay 'through the nose' for branded energy bars because:
Psychological habit. You just assume if it's more expensive, it must be better. ( a common attribute of cycling shoppers)
The energy bars tend to be more concentrated, and relatively lower fat.
I would get bored of eating Kellogg's Nutri Grain and the like all the time.
I always like to believe manufacturer's claims that eating their energy products will make me go '15% faster' – even if it is rather a dubious claim!
Proprietary energy bars often contain trace elements and electrolytes which may help in different aspects of nutrition and energy consumption. (even if I'm not entirely sure how)
It's handy to buy a big box of 24 energy bars. You always have something in stock to take on long rides.
Some of the best Energy bars I buy
Powerbar 55 gram- Energize
Contains slow release carbs, = brown rice, oats and maltodextrin for slow release energy.
Contains 2:1 Glucose / Fructose, which is claimed can increase total energy uptake
Some electrolyte (sodium) + vits and minerals, such as magnesium.
1.9g fat per bar
38 gram of carbohydrate (sugars 23g) , per 55 gram bar. Quite a high % of carbs which is sugar (from fructose)
Review: Quite concentrated energy source. Needs a bit of chewing and you need to take some water with it. I do like the taste of the chocolate variety. Not too sweat.  Good for long rides, and very thin for slipping in  back pocket. One of most expensive though. I wouldn't use in a race, because it does slow you down a little chewing through the bar.
25 *55g Powerbar at Wiggle £29.99
Torq 45g Energy bar
Mixture of GI foods. usual maltodextrin, oats, plus fructose based energy
30 gram of carbohydrate per 45 gram bar 22g sugars)
Review: These are pretty enjoyable to eat. They are moist and tasty. This is important for long rides, where you often need something attractive to get you to eat. 30 gram of carb makes it easy to calculate – 2-3 an hour. I wouldn't just rely on eating these on a very long ride, it becomes a bit too much fruit.
Zip Vit Protein 55g Recovery bars
20 gram of whey protein. 25 gram of carbohydrate
Manufacturers say: 'Synergistic blend of vitamins and antioxidants'
Review: Takes a while to eat. It's not so moist. You need to take a drink too. Taste is fine. I like to take a protein recovery bar towards the end of a long endurance ride or at the end of a race. They are convenient to eat after a ride, if you are waiting for meal. Some studies suggest that carb / protein can be a good fuel source for long rides. It's important not just to rely on carbs if you're cycling all day.
20*55 gram Zip Vit recovery bars at Wiggle
SIS GO Energy 40gram mini or 65 gram
The 40 gram mini variety I have gives 25 gram of carb.
The 65 gram variety has 44g of carb and 8 gram of protein. (26g sugars)
80% calories carb, 20% protein
Low fat 1.3 gram per 65 grams
Review: Taste fine, and quite easy to eat. It's quite concentrated source of carb. You can eat the mini ones quite quickly as they are quite small. These are designed to be 4:1 carb to protein, and are less fructose heavy than other varieties.
24 *65g bars at Wiggle
Other energy bars
A reader mentioned CNP Flapjack because it has a low % of carb which sugars. Per 100 grams
Carbs 51.3g
Sugar 6.9g
Polyols 13.7g
This is one of lowest 'sugar sources of carbs. I haven't tried CNP flapjack.
Non Cycling Specific Energy bars
Out of interest, the nutrition information for some non-specific energy bars.
Kellogs Breakfast Bake Nutrigrain 45g
31g carb – 18g of which sugars
4g of fat
2 g of protein
Major ingredients include cereals 34%,  glucose-fructose syrup
Review: Looking at the energy information, it is much closer to other branded energy bars than I expected. It probably makes a fairly unhealthy breakfast with all that glucose-fructose syrup. But for cyclists on the move, it is quite similar in energy sources to other more expensive energy bars. I'm not overly keen on the taste, and it takes quite a bit of chewing. But, for endurance rides, these make a much cheaper addition and help to keep your costs down.
9 Bar seeded
I bought this on a whim because it's sometimes good to take a break from gluten, diary and the like. This is quite a different energy source, composed of seeds, hemp and cereals. The nutrition and energy source is quite different.
They have a higher concentration of fat. Though the 9Bar website says this is the 'good' type of fat.
The carbohydrate level in a 45g bar is quite low at  around 11g.
There is a substantial amount of protein at 12g
Review: These are a real alternative to all the other energy bars which concentrate on glucose / fructose. These are good for long endurance rides, where you fancy some real food. I like to have one as a counterbalance to all the other types of energy bars. I wouldn't use for a very specific event where you are trying to maximise carb intake. But, you don't always need that when cycling.
You might be able to get free samples for 9 bar website
Pack of 16 for £15.99 at Amazon
Banana
You couldn't review energy bars without mentioning the cyclists ubiquitous favourite, the humble banana.
27 gram carb
422mg of Potassium (natural electrolyte)
0g fat
1.2g protein
Medium GI of 51 (lower for an unripe banana)
No wonder it's an appropriate food for cycling. The only thing is that it is more bulky so there is a limit to how many you can stuff in back pocket. But, cheap and good energy. Also tastes good!
Related