Now the winter is  officially and very firmly behind us (cue return of rain, sleet and snow) it's time to take off the winter road tyres and choose the best summer road tyres for all the upcoming halcyon days of riding on dry smooth tarmac in temperatures approaching the mid 30s.
Depending on the tyre you choose, there can be a big difference in terms of rolling resistance –   up to  30 watts worth between best and worse performing. Also, The faster you go, the more you will notice the difference.
Over the years I've tested quite a few different road tyres. To some extent it becomes hard to choose between different models. But, the good news is that I feel the technology of tyres has improved in recent years, giving cyclists a really good choice of tyres. Because I have so many sets of wheels, I'm often riding several different types of tyres / tubulars at the same time, which gives an idea of how different tyres compare.
I would say the golden rule of buying tyres is don't penny pinch. It is invariably worth getting a relatively expensive tyre. The cheapest models of tyres tend to be poor value.
When choosing tyres, it is always a trade off between different factors
Low rolling resistance
Low weight
Puncture resistance
Aerodynamics
Grip on the road
Ease of maintenance – changing in case of puncture e.t.
Generally racing tyres will be light, low rolling resistance, but you sacrifice some puncture resistance. I'm often torn between using the lightest tyres and risk having to walk along a dual carriage way because of puncturing. It is only on hill climbs that I really throw caution to the wind and ride track tubulars which are ridiculously light. For my general road bike, I tend to go for a good all-rounder, like Continental Gatorskin / 4 season. For racing, I use tubulars – either Continental Competition (Good puncture protection, but definitely not best rolling resistance) or Corsa Crono Evo)
Fastest tyres
When buying tyres, it is hard to know the rolling resistance that the tyres offer. From trial and error and testing, you can notice a difference between different tyres – especially when doing time trials, but it is always tricky to measure exactly. The graph below shows the power required for different tyres, which were tested at Continental in Germany Link. If it was tested at Continental, it's interesting that Continental tyres don't come out so well on the rolling resistance.
The test shows the rolling performance at 7 bar (101psi) and the power needed to overcome rolling resistance of the tyre. This shows, there is over 20 watts difference between the worst performing tyre (Hutchinson Top Speed) and the best performing tyre. With a threshold power of 300 watts, 20 watts is a lot to give away to a slow tyre.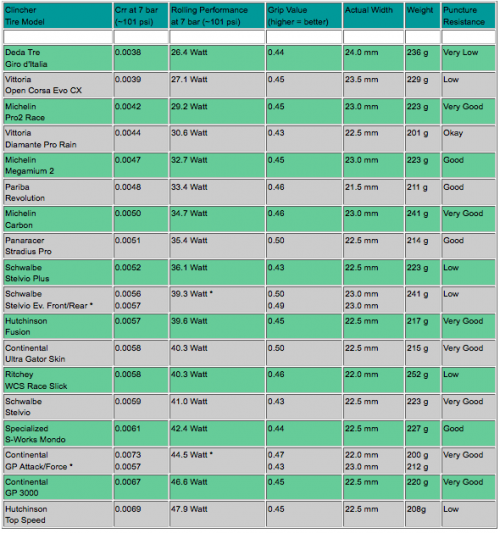 Vittoria Open Corsa Evo CX
I have used the Vittoria Open Corsa Evo, but I was probably put off re-buying by the relatively poor puncture protection. However, looking at the rolling resistance, it is a tyre which is really focused on performance, with very low rolling resistance. If you want one of the fastest tyres, this is a very good choice. The weight is just 210 grams for the 23″ option.
Vittoria open corsa evo at Wiggle RRP £49.99 on offer at £29.99
Michelin Pro Race 4
I haven't used the Michelin Pro Race 4, but I'll include it because it comes out very well in the above test. With very good puncture resistance, it still scores very well in terms of weight and rolling resistance. It also comes in a model Pro grip, which the manufacturer claims offers 15% better grip in the wet and has 15 g extra of Aramid layer of puncture resistance.
Schwalbe Ultraremo zx
I tested this for 3,000 km one recent summer. It is a slick racing tyre, weighing only 195 grams and has low rolling resistance.
Grip in the dry is very good. It performed less well in the wet, so as usual be careful on wet descents. However, I've had no major problem with lack of grip. I used the tyre on hilly rides across the Lake District, Yorkshire Dales and Oxfordshire. It performed well on gritty roads and the ascents and descents of Wrynose pass / Hardknott pass – despite tricky roads. I've never had a road tyre which fits on so easily. It is very easy to work with. The rubber feels quite smooth and supple. Definitely no tyre levers are needed to fit onto the wheel. No rear wheel puncture in 2,500km – lucky or good tyre, not sure!. It did wear relatively quick, so I changed before my luck ran out.
Continental Grand Prix 4000 / 4 Seasons
 I've probably done more miles on Continental Grand Prix 4000 than any other tyres. A few years back I did have a problem with splitting sidewall tyres. But, I still went back and bought some more . Since then I haven't had a split in sidewall. Either the model has improved or it was bad luck with the old model.
They are quite long lasting, and are a very good all rounder – very good rolling resistance (with Continental Black Chilli compound). The research by Velo News (below) also suggests they are amongst the top 10 tyres. They have good puncture protection (Vectran belt). I have punctured on them quite a few times, so they are definitely vulnerable – but that is partly a reflection of the sheer number of miles. They can be a little rigid and hard to fit. Not ideal when punctured by side of road. Continental do two models:
– GP 4000 – lightest version.
– GP Four Seasons – extra 35 g layer of puncture protection. So you can decide which is most important.
Weights for Continental Grand Prix 4000 II: 225g (700 x 25), 235 (700 x 28)
Best puncture proof tyres
Having examined all the lowest rolling resistance tyres, there's a lot to be said for just leaving your winter road tyres on your training bike. Given the state of the road, I tend to prefer a heavier, tough road tyre at least on my rear wheel. Unless you're racing or competitively riding sportives, there isn't a huge difference in terms of performance. On the other hand, it is nice to feel the lowest rolling resistance. But, if you are more conservative, these tyres offer very good puncture protection.
Continental Gatorskin
The Gatorskin is a good solid all-rounder. It is easy to put on. Good puncture resistance, and has reasonably smooth rolling resistance. It is quite light given levels of puncture resistance. (23″ only 230 gram and 25″ 250gram) I've had current pair on for nearly a year, and is showing remarkably little wear. There feels little incentive to change just for upcoming season. The Gatorskin Hardshell is an extra 50 grams or so to give even better puncture protection. But, for summer, I would choose the lighter Gatorskin.
Gatorskin at Wiggle (RRP £32.99, – £25.99)
Armadillo All Condition
This is a tyre for those who don't care for rolling resistance, but really want to limit punctures. You definitely notice the difference to a lighter road tyre. They are heavier, and the  rubber is quite hard. The hard rubber makes it resistance to cuts and abrasions, but it does mean it rolls slower.
Armadillo Tyres £30 at Evans Cycles
Schwalbe Durano Plus
Perhaps the best puncture resistance tyre comes from the Schwalbe Durano Plus. I have these on my commuting tyres and they are almost puncture proof. You can take them on a training bike, though again the extra weight is noticeable.
Schwalbe Durano Plus at Wiggle (RRP £37.99 – currently reduced to £24.99)
Best size for road tyres
Modern thinking suggests wider tyres can be have less rolling resistance than thinner tyres. This may sound counter intuitive. But, the wider the tyre the less length needs to be in contact with ground.
25″
Research on best road tyres
Top 20 Road tyres
Click to enlargeSource: Velo News
Alternatives
There are many alternative clinchers, but it's hard to mention them all.
The main alternative to clinchers is:
Riding tubulars – generally faster, but more expensive / difficult to mend when you puncture.
Tubeless tyres
I investigated riding tubeless technology quite a lot because I bought a tubeless ready wheel by mistake. It has many claimed benefits with the prospect of avoiding 'pinch flats'. I was put off by the cost and the necessity of getting extra stuff to seal tyres. Also they can be  hard to get on (something I experienced with a tubeless wheel). However, I did get a tubeless tyre and can see results here: Tubeless
I think I'd rather ride tubulars than tubeless. But, that's for another post.
Related