For tyres and tubulars there is generally a well-known trade-off
Low Cost
Low rolling resistance
Puncture resistance.
Low Weight
It is impossible to have all four targets met. Even if money is no object, you still have to choose a tradeoff between low rolling resistance / low weight and puncture resistance.
I spend more time researching and choosing tubulars to buy than I do anything else. So many combinations, choices, decisions and tradeoffs!. In the good old days, I'd just shove Continental Competition on and have done with it. But, I fear I'm losing too much time with good old Continental Competition. Even now I have an increasing choice of tubulars, I can spend ages trying to work out which tubular to use. In short, there is no easy answer.
When it comes to buying tubulars, I've often caught in two minds. I want to use a lightweight tubular like Vittoria Chrono / Veloflex Record, but then I think about puncturing and walking along a windswept dual carriageway for 10 miles, and I think I might as well stick to Continental Competition.
The problem is that as the competition gets more intense, and you look harder for marginal gains, the idea of getting better tubulars becomes more attractive.
Front Wheel / Back Wheel
Another consideration is that the rear wheel is more likely to puncture / more likely to wear down because it is the rear wheel which transmits your power output. Therefore, it is a good idea to consider getting a slightly more reliable (heavy) tyre for the rear. I generally risk lighter tubulars on the front wheel.
Conditions
In an ideal world, you would change your tubulars depending on conditions. For a dry day on a nice smooth dual carriageway, It is worth risking a proper track / timetrial tub like Vittoria Crono. Also, if you think you've got a chance for a PB, it makes sense to choose the fastest tubular. But, if you're doing a 30 mile hilly time trial on rough roads in the wet, you have a higher chance of puncturing; in these conditions, it is not a good choice to go for a feather lightweight smooth tub.
I don't particularly like the hassle of changing tubulars before every race – so tend to go for the default stronger puncture resistance. However, I am leaning more towards faster tubulars these days.
Width of Wheel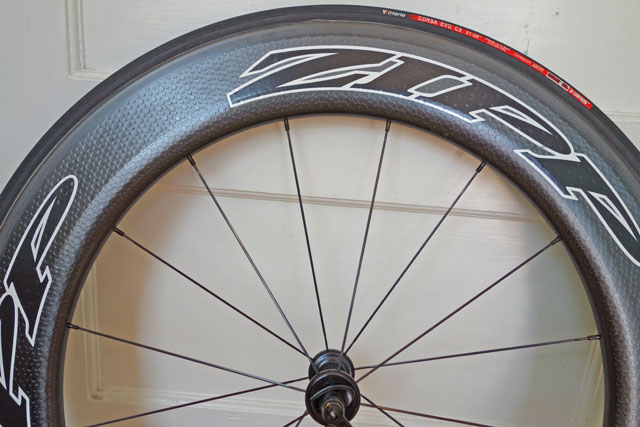 When I got into cycling, I made the 'schoolboy error' of buying 18′ width tyres. I made the assumption that the more narrow the tyre  – the less rolling resistance there will be. Nowadays, you can hear the fastest tyres are 25′ even 28′. There are conflicting reports, but I'm happy with anything – 22-25. Perhaps slightly wider at the rear is preferable. I heard Team Sky use 24.5′ width tubulars – I'm not sure how they calculated 24.5 is better than 25.  But I wouldn't lose too much sleep if you have a 23′!
Too many models
The reason that I revisited this post is that whenever I go to buy tubulars, I always spend hours trying to find the best tubular. One problem is that companies make a bewildering array of tubulars – just as you get used to one model, you find it has become discontinued and you can't buy it anyway. This happened yesterday with Veloflex Record Sprinter – I couldn't find anywhere to buy it.