For tyres and tubulars there is generally a well-known trade-off
Low Cost
Low rolling resistance
Puncture resistance.
Low Weight
It is impossible to have all four targets met. Even if money is no object, you still have to choose a tradeoff between low rolling resistance / low weight and puncture resistance.
I spend more time researching and choosing tubulars to buy than I do anything else. So many combinations, choices, decisions and tradeoffs!. In the good old days, I'd just shove Continental Competition on and have done with it. But, I fear I'm losing too much time with good old Continental Competition. Even now I have an increasing choice of tubulars, I can spend ages trying to work out which tubular to use. In short, there is no easy answer.
When it comes to buying tubulars, I've often caught in two minds. I want to use a lightweight tubular like Vittoria Chrono / Veloflex Record, but then I think about puncturing and walking along a windswept dual carriageway for 10 miles, and I think I might as well stick to Continental Competition.
The problem is that as the competition gets more intense, and you look harder for marginal gains, the idea of getting better tubulars becomes more attractive.
Front Wheel / Back Wheel
Another consideration is that the rear wheel is more likely to puncture / more likely to wear down because it is the rear wheel which transmits your power output. Therefore, it is a good idea to consider getting a slightly more reliable (heavy) tyre for the rear. I generally risk lighter tubulars on the front wheel.
Conditions
In an ideal world, you would change your tubulars depending on conditions. For a dry day on a nice smooth dual carriageway, It is worth risking a proper track / timetrial tub like Vittoria Crono. Also, if you think you've got a chance for a PB, it makes sense to choose the fastest tubular. But, if you're doing a 30 mile hilly time trial on rough roads in the wet, you have a higher chance of puncturing; in these conditions, it is not a good choice to go for a feather lightweight smooth tub.
I don't particularly like the hassle of changing tubulars before every race – so tend to go for the default stronger puncture resistance. However, I am leaning more towards faster tubulars these days.
Width of Wheel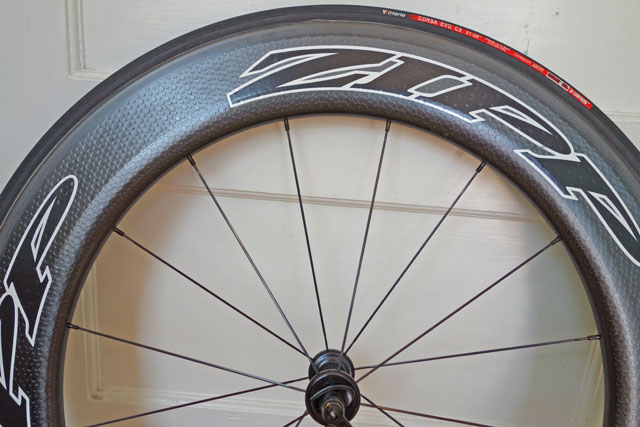 When I got into cycling, I made the 'schoolboy error' of buying 18′ width tyres. I made the assumption that the more narrow the tyre  – the less rolling resistance there will be. Nowadays, you can hear the fastest tyres are 25′ even 28′. There are conflicting reports, but I'm happy with anything – 22-25. Perhaps slightly wider at the rear is preferable. I heard Team Sky use 24.5′ width tubulars – I'm not sure how they calculated 24.5 is better than 25.  But I wouldn't lose too much sleep if you have a 23′!
Too many models
The reason that I revisited this post is that whenever I go to buy tubulars, I always spend hours trying to find the best tubular. One problem is that companies make a bewildering array of tubulars – just as you get used to one model, you find it has become discontinued and you can't buy it anyway. This happened yesterday with Veloflex Record Sprinter – I couldn't find anywhere to buy it.
If you look at Veloflex, their product line of tubulars includes:
Eroica
Roubaix
Arenberg
Criterium
Carbon
Sprinter
Extreme
Record 28″
Record 26″
Great for professionals who can have free tubulars for different races, but most amateurs are not interested in such a range.
Even the Record 28″ was out of stock at Wiggle, so I ended up going back to the drawing board and trying to decide which tub to buy.
Best Tubulars for Time Trials
Continental Competition
I would recommend Continental Competition for those looking for best puncture protection. They are one of the most popular tubulars amongst pro-road teams. I've ridden on these for several seasons. I've had a few punctures, but they have been really quite infrequent. The problem is that now I'm looking for marginal gains, I feel I need to take the risk of getting some faster tubs and increase risk of puncture. I even used to use these in hill climbs, which is a bit silly because they weigh 230-240 grams. I've been through several through the seasons – they last reasonably well – probably one of the best durations for tubulars.
Another thing I like about Continental Competitions is that there are not several different named variations.
Overall: You can't go wrong with Continental Competitions if you're looking for a good allrounder. But, for time trials, they are not the fastest.
Weight – 240g
Puncture protection – good
Rolling resistance – medium
Use – all round
Cost – RRP £74.99 (Wiggle £59.99)
Vittoria Corsa G+ Isotech
I have used Vittoria Corsa for quite a few years, but this year switched to new model Corsa G+Graphene. Graphene is a new material used in tyres. It is extremely thin, made from a nearly transparent sheet of pure carbon. Vittoria uses Directa Plus Graphene called G+, which is 2 to 8 atoms thin. Vittoria claims that the tyre becomes responsive to how the rider is riding. When rolling straight it is at its hardest and rolls quick. When cornering, it becomes more subtle to enable better cornering.
The puncture resistance is really quite good. They are an extra 20 grams than old Corsa Model, but the rolling resistance feels very good. It seems to be a marked improvement on quite a good tubular. A drawback is that they do wear relatively quickly (though resistant to cuts) and at £82.99 it becomes quite an expensive tyre. But, considering the money spent on bikes, it is still worth spending.
Weights: 270g/295g/330g
Sizes: 700x23c/25c/28c
Threads Per Inch: 320
It is one of the most popular tubular choices for pro road teams.
It has good rolling resistance and is quite grippy in the wet.
Vittoria G+ Graphene tubular tyre at Wiggle RRP £82.99 (£59.99
Vittoria Corsa G+ Speed

The original Vittoria Corsa G+ Graphene is a little on the heavy side. The G+ Speed model weighs lighter – just 220grams for 23c.
PRB 2.0 breaker for excellent flat protection
320 TPI Corespun casing
Latex inner tube is suppler than butyl
Cotton Ribbon
Weights: 220g – Size: 700x23c
Vittoria Corsa G+ Speed at Wiggle (currently £82.99)
Vittoria Crono Evo CS Tubular Tyre
Claimed weight 165 grams (I've weighed mine at slightly higher at 170-180g – they can vary). But it is still one of the lightest tubulars which isn't designed specifically for the track.
Max Bar Rating: 8-14
There is one layer of puncture resistance (. This is more than a track tub, but it is more likely to puncture than say a Continental Competition or Vittoria Corsa Evo
They do feel smoother and faster on the road. In tests, they offer one of the lowest rolling resistance.
This has become my tubular of choice for hill climbs. It has exceptional low weight, and still one layer of puncture protection
I am planning to use these for certain time trials on my front wheel, where conditions are good.
They don't last very long, but then you would only use them for important races.
As you would expect they are more prone to punctures.
The sidewalls are prone to easily disintegrating. Take care of them when transporting.
Air pressure doesn't last very long – after 12 hours, you already need to blow them up again.
Summary
Cost £60-£70 – high
Rolling resistance – low
Weight – very low
Puncture protection – low
Unfortunately, Vittoria Crono seems to be out of stock these days.
Other Tubulars worth Considering
Veloflex Carbons
Veloflex Record 28 Tubular Tyre

Use: Time trial – Track
TPI: 350 Threads Per Inch (140/cm)
Pressure: 9/10 bar (130/145 psi)
Protection Belt: Calicot puncture resistant layer
Casing: Compressed Pes/Co corespun
Rubber tread: Natural rubber exclusive compound
Inner tube: Latex low rolling resistance
Valve: Presta 36 mm with changeable core
Claimed weight: 190g
Veloflex Record are one of the real premium tubulars and have a price to go with it. If you want to go for the fastest speed many advocate using Veloflex record.
RRP – £97.00
Veloflex Record at Wiggle RRP £97.00 (out of stock)
Veloflex Record Sprinter
Last year I bought Veloflex Record Sprinter, which is essentially the Record 28, but extra puncture protection 30g.
See Review of Veloflex Record Sprinter
 Lightest Tubular
Vittoria Pista EVO VS – Track tubular
Weight: 140g (19′), 160 (21′), 170g (23'2)
I bought a 21′ and have only used it in one race – national hill climb championship 2014. An expensive 3 minutes! But, significant reduction in weight on a critical part of the wheel.
How much to spend on a tubular?
The tubulars mentioned here are all expensive. There is nothing under £50. My logic is that it for racing it is worth spending as much on a tubular as you can.
If I used tubulars for training, I would probably look into something cheaper. But, I don't use tubulars for training.
Is it Worth Repairing Tubulars?
These tubulars mostly cost more than £50. If it is lightly used, for the first puncture, I will pay around £15 to get it repaired. If it is worn, I won't. I used to use Peter Burgin tubular repair, but the URL no longer works, last time I used Garry Brown
Testing of Tubulars rolling resistance

AFM Tyre testing – Al Morrison's testing of different levels of resistance from tubulars. Also comments on best glueing techniques Source: Bike Tech Review pdf
| | |
| --- | --- |
| Tubular | Crr |
| Deda Tre Giro d'Italia | 0.0038 |
| Vittoria Open Corsa Evo CX | 0.0039 |
| Michelin Pro 2 Race | 0.0042 |
| Vittoria Diamante Pro Rain | 0.0044 |
| Michelin Megamium 2 | 0.0047 |
| Pariba Revolution | 0.0048 |
| *Veloflex Carbon (Tubular) | 0.0049 |
| Michelin Carbon | 0.0050 |
| *Gommitalia Route du Nord (Tubular) | 0.0050 |
| Panaracer Stradius Pro | 0.0051 |
| Schwalbe Stelvio Plus | 0.0052 |
| *Gommitalia Platinum (Tubular) | 0.0053 |
| *Vittoria Corsa Evo CX (Tubular) | 0.0054 |
| Schwalbe Stelvio Evolution Front | 0.0056 |
| Continental GP Force (rear specific) | 0.0057 |
| Hutchinson Fusion | 0.0057 |
| Schwalbe Stelvio Evolution Rear | 0.0057 |
| *Vittoria Corsa Evo KS (Tubular) | 0.0057 |
| Continental Ultra GatorSkin | 0.0058 |
| Ritchey Pro Race Slick WCS | 0.0058 |
| Schwalbe Stelvio | 0.0059 |
| *Continental Competition (Tubular) | 0.0059 |
| *Veloflex Roubaix (Tubular) | 0.0059 |
| *Continental Podium (Tubular) | 0.0060 |
| Specialized S-Works Mondo | 0.0061 |
| Continental GP 3000 | 0.0067 |
| Hutchinson Top Speed | 0.0069 |
| *Schwalbe Stelvio (Tubular) | 0.0069 |
| Continental GP Attack (front specific) | 0.0073 |
| *Tufo Elite Jet (Tubular) | 0.0073 |
| *Schwalbe Montello 300 (Tubular) | 0.0075 |
| *Tufo Hi-Composite Carbon (Tubular) | 0.0077 |
Source: Tyre rolling resistance
Quick links mostly for my benefit (the tubulars I buy)
Related pages