Getting punctures is often a big discouragement for people taking up / continuing with cycling. Several years ago my parents bought some cheap hybrid bikes They had good intentions to start cycling. But, after one or two rides,  two tyres got punctures and they have been sitting in the garage ever since; I think the idea is that as the family cyclist I will sometime get round to mending the puncture. But, it hasn't happened for a long time.
It's a shame many beginners get put off by punctures because with a bit of preparation, you can make punctures a very rare experience. I blame cycle manufacturers who sell cheap hybrid bikes and put on cheap, useless tyres which are more likely to puncture. I'm sure everybody who buys a bike would prefer to pay an extra £20 to get puncture resistance tyres, but in the pursuit of cheaper bikes, we end up buying cheap tyres – which puncture and then we get put off cycling.
The quick check list for avoiding punctures
Buy the best, puncture resistant tyres.
When replacing an inner tube, be careful to put it on properly. Use fingers not tyre levers (avoid getting inner tube caught between rim and tyre)
Replace worn tyres.
Keep tyres at recommended psi (if too low, they are more likely to get pinch flat)
Avoid the grittiest part of the road, where punctures are more likely.
1. Puncture Resistant tyres
If you buy a road bike / hybrid bike, there are some excellent tyres, which have very strong puncture resistance. This is the best investment and upgrade you can make to any bike. Unless you are racing, don't worry about the extra weight. You won't really notice it for a commute into town, but you will appreciate the reduction in punctures.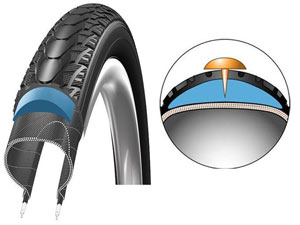 On a commuting bike, I would suggest something like  an Armadillo Specialized All Condition (Armadillo Tyres at Wiggle) or Schwalbe Durano / Marathon
Both tyres are very puncture resistant. I've averaged a puncture more than every 3,000 miles using these tyres. They are very rare.
For summer training, racing, I might choose a lighter tyre, with less puncture resistance, but still pretty good. On a training bike, I often use Continental Dura Skin or Continental Grand Prix. You can see reviews of good road tyres here.
Unfortunately, at the moment it is hard to get completely puncture resistant tyres for road bikes. For some bikes you can get solid tyres, which offer a puncture resistant ride, but I wouldn't want to ride them. When racing I always choose a tyre with good layers of puncture resistance, at least 1 or 2 kevlar belts. For training and even racing, I would rather choose a slightly heavier tyre and have an improved chance of avoiding a puncture. Only on very short hill climbs, will I risk the lightest tubulars.
Good Tubular puncture resistance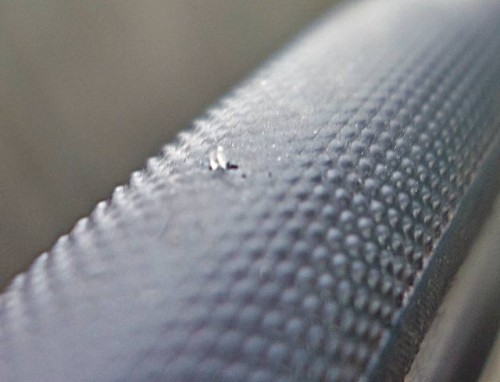 If you ride tubulars, a good puncture resistant tubular is Continental Competition (not the fastest) but pretty hardy. This is my Continental competition, I plucked out a sharp piece of glass from the rubber – no puncture. But most other tubs would have punctured because it's quite big piece of glass.
2. Avoid the grit at the side of the road
Often on busy roads grit and debris accumulate on the side of the road;  riding amongst all this grit definitely increases the chance of getting a puncture. Don't feel pushed into the edge, keep an eye on the road surface and avoid potential problems. (BTW, there is a post here – don't ride in the gutter, but give yourself a good distance from the edge. This gives you room for manoeuvre when avoiding potholes and thorns.)
Also, it's important to look out for potholes, if you ride over a pothole, you can puncture or even worse come off and break your wheel.
Also, there have been times, when I've got off and walked by a newly cut thorn hedge which the farmer has kindly left on the road.
3. Put on the tyre properly – avoid pinch punctures
The biggest cause of 'repeat punctures' is putting on a tyre with tyre levers. This invariably causes a pinching of the inner tube between rim and tyre. To avoid this, it is important to always put a tyre back on with your hands.
This video is good.
One thing I would add is after replacing inner tube and tyre, blow up to 20psi and then go around both sides of the tyre to check you can't see any inner tube caught between rim and tyre. If it is, make sure you get rid of this, as it will cause a pinch puncture. This is especially important if you used tyre levers.

If you want a really amateur video about putting on a tyre. In the days of a full head of hair, and steel time trial bikes. (it only weighed 6kg!)
4. Tubeless and self-fixing slime
Another option is to go tubeless. Tubeless avoids pinch punctures. Also, you can put self-healing slime into a tubeless, so if you do puncture, the slime should automatically seal the puncture, and avoid 99% of punctures. I've gone tubeless on one rear tyre.
5. Correct tyre pressure
At a low tyre pressure, you are more likely to get pinch punctures. This is why mountain bikers are much more likely to use tubeless. By running tubeless, they can run low psi of 30ps – 40psi – without worrying about getting a pinch puncture (inner tube stuck between tyre and rim). If you run ordinary inner tubes and tyres and keep a low psi, you may end up with a pinch puncture.
6. Use new inner tubes
I never use a puncture repair kit. I just buy inner tubes in bulk. At least a failed puncture repair is one less thing to worry about.
8. Check tyres for wear / scratches and embedded grit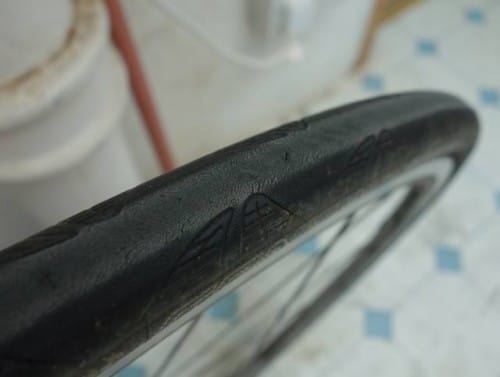 I frequently check tyres for wear. I prefer to replace at early signs of wear. I have seen some riders wear tyres down so much, you can actually see the outer layer is completely gone! This Continental GP 4000 has been worn down by riding on rollers. I could get more miles out of it, but, it's done a good few thousand, so I'd rather replace now.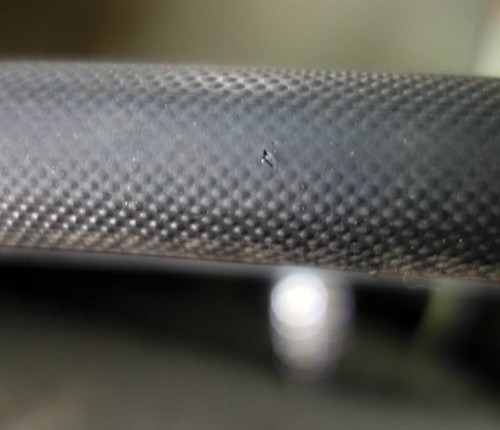 Another good thing to do is to check for pieces of glass that have got embedded in the tyre. I will use a sharp point (nail or safety pin) and flick the grit out. (watch out for your eyes). This prevents the grit getting pushed further into the tyre and causing a puncture at a later date. I usually tolerate one or two scratches in a tyre, but, when they start to look deep or prevalent, I chuck the tyre out. Better to replace too early and avoid that puncture!
9. Make sure there is rim tape on the wheel.
I've had two punctures because the rim tape slipped off the centre of the wheel; this meant the inner tube was in direct contact with metal rim, and this caused a puncture because the metal rim can have sharp edges.
10. Tubulars over inner tubes and tyres
The advantage of tubulars is that they are less likely to suffer from a 'pinch puncture'. But, overall it really depends on the quality of the tubular. For racing, I use tubulars, not so much for better puncture resistance, but they are lighter. However, when you do puncture it is more expensive. So road tyres and inner tubes are better for training.
11. Never blog about how you never get punctures
I once blogged about not getting punctures and preceded to get 5 punctures in a week. But, sometimes you can go a long time without puncturing.
12. Avoid riding in the rain
People often find that riding in the rain causes an increased chance of puncture. I think this may be due to the fact that the water reduces friction and makes it easier for grit to penetrate the tyre. I guess nobody would choose to ride in the rain unless they can avoid it. But, be prepared for higher risk of puncture if it is wet.
13. Ride a solid wheel
You can now get solid tyres which are 100% puncture-proof. They are a bit slower but will last a long time. No air, so no puncture a Korean Company Tannus is manufacturing them. It will be interesting to see if they catch on.
Related