Winter involves a lot of long cold miles on slippery roads. My main priorities for a winter tyre are:
Strong puncture resistance
Reasonable rolling resistance
Grippy in the wet.
Long lasting
Not too difficult to take off rim with cold hands.
Over the years, I've ridden several different tyres during winter. Primarily Continental Gatorskin and Continental 4 Seasons. Sometimes, I've gone into winter with lighter summer tyres still on, like  the Gatorskin, Continental Grand Prix 4000. Sometimes I've gone to the other extreme and ridden really hard, heavy puncture resistance tyres like Specialized All Condition, but find these are just a bit too 'heavy' and slow – even though I never picked up a puncture with these tyres. Generally, it becomes a toss up between spending time mending punctures and being slowed down by heavier tyres. The good news is that even reasonably light and decent rolling resistance tyres are now fairly puncture resistant. There seems to have been improvement in tyre technology since I started cycling 20 years ago.
Best size tyre for winter?
For myself. 25″ is the new 23″ I'd strongly recommend 25″ in winter, especially for the rear tyre. I used to have this idea that the smaller the tyres the faster you go, but it's more complicated than that. There is no discernible difference in speed between using 23 and 25, but you get a bit better grip. I've visited quite a few bike shops this week, and many road tyres seem to be 23″. But, for training, I prefer riding 25″ – especially in winter. 25″ will be perfectly fine for summer riding too.
The Best Winter road tyres
Schwalbe Durano Plus Performance
These are an excellent tyre. They last a long time, have one of the best puncture resistance and have reasonably rolling resistance. It's everything that you want and need from a winter road bike tyre. I've only used one. But, it lasted a good 3,000 miles and I don't remember getting a puncture. I've ordered another one for the rear wheel. It was 33% off which helped. The downside is that it is a bit on the heavy side, the smartguard puncture protection is fairly thick. It means the 25″ tyre weighs 380g (23″ weighs 340g) Compared to the Specialized All Condition it feels it has a little more spongyness, and a little better grip. Though heavy, they are not completely 'dead' and offer decent rolling resistance. Keep them well inflated, and you should get few punctures. The other downside is that, especially the first time, they are hard work putting on; they are very tight to the rim. But, once on you can almost forget about them for quite a while.
Continental Gatorskin / Gatorskin Hardshell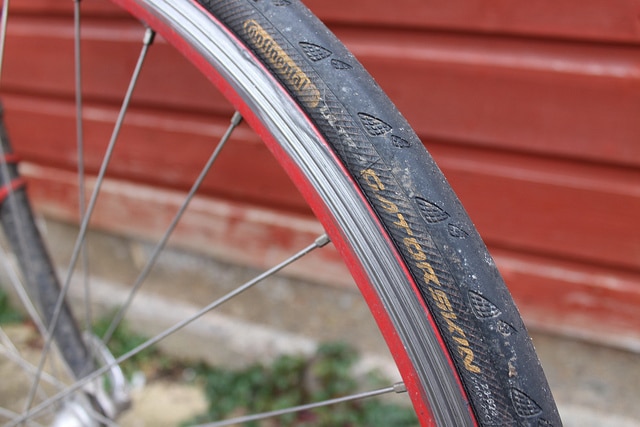 I've used Gatoskin for the past couple of winters. They are relatively light for a winter training tyre, and good enough for summer training too. (23″ only 230 gram and 25″ 250gram) I've left the last pair on almost all year. They are quite flexible and a quite easy to fit.  They are quite fast. However, I want to change them now winter is really setting in.
They have been a bit slippy on recent rides. I got bad wheel spin on a climb to Brill (16%) and nearly skidded out on a damp corner. I might have been better off with a 25″ and it's always slippy in winter. But, I'm going back to Durano Plus for my real mid winter tyre.
Continental have also brought out a Gatorksin Hardshell. This adds an extra 48 gram to the tyre and adds an extra layer of puncture protection. I've had one hardshell variety, and I couldn't notice much difference in terms of  rolling resistance, so the better puncture protection is good for winter. For winter, the Hardshell is  definitely a good option. The Gatorskin are more of an all season tyre.
I find the Gatorksins are very long lasting. I've been riding on the same pair for the past 12 months, which is perhaps close to 5,000 miles on that wheelset. Continental have made progress in making the tyre more resistant to  scratches and sidewall splits.
Continental Grand Prix 4 Seasons
The Continental Grand Prix 4 seasons has probably better grip in the winter than the Gatorskin. It is heavier tyre, and more dependable in the winter. I've used them in the past and they are fairly similar in performance to the Continental Gatorskin, but with a better rubber for winter.
Best puncture proof tyres
If you want to go all out for puncture resistance, I recommend either Specialized All Condition or the Schwalbe Durano Plus. I've used the Specialized All condition for several years now, rarely getting a puncture. If you riding over rough flinty, gritty road, the Specialized seems immune to anything you throw at it. However, I tend to keep it just for my commuting bike now. It's OK for winter training rides, but I found the surface just a little too smooth and prone to slip. Also it is quite heavy and gives quite a leaden performance. The Scwable Durano Plus is probably a slightly better rides, whilst giving a very high level puncture protection.
Specialized All Condition
I have Specialized All condition on my commuting bike. I've sometimes used it on winter training rides, but prefer not. It's just a little too heavy and dead. You don't want to be mending punctures by the side of the road. But my average speed in winter is shockingly low as it is.
Cheaper Winter tyres
If you don't want to spend £30 for a winter tyre, you could try these two:
To be honest, I never use these cheaper tyres, I always feel that spending £40 on a tyre pays you back in terms of good value. However, tyre technology has moved on quite a lot. These days the 'budget' tyres are probably better quality than the 'best' tyres of yesteryear.
Related
External links