24 Hour Champion Michael Broadwith (Arctic Tacx RT) broke the Land's End to John 'O Groat's cycling record in a time of 43 hours 25 minutes and 13 seconds on 16 June – 17 June 2018
According to reports, Michael was well up on schedule – setting a new RRA 24 hour record of 507-511 miles in the process, but towards the end, heavy cold rain made the effort extremely testing – with unscheduled stops to change clothes and try to keep warm. (End to End 2018)
For the last few hours Michael's neck gave way and he was using a neck brace – kindly lent by people in the vicinity who heard about ride. In an interview with Cycling Weekly, (pre-ride) he mentioned
"but if I don't get this record, I doubt it will be my legs that let me down." but fortunately, the cold, rain and non-working neck didn't halt the record. Though, with the near Biblical weather, it sounds a good job, he built up a good buffer in the early part of the ride.
Towards the end of the ride, Michael was in great pain from his neck. But he managed to find a way to support neck and keep going.
"I managed to figure out some cock-eyed method where I was propping my head up with my arm on the aerobar rest like Rodin's The Thinker. At least it meant I could descend under control and fairly fast.

"I had a stern talk to myself; 'for God's sake, chances like this come across once in a lifetime. If you don't carry on you'll think through this moment forever and wonder why you didn't ride for another 20 minutes.'  Article at Cycling Time Trials – Frazer Snowden/Paul Jones
On the final long climb to Berridale, he was hopeful of breaking record
"Then I was actually doing it in the early hours of this morning and thinking 'bloody hell, this is me, in this moment, and I'm climbing up Berridale and I'm going to nail this record, my friend Des running alongside. I have to remember it because it is a perfect moment in life where I'm actually living the moment that I wanted to live in incredible intensity.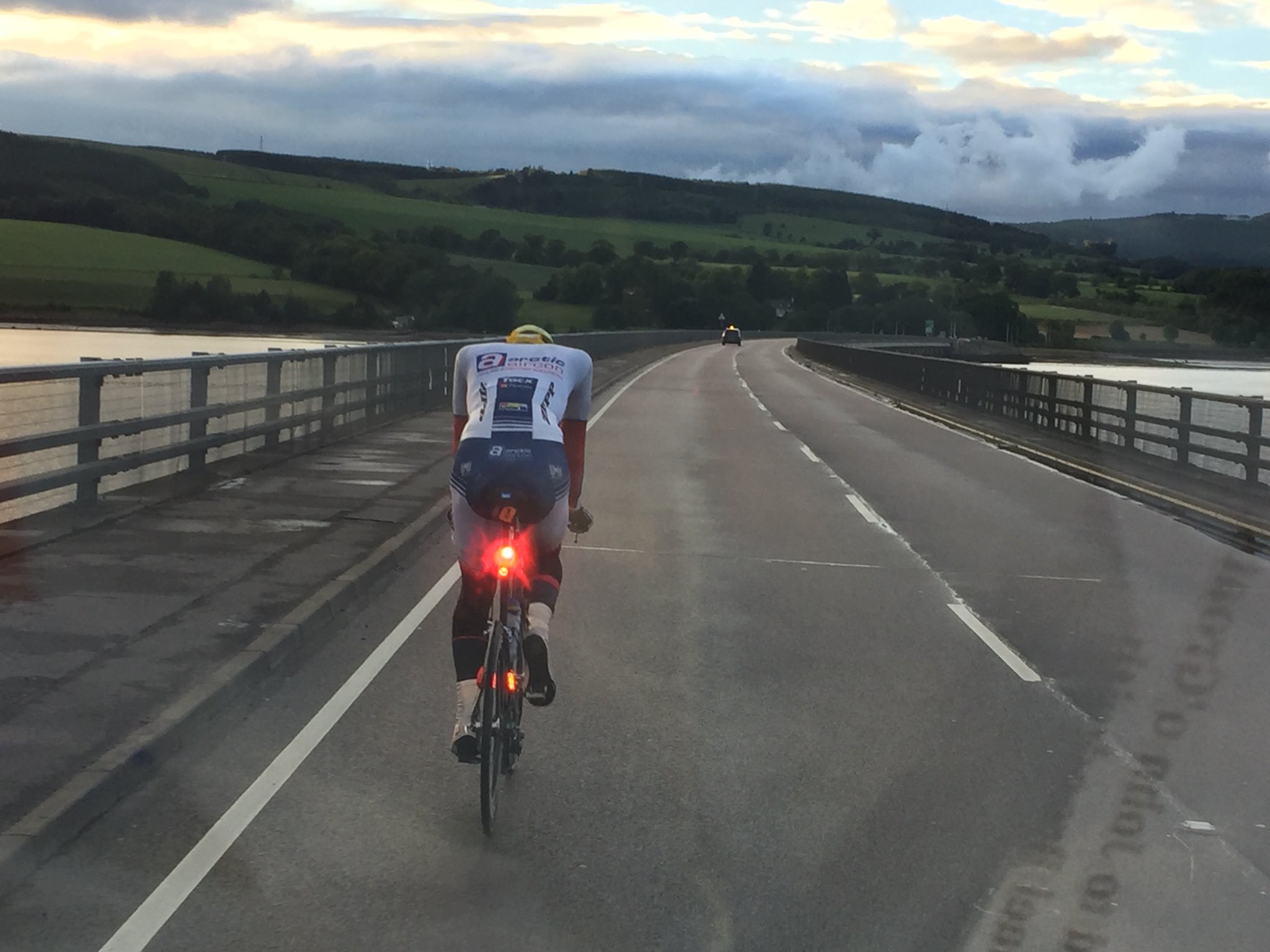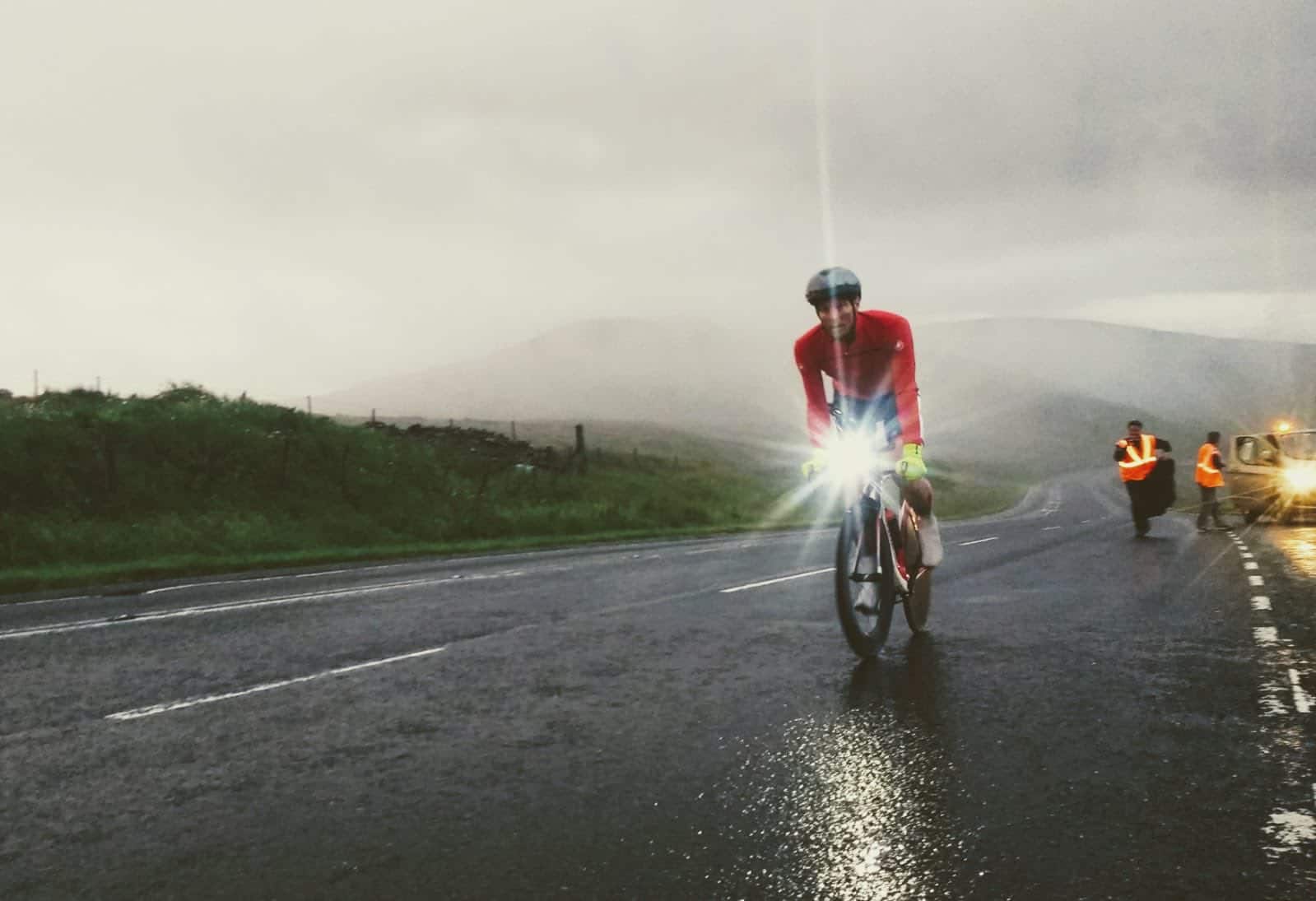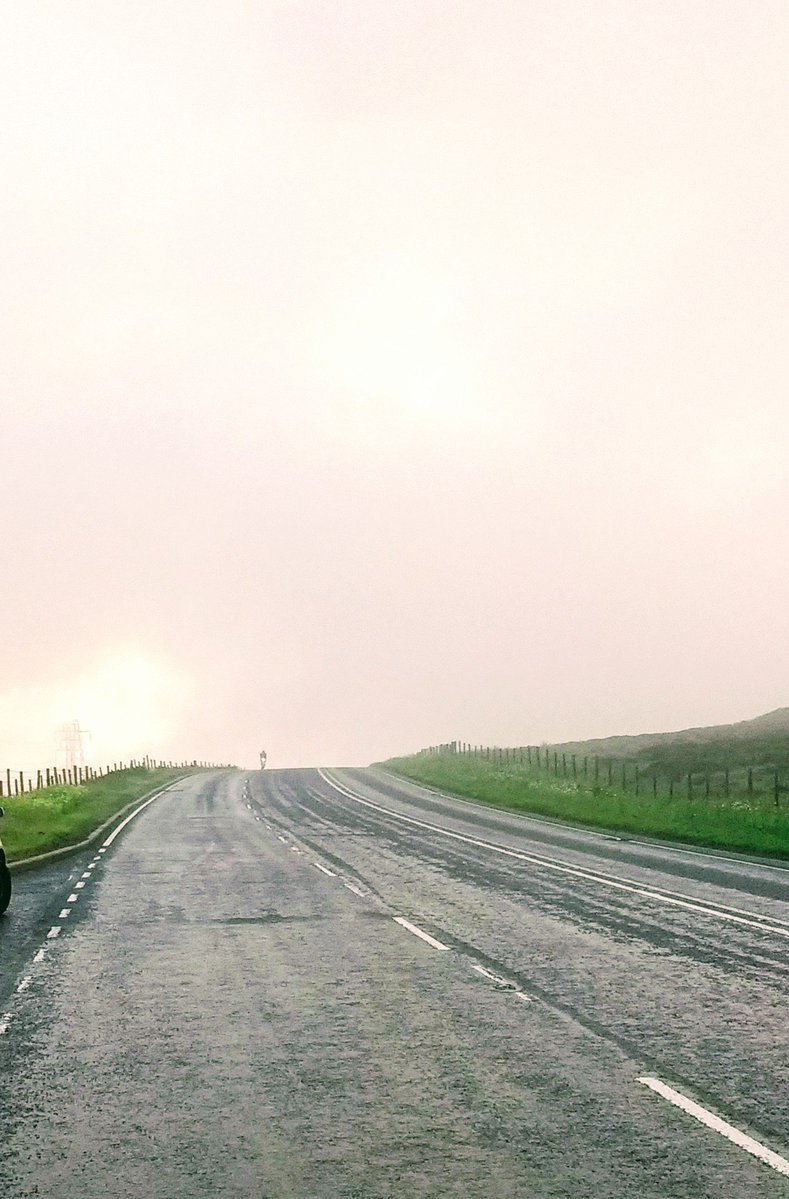 Former record holder and BBAR legend Gethin Butler was on Shap to support Michael as were many other people who were following the ride.
Sounds a really amazing ride. Congratulations!
LEJOG record
Current distance: 838 miles
Each support vehicle must carry an Official Observer to provide evidence of proof/validity of record claim.
Support vehicle must not pass, except to give refreshment or mechanical, medical or safety assistance.
The course starts opposite the south door of the Land's End Hotel and finishes at the drain grating on the front left-hand edge of the mini roundabout, before the John o' Groats Hotel.
1886 George Mills: 121hr 45min First attempt (on penny-farthing),
1908 Tom Peck: 70hr 42min
1958 Dave Keeler: 51hr 9min
1958 Reg Randall: 49hr 58min
1965 Dick Poole: 47hr 46min
1979 Paul Carbutt: 47hr 23min
1982 Mick Coupe: 46hr 39min
1982 John Woodburn: 45hr 3min
1990 Andy Wilkinson: 45hr 2min
2001 Gethin Butler: 44h 4min
2018 Michael Broadwith: 43 hours 25 minutes and 13 seconds.
Women's record
2002 Lynne Taylor: 52hr 55min
Personal note
I was lucky to know John Woodburn and he would often talk about his attempts on the LEJOG record – his first aborted effort and then his successful attempt in 1982 – where he took over an hour off the record. It is a really difficult record – illustrated by how infrequently it has been broken since the nineteenth century.
I have often raced against Michael Broadwith and always enjoy a chat. I remember one hilly time trial where he got the better of me by two seconds, but on Strava compare we were losing and gaining time like a yoyo depending on whether the course was uphill or downhill – I think we had a difference of 20 kg, but perhaps that extra insulation helped Michael in Scotland! But it seems he was flying up the hills too!
There is something wonderful about these record attempts – a throwback to the pioneer days of cycling. One man against the clock and the elements. But, also it requires a big team of dedicated helpers. And many followers seem to many have been inspired by this ride.
Related
More info