I've had quite a few Bontrager tyres on new bikes I've bought from Trek. I've never replaced them with Bontrager tyres, preferring other tyres instead. But, since I've had four tyres in recent past. This is quick review.
The Trek Speed Concept came with Bontrager R4 clinchers. These are the top of the range Bontrager tyres with 320TPI, weighing just 230 grams, which makes them a high spec top end road tyre..
It has a super supple polyamide synthetic fibre reinforcement for added casing strength on the outside. Also, as well, has the 'hard case lite protection' underneath the outer tread to protect against punctures.
Making it easy to solve the tyre width dilemma, it is available in 25c only.
It is quite supple and easy to put on and off the tyre rim (even with tubeless ready rims, which often make it a little tougher). The tyre rolls quite well, though it's hard to evaluate given that I was riding on the Speed Concept which is supposed to be a super fast TT bike. Whether the feeling of speed is from £6,000 bike or £50 tyres, take your own guess.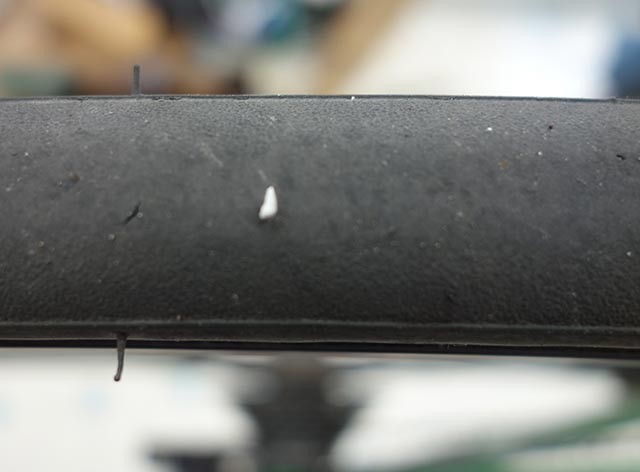 Puncture protection is not great. Here I got a puncture after 1,000 miles. So far the tyres seem more prone to punctures than other equivalents, such as Continental. It is marketed as a road race / criterium tyres. Other users suggest a similar lack of durability (R4 clincher reviews)
The R4 has now come out in an aero version, which tries to smooth airflow between rim and tyre. This would be a bit more interesting.
My impression of Bontrager tyres is also coloured by friend who used to work in bike shop, and said the cheaper Bontrager tyres like R1, where very unreliable and would often need throwing away. Perhaps technology has improved in past couple of years, but from what I can gather, Bontrager seem to lag behind tyre specialists, like Continental, Vittoria and Specialized.
I won't be adding to list of best road tyres, and probably will only get, if I buy a new Trek.