Cycling can seem an expensive hobby. I am the worst culprit – just look at my product reviews Shimano Dura Ace Di2, AX Lightness saddle (69grams) e.t.c. Whatever branch of cycling you take up, it seems there is no limit to the amount of money you can spend. However, here's a short reminder that it doesn't have to be an expensive hobby. It's quite possible to keep cycling very cheap.
1. Homemade mudguard flap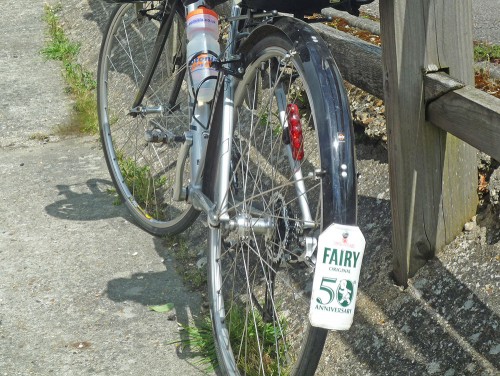 A cut off bit from a washing up liquid bottle is the perfect size for a mudguard flap. It's surprising how much a bit of super-glue and reusable plastic ties can do for your bike. This is the old make do and mend philosophy. Don't just buy something new, try fix and adapt.
2. Make do with one bike
24 hour record holder (541 miles) Andy Wilkinson is a true legend of long distance time-trialling. He deserves more recognition than he gets. How does he do such impressive distances? Well, for a start he only has one bike – a basic steel frame; on this one bike he does his commuting, training and racing. He says that only having one bike enables him to really get to know his bike, perfect his position and enables him to do better races. For those of us who work on the principle that the optimum number of bikes is N+1 – this is truly radical, (but, how much money would I have in the bank if I had followed this advice) It is a reminder that you don't need to keep buying a new bike in order to do better.
3. Make your bike last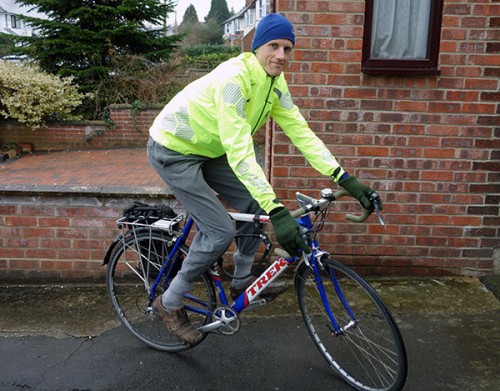 I went through a period of reviewing potential new commuting bikes – shiny single speeds, foldups, hybrid bikes, and lower end road bikes. But, when it came to the crunch, there seemed no point in spending money for only a relative minor improvement. My commuting bike has been going for 15+ years, and shows no sign of age; hopefully, it will last another 15+ years at least. It is true, a carbon fork would give a modicum of more comfort. Perhaps the braking power of disc brakes would improve performance 15% – but do I really need these? No. My commuting bike has already outlasted quite a few cars. When I try to work out the cost per mile of my commuting bike – it is incredibly low. My winter training bike cost £700 and has done (at a very rough estimate) 40,000 miles (0.0175 pence per mile). Is there any cheaper form of transport?
3. Homemade energy drink.
If you want to avoid paying £1.30 for every sachet of energy drink, why not make your own. Get some maltodextrin powder, fructose powder, a touch of salt, some orange juice and you have. Alternatively, you can just use ordinary table sugar. One simple recipe for a homemade energy drink. For 1 litre of energy drink, add:
60-80 grams of sugar
No added sugar cordial
A pinch of salt
topping up with water
4. Avoid the fashion labels
You can spend a fortune on Rapha clothing and the like. It looks good but comparatively expensive.
5. Buy from non-cycling shops
Often the cheapest place to buy cycling undergarments e.t.c is from non-cycling shops. Thermal underwear and wicking layers can be cheaper from clothes shops and other outlets. I got quite a few good thermal layers from Marks & Spencers – they do the job for winter training.
It's the same with energy bars, often you can get same performance from much cheaper non-branded energy bars.  I often go to my local Pound Shop and buy six Fruesli bars or similar (12p per energy bar, and if you look at the ingredients, it's effectively the same percentage of carbohydrates.
How did Graeme Obree prepare for his hour record? Marmalade sandwiches; I bet that is not part of Team Sky's hour record preparation for Bradley Wiggins, but it did the job for Obree. You don't always have to spend a fortune on energy bars to get the best nutrition.
6. Get aerodynamics for free
If you really want to go faster, then the secret is to make yourself more aerodynamic. At 40kmph, 90% of resistance against a bike is air resistance. If you look at some pictures of time triallists, you will see how they can reduce their frontal area. The secret to reducing frontal area is not spending £3,000 on a time trial frame, but, getting the body into most efficient tuck. Even a cheap pair of aerobars for £20, will make a huge difference to reducing wind resistance and give you a good bang for your buck. You can spend a fortune on aerodynamic aids, but many of the key improvements can be made with very little cost. Tips for aerodynamics.
7. Do you really need it?
So often I've bought something because it was well marketed and looks nice, but I don't really need it. There are some accessories you need like a lock and lights. But, for some reason, I'm always gullible for the latest light, which is brighter than the last. So I have a whole shed of different lights and components. When I look at my shed, I'm embarrassed about all the things I've bought thinking these will be good, but they hardly get used.
8. Ditch obsession with low weight / expensive components

This is a definite case of the kettle calling the pot black. Is there a worse culprit for spending silly money on silly weight saving components? (marginal gains hill climb bike) Probably not, but unless you miss a major hill climb championship medal by 1 second, those 500g weight saving is not essential. Even a bike 1kg heavier is not the end of the world. If you look at time saved from weight loss on a bike – it is less than you might imagine. 1kg up the Rake is worth 2 seconds.
If you really want to save weight, eat a few less chips; that's the really cheap way to loose proper weight.
9. Buy the complete bike
It is amazing the equipment you can get on a sub £1,000 bike. If you spend £1,000 on a road bike, the constituent parts would cost you roughly double. Therefore, always try to buy the best bike you can and resist temptation to add expensive parts which only marginally add to performance.
10. Go down a groupset
The main difference between Shimano Ultegra and Shimano Dura Ace is about £500. The main difference between Dura Ace Di2 and Ultegra Di2 is about £1,500. If cyclists had to do 'blind testing' of different equipment, would we notice the difference? Probably not. I appreciate blind testing is difficult for bicycles, but if we were really honest, we would often struggle to notice the difference.
12. Do your own repairs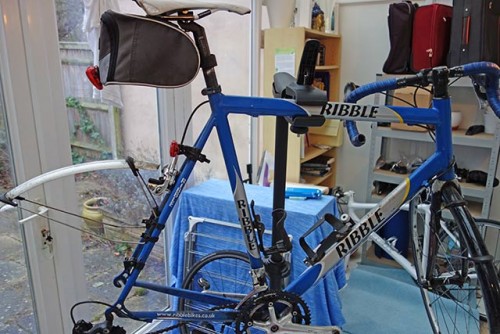 Rather than taking it down bike shop, and getting someone to do it for you, you can save quite a bit. Though with my experience is an amateur bike mechanic, this may prove a false economy. Also, compared to motor repairs, I've always found bike maintenance to be very cheap.
13. Ride the bike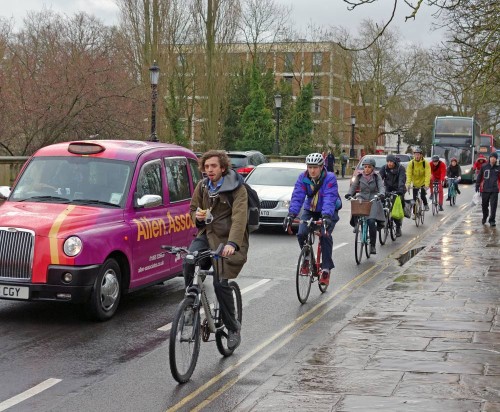 The real way to get value for money from your bicycle is to ride it around town. Save money on the bus, save money on parking and petrol. Or even use a bike instead of owning a car. If you use a bike like this, it will pay for itself within a few months.
Conclusion
Cycling can be a very cheap method of transport. It is only in recent years, that we have been increasingly enticed to spend more on bicycles and bike components. However, I'm the worst culprit. I just like spending money on bicycles. Many times, I don't really need to spend the money, but what else are you going to spend it on which will give as much joy? The only thing is if you're on a tight budget, just remember the 24 hour record holder – a relatively cheap old steel frame. At the end of the day, it's the human engine and not the size of your wallet, which makes a cycling champion. And if you're not in the world of marginal gains, cycling can be very cheap indeed.