Hybrid bikes seek to offer the best combination of the mountain bike and a road bike at an affordable price. Hybrid bikes are great for:
Commuting relatively short distances and getting round town.
Light touring e.g. for the non serious cycle tourer, but who wants to enjoy cycling for a small amount
Cycling on canal paths
The main attraction of a hybrid bike is that they offer good comfort and all round performance for a low price. They tend to have thinner wheels than mountain bikes, meaning that they are quicker on roads – where hybrid bikes are mainly used. Hybrid bikes usually come with up to 27 gears offering a wide range of choice. In practise most people wouldn't use such a wide range of gears, you would probably be fine with less. However, hybrid bikes try to offer the best compromise between fast road bikes and the greater comfort and stability of a MTB. The best hybrid bike depends on your specific purpose.
Some off road use – consider GT Transeo with suspension and Mountain bike style tyres
Enjoyable Ride – Consider Dawes Diploma or Pashley Sovereign. Slow and heavy but great fun and stately to ride. Bit more expensive but more class and distinction.
Simplicity – consider a single speed such as Charge Plug / Charge Sink
Best value all Round – hard to beat the big brand names like Trek FX hybrids.
Best Hybrid Bikes
GT Transeo
The GT Transeo is geared more towards the Mountain bike spectrum of hybrid bikes. If you fancy going off-road or over bumpy roads, these will help give a much more comfortable ride. On smooth roads, it is slower. It comes with chunky 700*40c tyres and tough reinforced aluminium frame. All models have 27 gears and the ability to switch suspension mech on and off. There are many different varieties of GT Transeo. At the top of the range a GT Transeo 1.0 costs £800 and comes with disc brakes. For half the price, you can get a GT Transeo 4.0 for £400 which comes with V Brakes and Shimano Acera. This is a great hybrid if you are looking for greater flexibility in going off road.
GT Transeo 2.0
27 gears
Full front fork suspension
Disc brakes
GT Transeo 2.0 £615 at Wiggle cycles
Pashley Sovereign
This is not the cheapest hybrid, also it is not the fastest hybrid. However, it is a wonderful bike. I would recommend for those looking for the real bike experience. It is a little on the heavy side, and you won't be racing away from the traffic lights. But, it will last for years and it looks like a work of art.
Specialised Sirius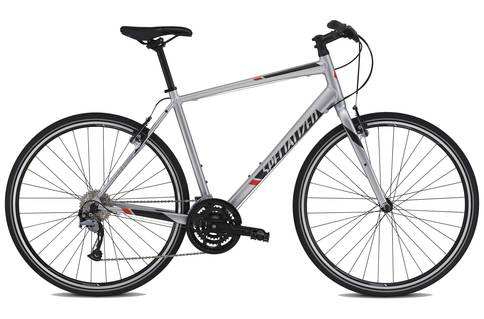 The specialised Sirius offers a range of hybrid bikes from £400 to £1,500. The Specialized Sirus Hybrid is the basic model (£400 for aluminium frame and Shimano Altus 24 geras) The ride is good. I like the straight steel forks which give a more comfortable ride over bumpy/pothole roads. At 12Kg, it's not the lightest machine on the road, but at this price you can't expect everything. There are some good features such as the Specialised all condition tyres (excellent for commuting and puncture protection) The triple chainring on the front gives a wide range of 21 gears. This is a bike that will be able to do most things from simple commute to steady weekend ride. The straight handlebars give a comfortable ride. If you were wanting to race away, you might miss the drop handlebars but it is still reasonably fast for a commuting bike. It is not the most exciting looking bike. Basically black with upwardly sloping top tube. But, it's also not so flash you have to worry about spending £100 on locks when you leave it in town.
Specialized Syrius Elite Carbon
Specialized have brought out  a range of Sirrus hybrids to give many different combinations from the basic aluminium frame to the Sirrus Elite Carbon disc at £1,2000 The Specialized Syrius Elite Carbon disc offers a good upgrade on this bike for £1,200. It comes with road geometry and flat handlebars. The Carbon fork helps to reduce weight and provide a very comfortable ride. Shimano Sora 9 speed cassette and 50/34 chainring on the front
The Syrius Elite is probably one of the best all rounder hybrids. It really does everything you want from a hybrid. If you can afford to spend close to £600, this offers a very good value bike
Trek FX Hybrid Bike
Trek offer quite a wide range of hybrid bikes with a close range of models. If you want a cheaper type of hybrid bike. The Trek 7.1 2016 retails at just over £380. It includes the combination of FX Alpha white Aluminium frame and a straight steel fork.  This is an excellent all rounder offering good value for money and gives everything most commuters would be looking for in a relatively short commute or a bit of leisure riding. Comes with upright riding position and 700cc wheels, so is quite speedy for a hybrid bike. Comes in a stylish metallic black finish. However, it does end up looking like the Specialised Sirius and many other Hybrid bikes on the market.
There are several upgrades available, for example, the Trek 7.1  FX at an extra £60. The Trek 7.3 with Disc brake retails at just over £500
For every version, there is also a women's version of bikes. The economies of scale Trek have enabled them to offer one of most comprehensive range of hybrid bikes, and this makes it attractive. Remember it is much cheaper to get the best components on a bike when buying rather than upgrading at a later stage.
Giant Roam 4
The Giant Roam 4 is a classic good value hybrid bike. Giant have a very good reputation and have produced a hybrid bike at £349. This feels like a 'middle of the road' hybrid bike. With 40mm tyres it is very stable and comfortable to ride. It's not the quickest hybrid bike, but it gives a real feeling of solidity. £349 is a good price for a hybrid bike. With lower end Shimano gears, it's fine for offering any gear choice you may need. Will last longer than some cheap hybrids.
Frame: ALUXX aluminium. -Fork: Suntour SR NEX 4110
Shimano EF51 21 speed
Tyres: Kenda Kwick 700 x 40mm
Dawes Diploma
Similar price to the Dawes Harlem but more stylish evoking a classic appeal. In both men and female models. Dawes Diploma
The Dawes Diploma is a hybrid bike more towards the classic 'retro' style. This is a beautiful and stylish bike to ride around town. It is a built for a comfortable relaxed ride. The higher handlebars make it easy to handle.  It feels considerably heavier than a lighter hybrid bike. It weighs at over 17kg. However, it comes with more extras such as mudguard and chain guard.
Note: the Dawes Diploma comes in either men or female version. The women's version (featured above) has step through top tube for ease of using skirt. The men's version has a flat top tube.
Bootleg Hoy Hoy Rats 2014
– Over £800. Based on Columbus steel tubing and Shimano bar sifters groupset. This is a more of a sporty hybrid bike, built for a quick commute. It will appeal to the rider looking for something a bit distinctive. It has thick chunky tyres (700 *38c)and is decked out in all black. A little bit expensive, but distinctive on the streets
Viva Bellissimo
The Viva Bellissimo 7 is more geared towards the chic end of the hybrid market. It comes with a 7 speed hub gear (or you can choose single speed – if you prefer) This is a little heavier than standard dérailleur and sprockets. However, it looks really classy and the classic steel frame is great fun to ride. It is a Danish company carving out a niche market in classic, retro style commuting bikes. The main downside is that it is more expensive (from £600), and not widely available in the UK.
Best Value Hybrid Bikes under £400
Dawes Discovery 101
The Dawes Discovery 101 is an entry level hybrid bike, suitable for some off-road paths. It is based on 6061 alloy frame with steel fork. It has 18 gears, giving a wide range of speeds. It comes in both mens and womens version (step through frame). It also has a trail version with wider 38 tyres, though the 101's 35′ tyres will be sufficient for most tracks. At £269, you can't expect too much, and it does weigh 12.5 kg, but it is a solid starting point for cyclists looking for good value entry-level hybird.
Giant Escape N7
The Giant Escape N7 is around £330. The Giant is a solid Aluminium frame, with 7 gears mounted on the handlebars. It's tyres are chosen for the road, but handlebars are straight like a mountain bike. Available from Rutland cycles.
Trek FX 8.1 – £350 – see above under Trek FX
Best hybrid bikes under £200
For under £200, you will struggle to get much choice. Your best bet may be to look at the second hand market. Also, if you visit a discount cycle shop like Cycle King, you will find a couple of Ammaco bikes for under £150. They are reasonable, but as you can imagine the components are cheap. You are more likely to puncture and spend more time on maintenance, especially the brakes. They are big sellers, and I see many around Oxford. But, you get what you pay for.
Conclusion
Hybrid Bikes are the most popular form of bikes. They are adaptable and easy to ride. Their popularity also means they are relatively cheaper because firms can benefit from economies of scale. For example, if you went for a single speed bike, you would end up paying more for less. (though single speeds will suit some types of cyclists)
But, within Hybrid Bikes there are quite a few ranges. You will want to choose which is more important looks v comfort v speed. For example, the most utilitarian hybrid bike would be the Specialised Sirius or Trek FX series – these are closer to standard road bikes.
A Dawes Diploma, Viva Bellissimo and Pashley offer a more stylish and elegant bike that is slower to cycle.
Also your local bike shop will have its own selection of hybrid bikes, it is worth visiting and testing out the bikes in person. You will save a little buying on the internet, and the bikes arrive very quickly from retailers. However, buying locally gives the advantage of personal contact and a reference point to return the bike for a quick check-up.
Hybrid Bikes