Viva Bellissimo bikes are a combination of European classic design with practical features to make an eye catching commuting bike. They are produced by a Danish firm who have tried to make 'beautiful bikes for discerning bike riders'. I was inspired to write a review of Viva Bellissimo because they are genuinely eye catching and elegant.
The Viva Bellissimo comes in a variety of options. The first is the Single Speed Bellissimo. The one I tried was this 7 speed Viva Bellissimo. This was good fun to ride. Not quick, and a little heavier than what I'm used to. However, the Viva Bellissimo exudes class. It is well built and catches almost perfect aesthetics. The paint work is excellent, there is a real gleam to the way it looks. Everything else has a classic simplicity to it. For example, the wheels especially.
If you're looking for a classy commuting bike to really appreciate, you will be happy with the Viva Bellissimo either 1 spd or 7 spd. Just don't expect it to be quickest off from lights… But, it is a head turner. Even people not into cycling will admire this.
Viva Bellissimo Single Speed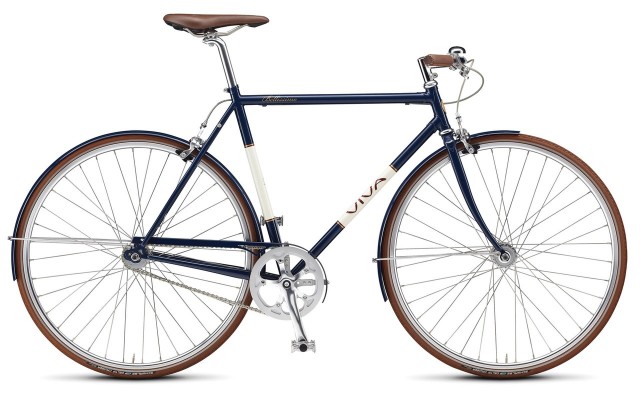 Perhaps it is just the dark blue / white which particularly appeals. However, no matter how pleasing the design, there is much more to a bike. The set up is fairly solid. The frame is Cro-Mo Steel. This gives a forgiving and comfortable ride. Nice touches are the integrated mudguards and chain guard; there is a careful attention to detail. Very useful are the Schwalbe 28 inch tyres with extra puncture protection.
Viva Bellissimo 7 – Women's (Mixte Damen)
The women's version has a step through frame for ease of use.
For those who want gears, the Viva Bellissimo 7 offers 7 speed through a convenient hub gear system (Shimano Nexus).
Notes on the Hub System
The hub system is slightly heavier than standard derailluer system.
The hub system is easier to maintain and looks much cleaner on the bike.
It is easier to change. For example, if you are stuck at lights, you can change gears and it changes straight away – you don't need to worry about pedalling to put chain in new sprocket.
7 Speeds gives much greater range of flexibility. For hilly cities the one speed could be a bit cumbersome when you try to pedal the 12 kg bike up a steep hill. The Viva is designed to be ridden with joy, 7 speed makes this easier to achieve. Also the 7 speed hub system avoids the need for derailleurs and cassette rings, enabling the bike to retain the look of a single speed.
At prices starting from £600 upwards, Viva is not competing on price. But you do get the kind of bike you can become really attached to. It is enjoyable and easy to ride and has great aesthetics to boot. I'm sure this bike would be quite popular on cycle chic photo blogs. Also, Evans sometimes have sales –  and if you buy at right time you may get for under £500. Though unfortunately, Evans Cycles don't seem to be stocking new model.
I think this is pretty good value for the chic end of the hybrid market.
Related
Related Bicycles