Not the most interesting post today, the technical details of Shimano Dura Ace Di2 vs Ultegra Di2.
One reason for a post like this, is that I can spend ages googling details of different products, and before you know it hours have passed. However, when you come back to it a few days later, you can never seem to find the useful pages that you had a few days ago. Even now, I can't re-find some pages I had on Saturday. Putting it in a blog, hopefully serves as a useful reference.
Generally Google is very good, but if you're searching something very specific like the weight of Dura Ace Di2 vs Ultegra Di2, you often don't get what you are looking for, and many hours are wasted in a vain search.
My philosophy for writing blogs is to write something, that I'd like to read myself. Hopefully if it's useful for me, it will be useful for others (although this one, will be limited to those if you're contemplating electronic shifting)
(By the way, after writing this post, I got Dura Ace Di2 9070 and have been using it on my timetrial bike. See review here Dura Ace Di2 9070)
Ultegra Di2 v Dura Ace Di2 price
Firstly, the difference in price seems huge:
Dura Ace 9700 Di2 is RRP £2,999.99 (discounted at Merlin cycles for £1,999). Mechanical Dura Ace 9000 is by comparison £999 (at Ribble)
Ultegra 6870 Di2 is RRP £1,999 (discounted at chain Reaction cycles £979). Mechanical Ultegra 6800 is RRP £999 (Chain reaction £538.99)
But, when I go to Trek Project One – bike builder to upgrade from Ultegra 9870 Di2  to  Dura Ace 9700 Di2, it is an extra £1,970. For some reason – through Project One, they have made Dura Ace Di2, an extra £2,000. The problem is that £2,000 seems an awful lot of money for a groupset which is fairly similar to Ultegra apart from 300g, slightly more sleek design and greater flexibility in terms of shifting positions.
Difference in quality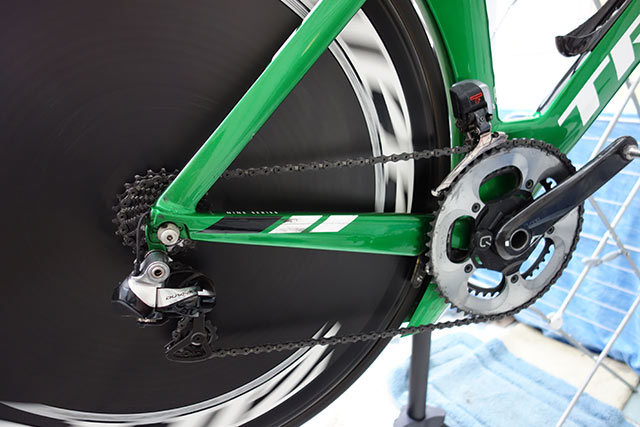 Reviews suggest that the new Ultegra Di2 offers excellent shifting, with barely noticeable difference in the quality of shifting with Dura Ace.
Difference in weight
Dura Ace 9070 Di2 groupset 2,047 grams (bicycling) (This compares to mechanical dura ace at 2,072, and previous Di2 of

2,219g

)
Ultegra 6870 Di2 – around 2,680g – though I seem to remember seeing one lower.
Dura Ace Di2 has to be lighter to justify the difference in price. If we included just the mechanical parts, the difference in weight is just 149 grams. /
For the whole groupset (including non-mechanical groupset) Bike Radar say Ultegra 6870 Di2 is 2,680g for a complete group. This means Ultegra Di2 is roughly 440g heavier than Dura-Ace Di2.
But, you can save some weight by swapping the non-mechanical parts like crankset, brakes and cassette.
Crankset
Ultegra 6870 – 700 grams (775g with BB)
Dura Ace 9700 – 632 gms  (weight weenies)
Brakeset
Ultegra 6870 – Weight: 335g (Set)
Dura ace 9070 – 295g
Cassette
Ultegra – 212g
Dura ace  -166g
11 speed chain
Ultegra Weight: 253g
Dura ace 243g
Again from Velonews
On our scale, the shifters are 57g heavier, the front derailleur is 43g heavier, and the rear derailleur is 49g heavier.
Shifters: 315g (DA: 258g)
Internal wiring harness: 43g
Battery with bottle cage mount: 113 g (70g without mount. DA uses same battery)
Front derailleur: 167g (DA: 124g)
Rear derailleur: 271g (DA: 222g)
Differences between Dura Ace Di2 and Ultegra
Ultegra design less sleek, more 'bulbous'. Some loss of aerodynamics
Dura Ace Di2 offers multi-position gear changes, useful to TT bike, where you can have them on the ends of handlebars and end of tribars.
Compatibility
Both Di2 are 11 speed and said to be non-compatible with 10 speed (different chain width). This is annoying as 10 spd is more than enough; personally, it means changing a lot of cassettes and then having a pressure to upgrade road bike to 11sp too. Companies are good at getting you to spend more on upgrading to new products, you don't really need.
Note: I put a 10 speed 56 chainring on my Dura-Ace 11 speed and it works fine.
Extra note
Dear Shimano + Campagnolo. Please – don't bring out a 12 speed! we don't need it. Don't even think about a 13 speed.
The good news is that the new Ultegra 6870 seems to be compatible with the new Dura Ace 9700 Di2.
Related links

My review of Dura Ace Di2 9070