Despite the excitement of getting a new timetrial bike, it's the time of the year when my thoughts move away from riding on dual carriageways and towards the hill climb season. Fortunately, it's too early to worry about regimented intervals, August / late July is a great time for just riding around and trying to cycle up as many hills as possible. This is the kind of cycling I enjoy most – no pressure, just ride around for four to five hours and cycle as fast as you can whenever the road goes up. If there's a better way to spend five hours on a summer day, I don't think I've found it.
Oxford is ideally suited for a range of hills – we have both the Cotswolds and Chilterns within reach, but to be able to ride some new hills (without cycling 120 miles +) I drove to Burford and parked in a lay-by. I don't really like driving, but it gives a bit of variety for the summer holidays.
Cycling towards Cheltenham on the back-roads parallel to the A40 was a nice warm up. The first climb of the day was Bushscombe lane – (100 hills #105)
Bushcombe Lane is a real beast of  a climb with prolonged 25% gradient. I stumbled across Bushcombe Lane in the middle of winter and, a bit unprepared, almost had to get off and walk. In my view, it's the hardest climb in the South of England.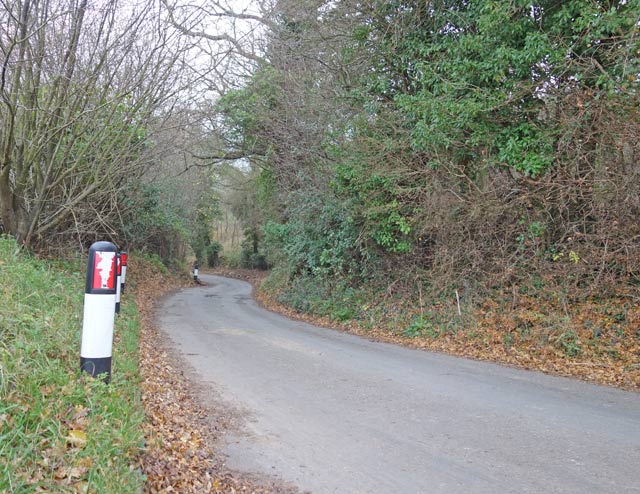 With summer fitness and a lighter bike, I was a bit more confident than last time I rode up. It starts off reasonably enough. I was climbing nicely in a 39*25 and thought I'd be able to make it all the way in that gear. But as you start to turn a corner, the 20% turns in to 25% and it becomes a real fight to keep the bike moving. I was in my last sprocket 28 pretty quick. But, even that was a struggle. (so much for writing a post on a compact chainset) My cadence fell as low as 45 and it was a real struggle to get up last part. Yet again I seemed to under-estimate Bushcombe Lane and went too fast at the start. Anyway I made it up and enjoyed the great descent from Cleeve Hill. The road surface was reasonable, though my tyres were only 19″ I would have preferred fatter ones.
Next on the list was the suitably exotic sounding "Devil's Chimney" – From south Cheltenham (Leckhampton) south (Not to be confused with the Devil's Staircase in Wales – which was recently featured on the Cycle Show with Simon Warren riding up it.)
Devil's Chimney
Length: 2 miles
Average gradient: 6%
Max gradient: 14%
The road is called the "Old Bath Road" and used to be a main A road, until they built something not quite as steep, you can imagine old lorries struggling up here.. It is really a climb in two parts. Going out of Cheltenham there is a testing 14% ramp before levelling off in the middle. This gives you a bit of recovery before a left turn (on a minor road) takes you up another 14% gradient to the top of the hill.
By comparison to the innocuous sounding "Bushcombe Lane", 'Devil's Chimney" was a slight disappointment – it was nothing like the last climb. Still it's a good hill and a nice wide road, though there wasn't any view at the top.
I cycled back to Cheltenham and did a few more climbs around Cleeve Hill. There are three ascents of Cleeve Hill from Woomancote. I did them all – though none of the other two compare to Bushcombe Lane, they are real difficult 25% gradient hills. If they weren't overshadowed by their noisier elder brother, they might get more visitors. If you're ever in this part of the world it's worth having a go at these climbs, though come prepared!
Last climb of the day was Round Hill from Winchcombe – a good 200 m of ascent with gradient reaching 20%
In total, 6,000 ft of climbing in just 70 miles. It was a good days cycling.
Related