Recovery drinks are useful for after a long ride or race. If it is a fairly easy training ride, I probably won't bother – just rely on water and normal food. But, when you've really exerted yourself, a recovery drink can be helpful for rehydrating and taking on energy and protein. Many studies have suggested that just after exercise is the best time to take on nutrition. It is at this time, when the body is empty, that the body is most receptive to nutrition. Recovery drinks can play a role in maximising recovery. It might sound obvious to take on water and nutrition after big effort, but if you're a bit disorganised you can struggle to find the right food and drink. Recovery drinks can make it easier.
There are quite a few different recovery drinks to choose from. They will all have some combination of carbohydrate / protein. The most common recovery drinks are based on carb (maltodextrin/ fructose) and whey protein. There are also soy recovery drinks. The most important thing is not so much choosing the 'right' brand, but just making sure you take something in the right quantity.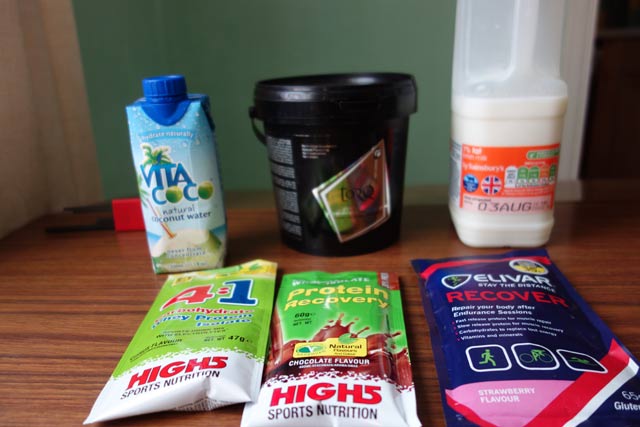 High 5 Recovery
The High 5 Recovery sachets are pretty handy. Often I take a recovery drink after a race. Having a few sachets in your bag, makes it easy to make a drink without carrying a large carton or recovery powder.
It is very easy to mix. Just put some powder in, give a little stir, and it's ready to go. It tastes very pleasant and is easy on the palate. Often I find recovery drinks hard work, but this is very easy to drink. The taste is fairly neutral and not-sweet, just easy to take down. The nutrition is the most common combination of carb (maltodextrin and fructose) and whey isolate protein. They say whey protein is better protein than beef, so it makes a good recovery drink. Some sports drinks can be acidic. But, High 5 recovery mixed with milk is neutral, which makes it welcoming post hard ride. It is similar to High 5 4:1, but has a higher protein content. It has roughly a 2:1 ratio of carbs to protein. It is probably my preferred recovery drink.
The High 5 4:1, you could use as a recovery drink. I sometimes use as last bottle on a long ride, to help start the recovery.
Milk
Skimmed milk is an excellent recovery drink – and also cheap!
Milk contains a blend of casein and whey, which have amino acids in a pattern similar to muscle protein. Milk is quite a dilute recovery drink, in that 100ml provides just 1.7g of protein and 4.5 of carbohydrate. But, the advantage is that (skimmed milk)  makes it easy on the stomach making it less likely to cause stomach bloating or stress. (benefits of milk at Bike Radar) Milk also has many micro-nutrients that are helpful.
Soy based Recovery drinks
I sometimes get a soya based recovery drink, more for variety than anything. I find the problem with too much whey Protein is that it can make you a bit windy, if you know what I mean.
SIS Recovery drink.
I was impressed with this recovery drink. It is a mixture of complex carbohydrates, soy protein, and electrolytes. There's a long list of ingredients which makes you feel it must be doing a lot of good things. Tasted a bit like the soy protein powders I used to take – which is fine.
However, quite a few studies suggest soy is not as effective as whey based recovery drinks, so I haven't used this for a while.
SIS recovery powder tub at Wiggle
Torq Recovery Drink
A whey based recovery product with micro nutrients such as
L-Glutamine (an amino acid)
D-Ribose (a naturally-occurring sugar)
and in the Recovery plus – beta alanine, HMB and Sodium Phosphate

I quite like the Torq recovery plus. You make it like hot cocoa; it is particularly appealing in winter after a long cold training ride. In summer a hot drink is less appealing, but I've got through quite a few tubs during winter training.
Torq recovery plus at Wiggle
Coconut water
Coconut water is good for replacing lost electrolytes and de-acidifying the stomach. It is worth having a few in the fridge on hot days, it can be quite refreshing, especially when you fancy something different.
Elivar recovery
The Elivar recovery drink is formulated for over 35s. It has the highest ratio of protein to carb 1:1, and doesn't contain any fructose. I reviewed Elivar drinks here.
One 65 gram serving provides:
28 gram of carb
14g of which is sugar
Benefits of taking recovery drinks
The benefit of taking recovery drinks are:
After a race or long ride, you don't feel like eating, but, the first hour after a ride is said to be the most important time for taking on food and water.
The alternative is often eating cakes on sale at races. These drinks are better for you in that they are not just simple sugars. I find when you're looking for snacks you often end up eating just simple sugars which are not very good for you.
Electrolytes help replenish lost salts.
Usually, after a race, I'm driving home. A recovery drink is easy to sip on the way home. It is better than waiting an hour or longer before starting to eat.
Easily digestible on the stomach.
Psychological benefit to taking an expensive recovery drink helps you think you are maximising your recovery from a hard session.
Garmin Sharp Recovery video
Related pages
External links