Today was ECCA 100 on E2/100. A few weeks ago, I was talking about difficulties of racing early in the morning. But the ECCA 100 is the classic of early morning starts – 5.00am for first rider. I had a relative lie in, starting at 6.25am, but it still meant leaving Oxford not that long after going to bed.
Last year the ECCA 100 was held on  a rare float day, and I set a pb of 3.34.17 This year was a slower year, with a strong westerley wind taking the edge off times. I seemed to be relatively slower than other people, though on the bright side I had higher average power and, by previous standards, finished quite strongly for a 100.
It can be a curious game timetrailling – sometimes the link between fitness and fast times can appear quite loose and ready. I'm not sure why I was a bit slower than last year, but I think a fully legal UCI set up has taken the edge off some aerodynamics.
Unlike most other 100s I've ridden – this time I started off relatively cautiously and picked up the power as the race progressed. The first 10 miles was ridden in near solitude with few cars making it on to the B road so early from Uggley towards Cambridge. Once on the A11, the traffic picks up and so does your speed. With a tailwind, the average speed for the ride picked up a lot. By the first turn at 30 miles, it was all looking very good. But after turning round into the headwind return, you knew it was going to be a tougher day. I did the first 50 miles in about 1.48. I then tried to recover a little on the last 15 miles of tailwind 50-65 miles, before giving it everything on the last 30 miles home. I managed to average 277 watts for last 30 miles, usually I have a big tail off in power. But, this year I've done more miles than usual, so I think that helps the endurance.
The temperature was cool 14 degrees, and as a stick insect type hill climber, I got a little cold. Unfortunately, with a combination of drinking too  much water on the way to the start, I had to make an unplanned dash into a hedge for a natural break – 20 miles from the finish. Bit of a pain, to lose the odd minute.
If the time was not as fast as I might have liked, on the positive side, I felt quite good form, and relieved I didn't 'blow up' – as it is so easy to do in a 100. Initially I though I did a 3.43, but found out later it was 3.41. still  – nearly seven minutes slower than last year. It's all good training and practice. As a football manager may say 'there's many positives to take into the next game, but we need to tighten up at the back.'
Driving home up the  A1 (closed for about 20 miles) was tough on the knees. I bet professional cyclists don't have to drive the team coach after a hundred mile race. That is a real marginal gain.
This coming Thursday is a very different kettle of fish. It's the British Time Trial Championship against the likes of Geraint Thomas and Alex Dowset. The roads will be closed to traffic so definitely no drag from lorries on the A11. It's possible I might regret doing a 100 mile TT so close to BTTC, but it was good practise for the national 100.
Tour de Suisse Time trial
It is one of the cliches of cycling that time trials are dull for spectators, but today's time trial  to decide the Tour de Suisse was epic. It was so close between Thomas and Spilak for the overall. Credit to Swiss timing for giving six splits and constant virtual standings (often in pro time trials, they can manage about 1 split time if you're lucky). But, it just shows that time trials can make a great finish to a well managed stage race.
Tough for Geraint Thomas to come so close, but it also bodes well for future stage races…
The hut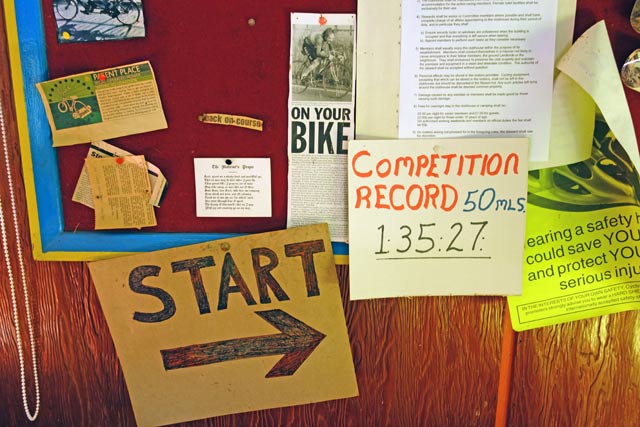 It was an early morning start for me, but an even earlier start for the marshalls and organisers of the ECCA 100, so big thanks to them. I always like visiting the Eagle R.C. hut – a lot of cycling memorabilia and you can't get more to the heart of British time trialling than a 5am early morning blast up a dual carriageway!
Results ECCA 2015
| | | | |
| --- | --- | --- | --- |
| No | Rider | Club | Actual |
| 1 | Tejvan Pettinger | Sri Chinmoy Cycling Team | 3.41.45 |
| 2 | Mark Turnbull | TORQ Performance | 3.42.13 |
| 3 | Colin Ward | Essex Roads CC | 3.42.27 |
| 4 | Jon Wynn | Northover Vets Team | 3.42.35 |
| 5 | Dave Lazenby | Baines Racing Silverstone Cycle | 3.43.42 |
| 6 | ANDY STUART | Velo Club St Raphael | 3.46.23 |
| 7 | Richard Spink | T1 Diabetes.info | 3.46.58 |
| 8 | Charles Mitchell | .a3crg | 3.47.42 |
| 9 | Mark Ashurst | Northover Vets Team | 3.50.56 |
| 10 | Gavin Hinxman | Kettering CC | 3.51.22 |
| 11 | Luke Hattersley | St Ives CC | 3.51.48 |
| 12 | Antony Stapleton | Chelmer CC | 3.53.05 |
| 13 | David Watson | Coventry RC | 3.53.13 |
| 14 | Kevin Baumber | Shaftesbury CC | 3.53.47 |
| 15 | James Long | Bishop's Stortford CC | 3.53.58 |
| 16 | Dean Lubin | Ciclos Uno | 3.54.29 |
| 17 | John Lacey | Hemel Hempstead CC | 3.54.45 |
| 18 | Chris Hopkinson | CC Desiragear | 3.55.06 |
| 19 | Gray Turnock | Finsbury Park CC | 3.56.23 |
| 20 | Alex Eason | Chelmer CC | 3.58.32 |
| 21 | Tim Davies | Icknield RC | 3.58.33 |
| 22 | Ian Turner | St Neots CC | 3.58.34 |
| 23 | Grant Orsborn | Icknield RC | 4.00.09 |
| 24 | Adam Laycock | Team Trisports | 4.00.22 |
| 25 | Tony May | TMG Horizon Cycling Team | 4.01.19 |
| 26 | Howard Waller | Python RT | 4.01.44 |
| 27 | Martin Dickinson | Deal Tri | 4.02.36 |
| 28 | Ben Keeley | Team Velovelocity.co.uk | 4.03.44 |
| 29 | Andy Langdown | Hampshire RC | 4.03.55 |
| 30 | Martin Dossett | Welwyn Whs | 4.03.56 |
| 31 | Richard Birtwhistle | Sydenham Whs | 4.04.45 |
| 32 | David Thompson | Scarborough Paragon CC | 4.05.46 |
| 33 | Jasmijn Muller | Paceline RT | 4.05.56 (f) |
| 34 | Pierre Guern | Leamington C & AC | 4.07.20 |
| 35 | John Golder | Chelmer CC | 4.07.42 |
| 36 | Ian Turner | North Road CC | 4.08.08 |
| 37 | Keith Dorling | Bishop's Stortford CC | 4.09.14 |
| 38 | Geoff Reynolds | Hemel Hempstead CC | 4.09.44 |
| 39 | Joe Le Sage | Rutland CC | 4.10.02 |
| 40 | CARLITO RENDORA | Eagle Road Club | 4.11.23 |
| 41 | Chris Tye | Plomesgate CC | 4.11.29 |
| 42 | Nicholas Webber | Colchester Rovers CC | 4.12.12 |
| 43 | Ray Retter | North Devon Wheeler | 4.13.01 |
| 44 | Andrew Turnock | Finsbury Park CC | 4.13.25 |
| 45 | Peter Hooper | Eastbourne Rovers CC | 4.13.27 |
| 46 | Phillip Gosling | Ely & District CC | 4.14.15 |
| 47 | David Clarke | Team Velovelocity.co.uk | 4.14.20 |
| 48 | matthew welbourn | Southend Whs | 4.15.02 |
| 49 | Tim Childs | Westerley Cycling Club | 4.16.24 |
| 50 | David Pitt | Charlotteville | 4.16.36 |
| 51 | Katja Rietdorf | Team Milton Keynes | 4.16.45 |
| 52 | Nick Hickman | Hitchin Nomads CC | 4.19.36 |
| 53 | Mary Bower | Chelmer CC | 4.19.52 |
| 54 | Frank Proud | Westerley Cycling Club | 4.23.47 |
| 55 | Neil Reynolds | Winchcombe Cycling Club | 4.23.51 |
| 56 | BOB QUARTON | Wolsey RC | 4.28.12 |
| 57 | phil nelson | Hemel Hempstead CC | 4.33.08 |
| 58 | Lisa Haines | Maldon & District CC | 4.35.17 |
| 59 | Anouk Molliex | Leamington C & AC | 4.38.07 |
| 60 | Cliff Matthews | Wolsey RC | 4.43.17 |
| 61 | Dominic Whitehead | St Ives CC | 4.50.06 |
| 62 | Jamie Maidment | Southend Whs | 4.55.52 |
| 63 | Debra Peck | Colchester Rovers CC | 4.59.41 |
| 64 | Michael Shaw | London Dynamo | 5.07.19 |
| 65 | Matthew Blagg | Maidenhead & District CC | 5.08.50 |
| 66 | Murray Kirton | A5 Rangers | 5.08.50 |
| 67 | Peter Horsnell | Chelmer CC | 5.19.34 |
| 68 | Tamsin Ede | Ful-on Tri | 5.46.41 |
1st lady: Jasmijn Muller 4.05.56
10 mile lap times
I was riding harder into headwind
Lap 5 – 274 watts av 25.5mph
Lap 7 – 256 watts, av 29.8mph
Conditions
Temp 15 degrees
Wind – 16mph westerley
Air pressure – moderate
Drink 3 bottles with total of  1.95 l – used 1.7 litres plus two gels
Notes to self- bit cold, drank too much before start
Related