Today was national 100 mile time trial championship, held in Raglan, Wales. The course was mostly on the A40 dual carriageway, but with a bit of quieter back-roads to help relieve the monotony of the A40. It was fairly flat 2,990ft /900m of climbing over 100 miles. Overall, quite a good championship course. With mostly good weather, it produced some quite quick times.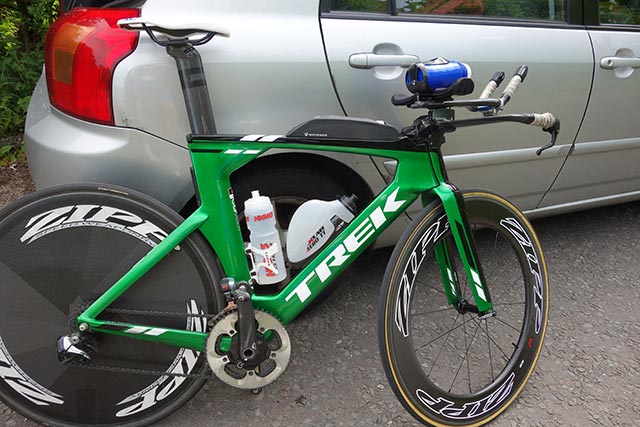 The women's winner was newly crowned BTTC champion Hayley Simmonds (Team Velosport). The men's winner was Charles Taylor (South Pennine CC) 3.32 – just 15 seconds ahead of BBAR champion Adam Topham (High Wycombe). I was 7th in 3.39.50
Training
After finishing 3rd last year, I've trained quite hard for the national 100 this year and training has gone well. Last week, was quite busy with 3 big races. After flopping (relatively) at BDCA 50, it's been a quiet week of tapering.
Racing
Firstly, it was nice to do a 100 mile TT which doesn't start at silly o'clock for a change. It was 9.10am when I set off. The first 6 miles were on a quiet backroad. A nice place to cycle – though a bit bumpy, and I nearly lost handlebar mounted water bottle. Then it was onto 24 mile laps of the A40. This included about 3 miles of quite backroads, the rest on the A40. I enjoyed the backroads the most – a change to get away from the traffic, and also a more sporting feel, some ups and downs and fast turns. More fun than just blasting along a straight road. Because of the laps, there were quite a few riders on the course, so frequent overtaking. Up to 60 miles, it was all going to plan. After 70 miles, the power started to fade  – it wasn't as good a ride as ECCA 100, where I could lift the tempo in last 20 miles.
96 miles
With about 5 miles to go, the weather abruptly changed – for most of race it was very good – light wind, dry 18 degrees – pretty close to perfect. But, then it rained really hard and the wind picked up.
At 95 miles, I was predicting a 3.36 / 3.37, but that all changed with about 4 miles to go. In a 100 mile TT, at 96 miles, you really start to think – you're home and dry. But literally and metaphorically it wasn't the case. I was going along into headwind, uphill fine, but then I sat up to take the last drink – and nearly fell off the bike – there was a big gust of wind. After that I struggled to manage the bike and ended up coming off tribars. It was such an abrupt change after 95 good weather miles. I lost all rhythm and just had to concentrate on getting to finish. It was probably 10 minutes worse for those who started later. But, it was a strange finish, after being such a good day for riding up until then. Also the course was 100.5 miles and the last 0.5 miles took 1.30 –  seemed to go on forever!
Logistic regrets
After putting in a lot of time in training and racing, I was pretty dissappointed not to get my new Bioracer skinsuit for this race. I've been trying to get since start of calender year, and hoped to have by start of TT season. Now it's July and my TT season is mostly over. The problem with TT is that aerodynamics is so important, and if you don't keep up, you lose out. I'm fairly detached about results some times, but it felt quite a psychological blow to be riding in old Impsport flappy, skinsuit with old fashioned drawing pins to keep it in. I'm sure a new set up could have saved a few watts…
I guess every racing cyclist has a few excuses and laments; it's just when you've spent £XXX amount of pounds, you want to be using it when it really matters.
100 mile TT
100 mile TT are really hard. You race at a slightly lower intensity than a 50, but it goes on for twice as long. By the end, everything hurts, and it's a great effort to complete – whatever your time.
I'm kind of relieved to finish long-distance timetrialling for the season. Nearly time to hang up the discwheel and get the hill climb bike out – now the fun can really start. 🙂
Maybe will have another go at 100s next year.
Thanks to all marshalls, especially the great Gerry McGarr for all encouragement.
Laps
Average power – 258 watts (ECCA was 268 watts)
Top 10s. Men:
1. Charles Taylor (South Pennine RC) 3:32.50
2. Adam Topham (Wycombe CC) 3:33.05
3. Paul Gamlin (Northover Veterans Team) 3:38.41
=4. Andy Jackson (Team Swift) 3:38.53
=4. Simon Wilson (Team Polypipe) 3:38.53
6. James Perkins (Team Zenith GC Cycling) 3:39.41
7. Tejvan Pettinger (Sri Chinmoy) 3:39.50
8. Daniel Bloy (Team Velo Velocity) 3:41.25
9. Billy Oliver (Nopinz) 3:41.39
10. Johnathan Parker (PMR at Toachim House) 3:41.56
Team: Team Swift (Andy Jackson 3:38.53, Simon Beldon 3:45.57 and Joel Wainman 3:46.08).
Ladies:
1. Hayley Simmonds (Team Velosport) 3:55.06
2. Bronwen Ewing (Team Trainsharp) 4:04.49
3. Jasmijn Muller (Paceline RT) 4:06.48
4. Cynthia Kunschke (High Wycombe CC) 4:10.04
5. Crystal Spearman (Nopinz) 4:11.47
6. Vicky Gill (Drag2zero.com) 4:11.54
7. Katja Rietdorf (Team Milton Keynes) 4:20.13
8. Karen Ledger (Langsett Cycles RT) 4:22.54
9. Rachel Mellor (Holmfirth CC) 4:24.38
10. Helen Eborall (Born to Bike – Bridgtown Cycles) 4:25.34
Team: Team Trainsharp (Bronwen Ewing, Karina Bowie 4:28.21 and Tina Reid 4:28.42) .