I reviewed this last year, but I'm updating review after using it for a year, including a couple of 100 mile TT's. It's only when you've done a few hundred mile TT's that you can really give a proper review to long-distance TT products.
Essentially, I'm very happy with product. In Nat 100, I hardly got out of aero tuck, but there was little pineal discomfort, until perhaps last 10 miles. The cut out in front of saddle avoids numbing pain in that area you would prefer to avoid. It is very comfortable, very aero, and lightweight. Also it avoids the chaffing I used to get on the Adamo (because Adamo is too wide at the front).
The only drawback is that it is expensive (and not so readily available); it's difficult to choose which model to get – but overall it has been a good investment. I will be selling an Adamo on ebay soon.
Initial review
Dash saddles are an expensive alternative to Adamo saddles. It is a good option for those looking for the anatomic shape of a Adamo, but want something which is lighter and more aerodynamic.
Earlier this year I wrote an enthusiastic review of Adamo saddles – Essentially the shape of Adamo – with the cut out insert – makes cycling much more comfortable – especially when you are in a flat time trial position. The Adamo really made a big difference to time trial comfort. A 100 mile or even 50 mile TT used to be tortuous for squashing of the crotch area. The Adamo relieved this discomfort making long hours in the saddle much more palatable. However, as enthusiastic as I was about Adamo, I was dissappointed when putting it on the scales and seeing it go to over 275 grams. It's also a bit of a block, creating an aero drag. For many timetrialists and triathletes this weight and shape is not such a big deal, but for a hilly time trial specialist, you don't want to be wasting 200 grams on a saddle. Also, I didn't like the rear lip, which is used to hang up a bike in triathlons.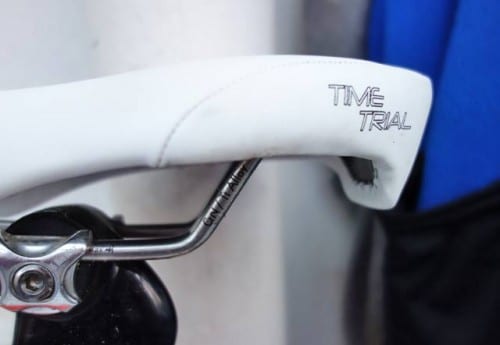 Another drawback of the Adamo that I noticed after a season of riding – was that you got superficial chaffing on the inside of the thighs, perhaps because the front of the saddle is quite wide. This isn't really a problem when riding, but after there was a persistent irritation for quite a long time. I could live with it, but still quite annoying. However, the amazing thing about spending a year on an Adamo was not a single saddle sore all year!
To overcome 'lip' of the Adamo TT, I decided to buy an Adamo Podium because it looked a bit more aero. However, when I went into UBYK in Oxford, they suggested having a look at the Dash saddles – twice as expensive, but more than half the weight, and they did look a thing of beauty. Sleek, aero and slim.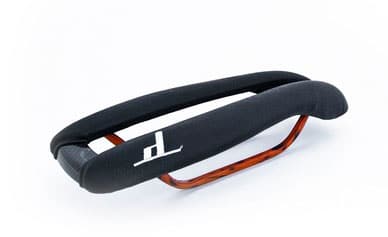 I don't like spending money on new equipment, but this did look like an expense that could be justified. Lighter and more aero and looks beautiful – the only doubt was could it replicate the comfort of the Adamo?
The other thing about Dash was that there was a confusing choice of options. From the ultra minimalist Dash Tri .7 'Time trial' version to the longer Stage .9 and wider strike .9  options. I thought the Strike would be the safest option because it closely replicates the shape of the Adamo. However, it was tempting to get the smaller tri option. I was able to test all three models, which was good. However, after a few hours on the rollers, it was still pretty hard to tell. Rather than helping, riding the saddles made the decision harder. The Tri felt the most comfortable, but I worried what it would be like in a 12 hour and when riding hilly time trials, when you do a lot of climbing in the seated position.
In the end, I decided that the one for me was the Dash Strike – giving the widest range of positions, but still being an incredible 115 grams.
Dash Strike.9
weight: 115 grams
One-piece construction (No after-bonding)
Four layer dual density padding
90mm clampable x 7mm round Carbon/Kevlar rails
Measurements: 250mm L X 135mm W
Review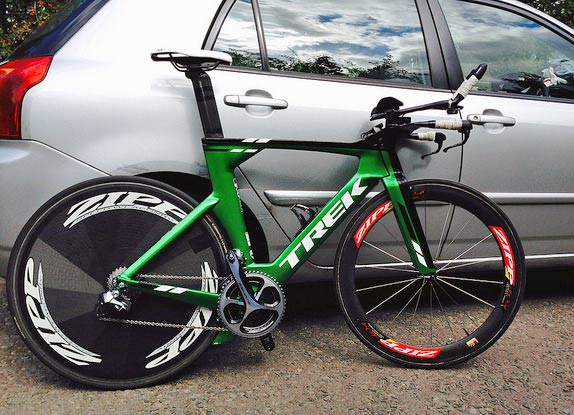 When you first get on the Dash saddle it feels quite different. Like many saddles it takes quite a bit of getting used to. It will take at least three rides to really get the feel of the saddle. So far, I have had a good experience riding it. It is comfortable in TT position, and also on recovery rides when you are not in TT position. I've used it in 25 mile TT and hill climb. It is slightly narrower at the front and has not resulted in any chaffing. It has helped prevent than pineal discomfort you get with regular saddles.
Even now, I'm not sure I chose the right option. I don't think you use the big of the saddle at the back. But, when I was riding the Tri version, I was worrying that I might need a longer saddle.
On the plus side, I'm really happy with the weight saving over last saddle. Also, it looks so much more aero and sleek than the Adamo. If you buy a saddle you can get to choose many different combinations – you can choose colour of saddle, colour of rails and also the amount of padding in the saddle. All saddles are hand-built and take a few weeks to come. This of course is reflected in the price.
On the downside it is expensive. $399 from Dash in the US. £300 from Ubyk in the UK. There are not many people stocking it.
The other thing is that I know Dash mean well by offering different shapes. But, it does make it hard to choose between them!
Dash Tri.7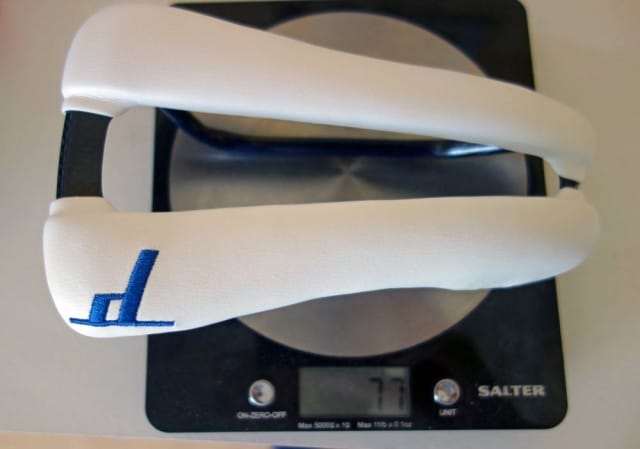 Dash Tri .7 weight on scales 77 grams
Dash Tri 7 saddle on Cervelo P5 used in ECCA 100 mile TT. It is a minimalist saddle, nothing is wasted here. I'm too nervous about using for longer time trials, so decided against it.
12 hour time trial
I used in national 12 hour time trial 2016. I finished 2nd in a distance of 284 miles. Saddle worked  like a dream. No numbness of discomfort.
Conclusion
Buying a dash was a tough process. But, they are very good. Still I need to test more in longer time trials to offer a full comparison of long term comfort, but I feel fairly confident it will be good. However, I still feel there is a gap in the market between the Adamo and Dash. You could make a mass produced saddle with good anatomical shape which is light and aero, but not so expensive. Adamo also ought to seriously look at their saddles before they get left behind. It feels like they have excellent design and basic concept, but have used cheapest materials, and are kind of letting themselves down.
Related