Yesterday was the National 12 hour TT championship in South Wales, promoted by South Wales District.  A 12 hour is a bit different to your average time trial, requiring quite a big set up and 10 timekeepers to get the finish distance. I've been thinking of doing a 12 hour time trial, for about 25 years since I first read Cycling Weekly, which in those days, still gave big coverage to BBAR tables and all the seemingly amazing distances people did for 12 hours. But, despite 25 years of good intentions it's very easy to think of a reason not to do a 12 hour – not least peaking for the national hill climb. But, this year, with Nat HC on bank road, I thought if I don't do it this year I never will.
I think the Welsh 12 hour course is very good. It is fairly fast, but still a bit of up and down and minor roads to make it interesting. I did 1,630 m of elevation during the 283 miles. In the morning, you do a 90 mile loop including a long lumpy trek to Hereford. Then there is a main 25 mile circuit around the A40 with some dual carriageway and some minor roads.
The lead up to the race was a little curious, with the country been thrown into a self-imposed chaos. I have spent more time watching the news in the past two days than I have in the past two decades; in this climate, a cycle race seemed of little importance. But, if you're depressed from politics, a 12 hour time trial is a very good way to clear the mind of all the frustration. A little extreme maybe, but it was good to get away from it all.
Although it was a national championship, I didn't feel particularly competitive. My main goal was to finish, and if I could average around 24 miles an hour I would be happy. With the longest ride of the year 103 miles, it was a step into the unknown.
The morning was good conditions, dry and bright – though after five miles, there was a hill on the first leg, and I was struggling on my new AeroCoach 58 single chainring. A 58 wasn't an ideal choice for a 12 hour TT.
In a 12 hour TT everyone has good and bad moments. My biggest crisis came at 40 miles, an hour and a half in. I was going slowly into a headwind, my shoulders were aching and I realised I hadn't even done a 50 mile TT yet. You begin to ask, why did I enter a 12 hour? With aching shoulders I spent a lot of time during the race wriggling around on the bike, Sitting up at frequent opportunities, especially uphill with a tailwind. It hurts your cDA to sit up, but my main goal was to finish, not retire with aching shoulders.
I had to stop at a traffic light on the way to Hereford for quite a long time, but rather than get frustrated, I felt relieved to be able to stop, stretch and have a rest. After that difficult first 50 miles, averaging 235 watts, I started to feel better as the race went on and on the main circuit started to pick up speed and power. I now felt a good rhythm, and was pleasantly surprised to see average power rise. Mostly I rode on feel, and didn't look at power partly because I had no idea what to aim for. Pre-race, I did estimate at average power of 220 watts, but ended up with 245 watts – which seems good given I did 278 watts for ECCA 100.
Unfortunately, at one point my helper got a little lost, so I didn't see him for about 50 miles, I stopped at a roundabout and scavenged for some food. It worked out OK, the malt loaf was actually very nice and a welcome change from all the gels and energy drinks I had been taking. Towards the end I couldn't face any more gels, I think next time I will take a bit more solid food. As the race wore on, I felt more confidence and even started to enjoy it. When you have 200 miles on the clock, you realise you're going to have a respectable total even if you do blow up.
The main downside was that around 1pm (you actually lose track of time) it started to lightly rain. For the first 3-4 hours of rain, I didn't feel affected, which came as a surprise. In anticipation of rain, I wore a Assos skinfoil winter undervest which did a very good job in keeping the warmth in. However, just as I was congratulating myself on riding through the rain, I felt my body temperature drop rapidly in the space of 5-10 minutes. I stopped to put on a gillet, but that didn't really stop the shivers. The last hour and a half, I didn't think about the final distance, just trying to keep going. I lost the rhythm of the previous hours, but even then the legs felt OK. The main limiting factor was the shoulders.
Overall
It was a very good experience to finally do a 12 hour. Inevitably there are lots of ups and downs. But, it helped to have a fairly detached approach. I spent quite a bit of time off the bike – traffic lights, natural breaks, getting food, changing clothes. But, it turned out OK.
Thanks to all the helpers and organisers of South Wales. It's a real task to put on a 12 hour, but there is something special about these events.
Big thanks to Vilas from Sri Chinmoy Cycling Team, who the previous day did a 300km audax finishing around midnight in middle of England, but still drove down to South Wales and helped out. At one point I missed a second gel, but I slowed down and made him run to catch me up. He looked to be labouring in his run, but then I remembered, if you've done a 300km audax ride, the last thing you want to do is sprint the next day. I certainly won't be doing much walking today, let alone running.
To put the 12 hour into perspective, after race I was chatting to legendary ultra distance rider Steve Abraham who was talking about training for future records – cycling distance for calender year and months. The kind of distances that involve doing 12 hour timetrials on consecutive days.
2nd place
2nd place was really great. A 12 hour medal is a nice complement to national hill climb championship.
Results
Men champion – Danny Grieves – GS Metro
Women champion – Katja Rietdorf – Born to Bike
2016 RTTC 12 Hour Championship
Provisional
1 Danny Grieves S GS Metro 294.142
2 Tejvan Pettinger V40 Sri Chinmoy Cycling Team 283.995
3 Gregory Woodford V55 Reading CC 279.074
4 Nigel Haigh V46 Strategic Lions 277.015
5 Garry Drew V52 Royal Navy & Royal Marines CA 274.606
6 Dean Ware S EC Cycles 267.687
7 Leon Marshall S Royal Navy & Royal Marines CA 267.552
8 Gavin MacDougall V49 Tavistock Whs CC 266.637
9 Daniel Thorogood V54 Ystwyth CC 264.493
10 Daniel Edwards S Sotonia CC 261.834
11 Garry McCallum V42 Penzance Wheelers CC 261.435
12 Tom Bertenshaw S Severn RC 261.368
13 Katja Rietdorf VW45 Born to Bike – Bridgtown Cycles 258.036
14 Crystal Spearman W NOPINZ 255.901
15 Chris Hopkinson V49 CC Desiragear 254.103
16 Chris Scawn V64 Plymouth Corinthian CC 253.968
17 James Scott V51 Royal Navy & Royal Marines CA 252.921
18 Matthew Williams S Cardiff Ajax CC 250.69
19 Stuart Edwards V51 Royal Navy & Royal Marines CA 250.453
20 Niels Langhout S Sotonia CC 248.513
21 James McKenzie V63 CC Ashwell 243.032
22 Lynne Biddulph VW48 Born to Bike – Bridgtown Cycles 242.78
23 Steven Abraham V41 North Bucks RC 241.205
24 Bob Richards V58 Royal Navy & Royal Marines CA 233.148
24 Mark Gorman V54 Royal Navy & Royal Marines CA 233.148
25 Shaun Griffiths V53 Pembrokeshire Velo 233.029
26 Damian Cudmore V41 Camel Valley C & TC 232.856
27 Simon Kinsey V47 Acme Whs (Rhondda) CC 222.723
28 Edgar Reynolds V68 Congleton CC 220.368
29 Ginine Gronwalt VW44 Camel Valley C & TC 215.471
30 John Murphy V76 Gloucester City Cycling Club 214.442
31 Paul Griffiths V61 Cardiff Ajax CC 214.11
32 Gordon Sephton V45 Derby Mercury R C 213.764
33 Andy Starr V41 Ystwyth CC 209.741
34 Phoebe Heveron EspW Cardiff Ajax CC 206.137
35 Rhianne Griffiths W Pembrokeshire Velo 202.289
36 Helen Willis VW52 Camel Valley C & TC 196.778
37 David Barry V67 Team Bottrill 188.96
38 Andrew Harries V56 Ogmore Valley Wheelers CC 175.555
39 Catherine Snell W Camel Valley C & TC 163.17
40 Jenny Bonham W Richmond CC 156.475
Photos from the day
by Vilas Silverton
.
.
Chris Hopkinson. Ultra distance rider. 2014 completed Solo RAAM in 10 days 18hrs 55mins..
.
Helpers having fun in the rain.
No Pinz
.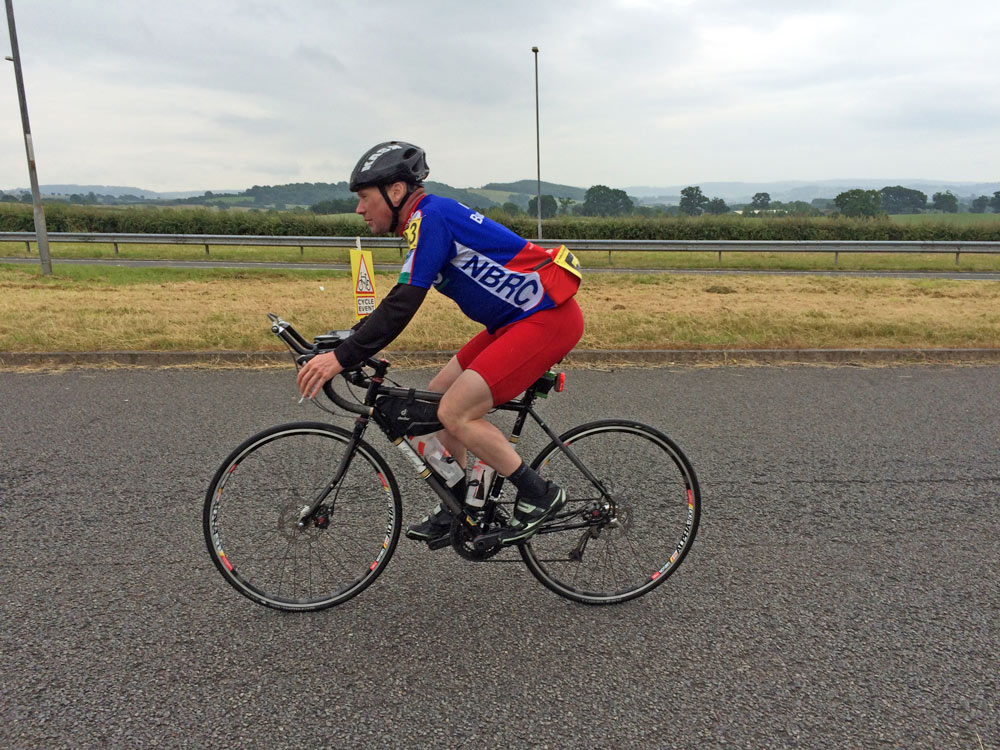 Steven Abraham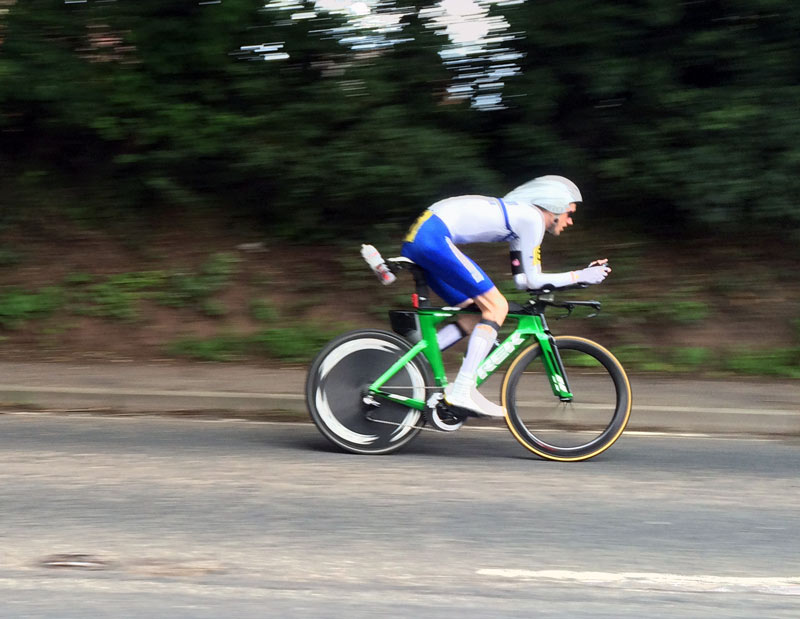 Tejvan going so fast, the camera couldn't quite catch him.
Race
Distance – 283 (approx)
Position: 2nd – Results CTT
Time – 12:00:00
Average speed – 23.9 mph
Average cadence: 87
Average power:  243 watts (new Quark Elsa, giving higher pr)
Temp: 52 F
Ten mile spilts
Garmin is auto stop, so doesn't include time off bike.