The Assos LS Skinfoil longsleeve base layer is a top of the range base layer, designed to offer comfort and temperature control. In summary – expensive, but very good.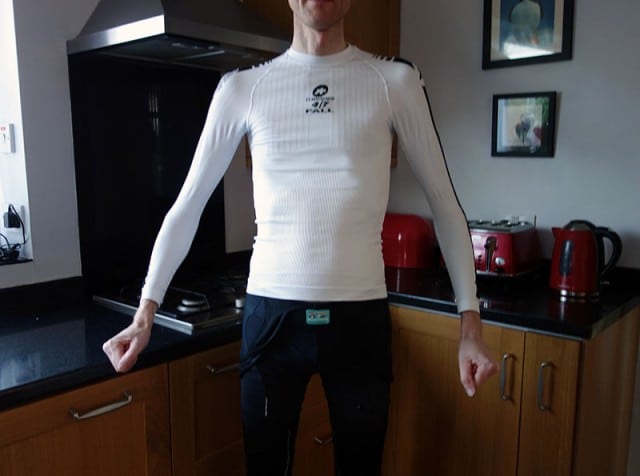 I bought the Climarange 4/7 Fall version, as that seemed to offer the biggest range of temperatures for the base layer to be useful. I have used it over the winter (mostly wet and mild). But, also used it this weekend, cycling in pretty chilly temperatures of 2 degrees.
Fit
I took size L, (waist 30-32) which was a good fit, allowing for my lanky body shape. I would have liked arms to be a little longer, but it felt close to the skin without being tight in any particular parts. Assos say that it is manufactured like a tubular design (rather than flat bed). This seems to mean it has better contours to the shape of the body.
They say it is important to get the right fit because if it doesn't fit close to skin it doesn't work as it should.
Comfort
Next to the skin it is very comfortable. Super soft. I never thought I would get excited at wearing a base layer, but this really is something.
Warmth
When you put the base layer on, you can almost feel it has central heating. It feels very snug and warm. When I was riding yesterday (2 degrees) I did use other thermal layers between jacket, but it felt like this base layer was a very good start – I never felt the biting wind or a layer of cold sweat.
Breathability
I wore it on Saturday for a fairly steady two hours. On Sunday I picked it up and it felt dry with no smell of sweat, so I wore it again. On Sunday I did two hours at a faster tempo and worked up more of an effort. You could say it was lower sweet spot, but even then it was little in the way of sweat being a problem. I wore it when the weather was milder and it was very effective in allowing the sweat to escape.
Tricks of the trade
Assos say that the garment is specially designed to be:
seamless, next-to-skin AEPD
extreme elasticity = extreme body adaptation
zeroPressure = total comfort
bodyMap = different thickness, structure and or elasticity, depending on the body area,
giving maximum performance, breathability and intelligent protection.
intelligent body temperature regulation
advanced push-pull effect
antistatic, antibacterial
As much as I don't like product gumf, it does seem to be a product which actually lives up to the high claims.
Downsides
THe only thing is that on the back of the base layer they have printed in big block capitals
HAVE A GOOD RIDE!
This is just annoying. At least no one can see it. It's a shame because from the front it looks quite a classy garment.
Reassuringly expensive
As you might expect from Assos. It is reassuringly expensive with a RRP of £87.99
I was able to pick up at 40% off. Still it felt a little extravagant for a mere base layer. But, fortunately or unfortunately, it is worth it.
I wouldn't worry about buying the full clima range. The fall is as thick as you need really. If it is really cold, just use more layers, rather than feeling need for separate base layers.
Overall
Overall I do really like it. It's quite a significant marginal encouragement to go out in cold, biting winds or damp dreary conditions.
It is expensive, but I feel that over the years, I will get good value from it.
Related