After the national 100 mile TT last week,  it was – in the words of Monty Python – time for something completely different. A short hill climb held in the setting of Penn House estate near Amersham, as part of the Chiltern Cycle Festival. Not only a hill climb, but three rounds, with a head to head to decide 'King of the Chilterns'
I arrived early to have a look around the Chiltern cycle festival and a few of the sportive riders making their way back from their ride around the the Chilterns. There were lots of interesting cycle stores and displays, with retro looking bikes and clothing definitely in vogue. There were quite a few cyclists kitted out in their finest wool and Alpaca jerseys and shorts. You can say what you like about retro cycling – but it is very aesthetically pleasing. It seemed a good atmosphere and was a nice place to hold a cycling festival. Lots of children and families enjoying cycling, which is good to see.
However, in this sedate, relaxed atmosphere of vintage bicycles and L'Eroica sportives – I felt somewhat out of place with a modern bling, blong, low weight carbon fibre bike – electronic gear shifters and one piece lycra skin suit. At least, I wasn't wearing a pointy time trial helmet, that would have been too much…
The climb was held on the closed roads of Penn House estate. A road wide enough for two cyclists to head face to face. It wasn't the most challenging hill climb – about 0.65 miles at 5-6% and a bit of downhill thrown into the mix. If ever a climb was a 'big ring affair' this was it – even for a skinny hill climber who likes to turn over a high cadence. With a winning time of less than two minutes, it would be well suited to a powerful rider with a good short distance burst.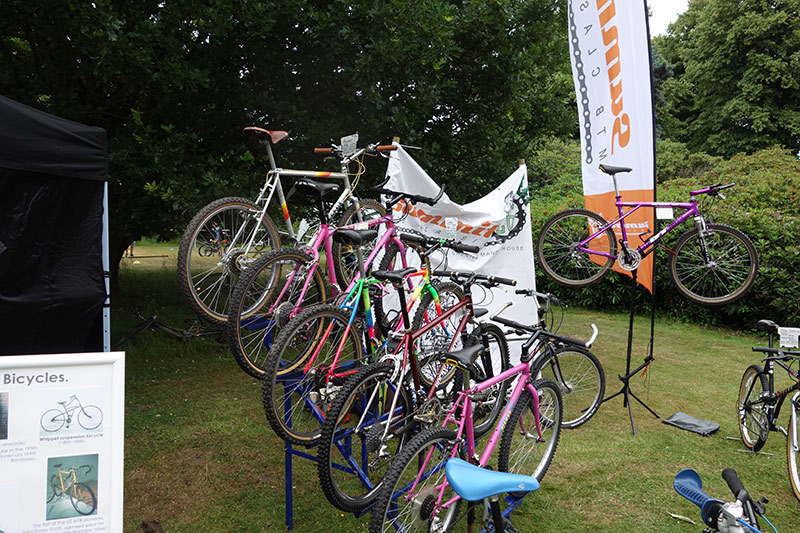 We arrived at the bottom of the climb to be greeted by a pretty hefty downpour. It was a day of passing showers, but this one left its mark. I set off in torrential rain and after first round headed straight to the car to warm up. So much for record breaking summer heat.
Second round was a bit more serious, with riders paired off, with the fastest four winners to go through to the final heats. I was one of the fastest and so in the final was up against local Beeline rider Dan Bigham. The third round was a simple road race – first over line. Not used to doing a hill climb with any tactical nous I set off like I usually do, set the pace, Dan made a well-timed acceleration to win. 3rd place was Gareth Thyer and 4th Graham Knight.
By co-incidence this was my 100th open hill climb. I've won a lot so you can't complain about coming second every now and then.
It was also under British Cycling rules, I was making the most of my Racing License and my heady status as a newly promoted 3rd cat road rider. 7th place in BTTC gave me a whopping 27 racing points and has finally lifted me out of 4th cat road status after 10 years on the bike; that's progress – at this rate I will be an elite rider by the time I'm 67.
I won a nice pair of Le Coq shorts and socks for second places and a picture of Mark Cavendish.
Tamara Davenne (of Zappi CC and Oxford Univ CC) was lady champion, with Maryka Sennema in second place. So I wasn't the only national hill climb champion to finish runner up today. The youth winner (Welywn was a sprightly young lad of 14, who finished 5th overall. Sorry, can't remember names.
Hill climbs
Summer hill climbs are a good idea, but it felt quite a far cry from the hill climb season. But, with long distance TT coming to an end, it is time to refocus and think of what's coming up in a few months. It's always good to try new things, but I'm glad most hill climbs are straight up timed efforts; hill climbs are hard enough without having to think as well!
 Photos
The winner and a skinny chap in the distance.
Youth podium.
Women's podium. Tony Gibb on the mike. Lord and Lady Howe of Penn House on the right.
Thanks to Tamara Davenne for photos