Sunday morning was the Eastern Counties Cycling Association 100 mile TT. Based on the A11 and A14, it is a variant of the popular E2 courses. The 'E2' is a fast bit of road and can claim quite a bit of timetrialling history. It was here Michael Hutchinson set comp record for 50 miles (1.35.27); and just recently, Movistar pro, and Current British TT champ, Alex Dowsett, smashed the 10 mile Comp record with a mind blowing 17.20. (34 mph)
The course is fast because it's flat, smooth surface and you get a drag from passing cars. The weather forecast for Sun was one of those forecasts all testers dream of – warm, no wind and dry. I've ridden through enough gales this year, to feel I deserve a 'float' day for a change.
As it happened, it was relatively cold when I arrived at the HQ. I had been so confident of a hot day, I didn't have many layers.
Although the course is fast, it's not all dual carriageway. The first 15 miles was based on a B road. Early in the morning it was as quiet as the still atmosphere. No cars, no nothing, just you and the bike. I really enjoyed this stretch. The first 10 miles of a 10 is always quite easy. You can get decent speed, as you are quite fresh. However, it didn't all go to plan. Over the first lump in the road, my rear saddle mounted water bottle ejected itself never to be seen again. I'm not sure why I bother writing blog posts – I never listen to my own advice, I didn't have a spare bottle planted anywhere on the course. I did test the bottle cage, and although it failed in testing – I thought I'd done a clever trick in sticking some thing on bottle to hold it in place. Anyway, it was gone and I wasn't doing a u-turn to look for it.
I still had 1.6 litres in 2 water bottles, and since it was quite cold, I wasn't too badly affected. Nevertheless, I spent the first hour thinking about asking someone on route for a spare. But, because it was so cold, I felt my bladder filling up pretty quick from water drunk before start, and this dissuaded me from drinking. It took 70 miles to drink the first 750ml (with 2 gels).
The E2/100 is one of those courses where you can actually get into a good rhythm. There are no hills to speak of – just a few gentle drags. It's not exactly hill climbers territory, but even mountain goats enjoy cycling fast on the flat. The road is super smooth, and a great relief after several races of being jarred over the bumps of the A31.
Pacing is important in a 100, and I had a fairly good idea since doing one 100, and quite a few 50s this year. I didn't really look at power meter for first 2 hours – just the occasional glance – which usually led to knocking off the pace. After 2 hours, I'd averaged about 270 watts – same as in the Hounslow 100 a few weeks ago. But, the good thing about this race, is that I was in slightly better shape for the last half. The power ebbed away a little, but not very much compared to the last 100. Average power for race was around 262 watts, compared to 256 watts in Hounslow.
At 70 miles, you reach the last turn on the furthest point and you know you just have 30 miles to go – it's all the way home now. This gave confidence to go a bit harder, though I may have overdone it a little from 70-80 miles. The last 20 miles of a 100 are always the hardest. You start to hurt in all kinds of places, and it becomes increasingly hard to keep up the pace. I started looking at my Garmin with greater frequency – not so much because I needed to, but you just want to see some evidence you're nearly finished. It's a bit like going for a drive as a young kind and you keep asking 'Are we there yet, Dad?' Time definitely went slower in the last 20 miles
At 90 miles, I had a 3.19 on the clock. All I needed was a 20 minute 10, and I'd have an amazing time. But, the last 10 miles were never going to be quick. As soon as you got on the rougher B road, you saw the speed plummet. A road which seemed quite nice at 6am when you were fresh, now felt particularly hard work. In the end, I had to really dig deep to get to the finish. By this point I'd run out of drink and was getting thirsty. Still I stopped the clock in 3.34.17.  You can't complain when you take 10 minutes off your pb, and over 12 minutes off 2013 pb. I guess I will never take 10 minutes off a pb again.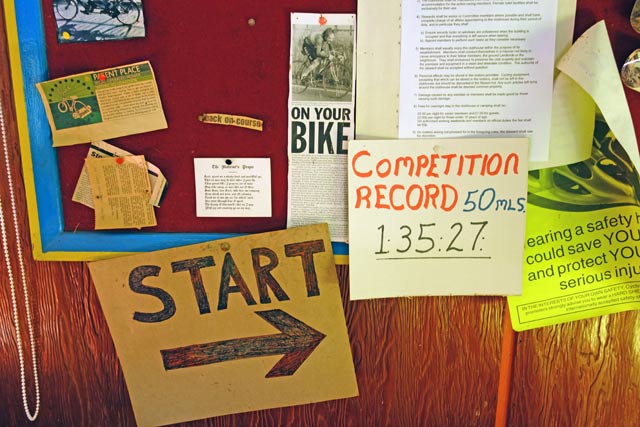 I enjoyed the event and was glad to get a pb. Good event put on by ECCA. After the race, I also enjoyed sitting in the Eagle Road Club hut and looking at the cycling memorabilia.

After a reviving cup of tea and sandwich I dragged my tired body into car and began drive home. As I was driving home, I saw one of the competitors, running up and down the road!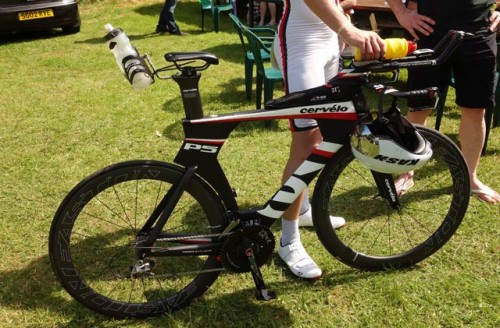 I guessed he was a triathlete before the race, just by looking at his muscular upper body and bike. But, still to go running after a 100 mile TT, that was really amazing – I can't walk up and down the stairs properly, let alone go for a jog.
(photos / results /  proof reading coming)
Results
Tejvan Pettinger 3.34.17
Jon Wyn 3.37.
Joel Wainman 3.39
Steve Irwin 3.39
Mark Turnbull 3.39
Pacing
Bad luck to Michael Broadwith who punctured after 8 miles.
Related