'Faster: The Obsession, Science and Luck behind the World's fastest cyclists' by Michael Hutchinson is a look at what makes the world's elite cyclists go faster. Is speed due to natural talent, genetics, training, diet,  cutting edge technical equipment or a combination of all of these? During his investigation, Hutchinson reveals a lot about his own personal journey / obsession with going faster, which is both revealing and humorous. He also gets to interview some of the leading figures within the successful British Cycling / Team Sky set up.
I read it pretty fast, and enjoyed it because:
I share a similar obsession with trying to go faster on the bike (though realising I haven't spent the past 10 years sleeping in an altitude tent does make me feel a bit like an amateur)
It is written well, with a good sense of humour. This is a big plus for another cycling book. Somehow Hutchinson can even make the law of turbulence seem entertaining (not that I really understood what he was saying about turbulence) If there is one criticism of his writing style, there is often one too many sub-clauses; the end of the sentence is quite divergent from the start – but since I'm quite prone to liberally adding sub-clauses myself – it's a fault I'm happy to forgive.
Within the several chapters, there are a few nuggets of wisdom which actually might help me go faster (or at least save me thousands of pounds in spending money on things which aren't worth the outlay.)
It's a bit of a coup to get so many interviews with the hierarchy of Team Sky and British Cycling. There is often good advice from the Team Sky / British Cycling coaches. I like the fact pro-cyclists say they don't mind sharing interval sessions. As they say it's one thing to know what to do, it's another thing to actually do it.
Personal journey
I never relate so well to general cycling 'text' books on how to go faster. But, I do enjoy reading the personal experiences of cyclists who have been there and done it, especially if they do similar races to myself. It is interesting to read the highs and lows of Hutchinson's career from going too hard at the 2002 Manchester Commonwealth Games  (finishing in 15th place – though Hutchinson says he could never bear to look where he finished) to a creditable 4th place in 2006 and 2010. Overall, you get the impression of someone enjoying the process of trying to go faster, even if it involves some crazy decisions. But, this ongoing effort seems to mean as much as the 50 domestic national titles. Important for those who don't have 50 national titles.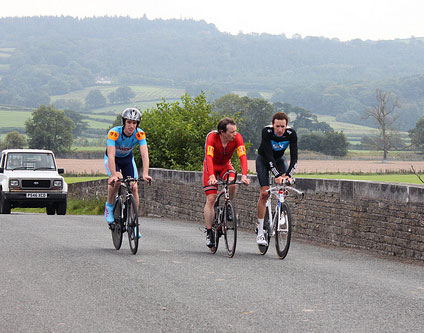 Power figures and different types of riders
These days, there is always an interest in power figures (especially when you've just bought one and think it might be broken because the power output is much less than you would like to say). If I remember correctly, Hutchinson says he peaked at 470 watts for a 10 mile TT. His recovery rides are at an average power that I might struggle to do if I went all out in a 10 mile TT. Power figures are not dropped in just to boast about, there is usually a point, often self-deprecating as to why very big VO2 max and high power figures are not necessarily enough.
Just to prove the point, I can claim to be one of the very few people to beat Hutchinson in a time trial, when I wasn't even riding a TT bike, but a humble road bike. (2012 National hill climb on Long Hill). That's the beauty of cycling, Hutchinson can catch me for 16 minutes in the National 100 mile TT, but when the road goes uphill, it can favour a completely different kind of rider. From the likes of track sprinters like Chris Hoy to mountain goats like me, there is a huge range of disciplines which suit different riders. This is something the book explains quite well Hutchinson was built for endurance time trials. A near perfect physiology, but a cautionary reminder, even with 50 national titles, there is always someone more talented, more lucky in the genetic lottery, or better at training and all the rest.
I read the book in two days, but, I'm already struggling to remember what I've read. It is definitely the kind of book which benefits from careful reading, and also reading a second time. There are some concepts which are more complicated than just 'pedalare'  The irony of reading the book, is that I approached it very much with the same motivation as Hutchinson approaches cycling – what can I take out of this book which  makes me go faster on the bike? I'm sure many cyclists will relate to that constant questioning of life decisions
– but, what will make me go faster?
It's the question always at the back of your mind. The book helps to clarify how as athletes we carry this motive around with us. It's not quite that we need to set up Aerodynamics and Speed Freaks Anonymous, but it is a humorously cautionary tale on the fine line between dedication and obsession.
Nuggets of Wisdom
After reading the book, some nuggets of wisdom which I remember:
The best skinsuit may make substantially more improvements in aerodynamics than upgrading your bike. Why spend £7,000 on a new time trial bike, when you can spend £1,000 on a cutting edge skin suit? (because the bike looks better?) If you really want to go faster for free, forget breaking into a bank to find £7,000 for a new bike. Try breaking into British Cycling headquarters and find those skinsuits put in a cardboard box after the UCI decided they were too fast. Somewhere in a Manchester cupboard is aerodynamic gold.