Review of the The Bontrager RXL waterproof overshoe.
I'm always on the lookout for warm footwear and accessories. These Bontrager RXL overshoes looked very warm with a generous fleece lining. They also came recommended from Steve, the bike mechanic in BikeZone. Despite already having a pair of overshoes, I bought these. They cost £36, so I was hoping they would give an impressive performance to justify the price tag. Steve gave me a tip that he recommended erring on the side of getting a bigger size.
He said the first pair he had were tight, restricting the blood flow and defeating the purpose of overshoes. I take shoe size 46.5, so I chose the XL size which says it fits 47-48. It proved a good fit for my Mavic cycling shoes – size 46.5. I'm sure it would be fine also for shoe size 47, but 48 might be a little on the tight side. Despite getting XL, it was a snug fit, and once on didn't move. There is a good strong zip and it is well made.
Underneath the shoe is designed for durability, with generous holes and no insulation. It means it won't deteriorate walking around, but it doesn't offer any insulation from the underneath. A complement to this shoe may be a lining of your shoe pad.
Insulation
The main selling point for this overshoe was the generous fleece lining. It is warmer that most overshoes. My feet were quite warm at 10 degrees without the usual hotpads. These over shoes are ideal for really cold days.
Drawbacks
If you're feet aren't prone to the cold, these might even be a bit warm during spring and autumn, where it is a close call on whether to wear overshoes or not. If you don't often get cold feet, you might be better off with a cheaper and slightly thinner overshoe. At £40, it really is quite an expensive overshoe.
Strengths
If you want maximum insulation for an overshoe, it is hard to beat this.
Despite warmth and the layers of insulation, I find it perfectly breathable. It's not sweaty. I sometimes find the neoprene overshoes to be a bit on the sweaty side.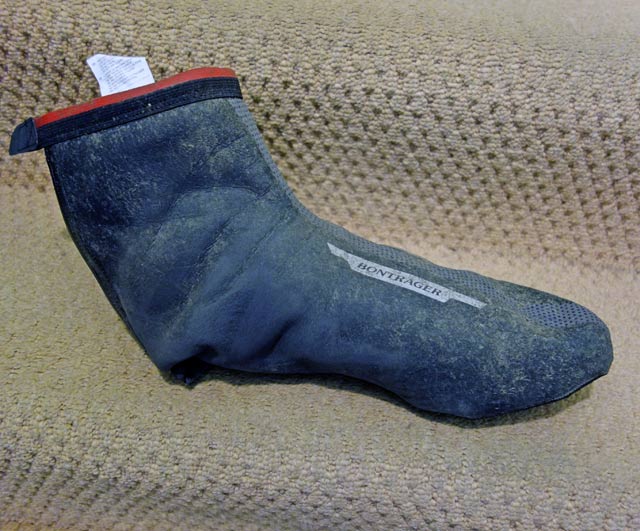 Water resistance is good. I went out on long 6 hour rides when there was a lot of surface water spraying up. The shoes are fine for this situation. In rain, there is a reasonable degree of water-resistance. Though after a couple of hours, it does start to seep through. Though I've never found a perfectly waterproof overshoe; it seems to go with the territory.
Conclusion
If you want the maximum warmth from an overshoe, this is worth the £36-£40 price tag. It is extremely well insulated and has excellent properties of durability and decent water-proofness. This is an overshoe which will be good in the depth of winter.
I would make two main suggestions, when choosing a size – it is better to buy a slightly bigger size than slightly smaller size.
It's only really worth the £40, if you really need high level of insulation. If you do little riding when it gets below 5 degrees or you're feet are quite warm, it's not really worth the outlay. As an alternative, you could get these DHB Neoprene Nylon overshoes for half the price at £17.99
I've tested several overshoes over the years, and this is probably the best I've used so far.
Who will enjoy this product?
Anyone who struggles with cold feet (like me)
Would I buy it?
Yes. I did buy, and would buy again.
Buying overshoes
Related products for keeping feet warm
Related posts