I've accumulated quite a few leg warmers over the past 10 years. This is a review of the different models I've been using.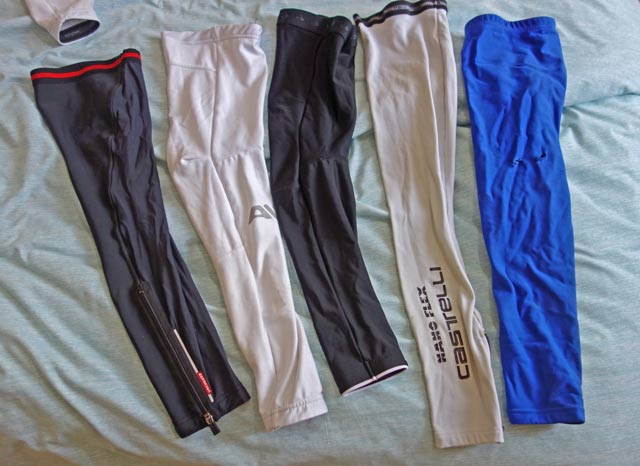 From left to right
Specialized
Altura ergofit
DHB Vaeon Roubaix
Castelli nanoflex
Blue 'prorace' – discontinued.
Not featured here, I've also tried on some Impsport custom legwarmers.
Features I look for in leg warmers:
Not too tight so when cycling you don't feel they are restricting your movement.
Stay in position, don't roll down your leg
Warm. – different degrees of warmth depending on conditions. I like to have a thin pair, and a warmer pair.
Zip is useful for taking off over cycling shoes
To a large degree, some of these features need picking the right size as much as the individual brand.
Specialized
I like the Specialized leg warmer because it has a soft and flexible fabric. When you put it on, it doesn't appear too tight. They are also quite thin, which makes it good for those times when it's warming up, but not quite ready for shorts.
I have size L. It is prone to slip down, but if you put it underneath a pair of shorts, then it stays fine. Because it is thin, it dries pretty quick.
I've had it for over 5 years and has lasted well. Simple, but effective. They seem to have discontinued this model, which is a shame because it has been a very good product. The new Specialized leg warmer is called the Specialized EZ, I haven't tried it, and unfortunately, it's a bit more expensive (up from £32 to £40). Specialized EZ at Evans
Altura Ergofit
This was one of the most expensive leg warmer. The idea is that it comes pre-cut in the shape of a leg. It doesn't lie flat, but has the bend built into the knee. The idea is that anatomically designed for your leg, it stays in place whilst offering greater freedom of movement.
Initially I ordered a size L, but this proved too big for me. It wouldn't stay up and was very long. I sent it back and got a size M. This definitely stayed up, but it was a real struggle to get the leg on. The end of the leg warmer is stiff and small, to get it over your foot you have to take off your socks and really give it a good yank. Also, after a few weeks, I developed a hole in the stitching. The leg warmer felt quite tight when riding.
This has been the most disappointing leg warmer, because it isn't comfortable and is difficult to get on, causing the stitching to come loose. It may just be unlucky with the sizing, but large felt too big, and medium felt too small. It seems a good idea to have an anatomical fit for the shape of the leg, but somehow it didn't work for me. If you look at other reviews, other people are more positive, so you might have a different experience.
DHB Vaeon Roubaix
I only got this quite recently. I'm not sure why I bought another leg warmer, I think it was because I wanted a slightly warmer material for the colder months of Jan and Feb. Overall it does a good job. Simple effective design. Quite warm, and easy to put on and wear. It is quite cheap for what you get. only £19. Half the price of some more well known brands. DHB Vaeon Roubaix at Wiggle
Castelli Nanoflex
I bought this because I was intrigued about the 'nano flex' properties which promises to deflect rainwater and keep you dry.
I'm not convinced this is a really significant improvement. In light showers most leg warmers dry pretty quick. Heavy rain, and you get wet no matter if you are using Nanoflex. Maybe there is some better water roll-off when you get spray coming up from the road. However, I wouldn't buy it on this feature alone.
However, apart from that, it is a good leg warmer. I've worn it a lot and it fits quite well to the contours of your leg. Though over the months of wearing, the top elastic seems to have stretched a little so it can come down, if you're not careful.
The material seems to match the contours of your leg like an extra layer of skin. The main thing is that it is sufficiently warm and flexible to be good to wear. Out of my range of leg warmers, these are the ones I go most for often. The white colour is slowly getting dirty. You might be better off in a different colour, unless you really have a washing powder that washes 'whiter than white' The main drawback is that it is considerably more expensive than other brands.
Imsport Custom leg warmers
When we got some Impsport custom cycle clothing, the leg warmers were very tight to get over the foot! But, apart from that OK.
Overall
In blind testing I'd have difficulty distinguishing much difference between the £19 DHB legwarmers with the best Castelli nanoflex at £42. However, I do still think the Castelli nanoflex are still the best and I like to wear these the most (except when very muddy). The Altura Ergofit were disappointing. The best value has definitely been the Specialized. The DHB are a good alternative now Specialized seem to have gone upmarket. I do recommend looking for a legwarmer that has a zip because it makes it much easier to take on and off. Another thing about legwarmers is that it can be individual depending on the size of your leg. But, when it comes to legwarmers, there's no harm in paying £20.
I'm 6 foot 3 with inside leg of around 38″
 Related