Last week I was singing the praises of cycling indoors on the rollers. 'Falling in love with the turbo' and all that kind of nonsense. My old man would give me a clip round the ear hole and tell me stop being a big southern softie – 'stop dodging the showers and go outside for some proper cycling.' Roger De Vlaeminck didn't win Paris Roubaix three times by listening to his iPod shuffle whilst doing level III on his indoor rollers.
So this weekend, it was time to ditch the conservatory and heated saddle for a bit of proper 'old school' cycling – cycling through the mud, wind and sleet and snow.  It was time for a bit of winter grit, and getting in the miles without complaining.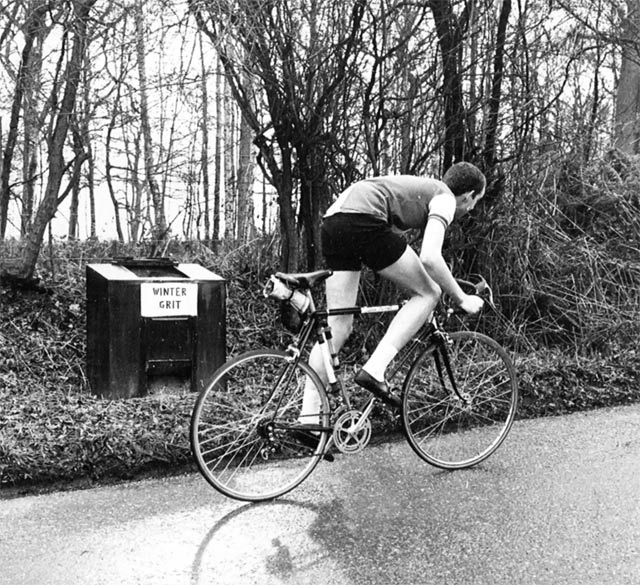 It was also time to invoke the spirit of Sean Kelly and Bernard Hinault and other legendary figures from the past. One thing everyone agrees on, the modern generation is soft. Just look at the early editions of the Tour de France 400km stages over unmade roads on fixed gear bikes; and if you're bike breaks down, no mechanic to give you a spare wheel. As for riding in the rain Sean Kelly would just say 'I would go out whatever the weather, and only when I got back would I decide if the weather was too bad.' Old school cycling has no time for marginal gains, power zones or heart rate monitors – Just pedalare…
Saturday was a lonesome 2 hours around the flat bleak farmland, north of Wantage. Dodging the A420, and sticking to small lanes, it was a matter of getting some slow miles in. 2 hours 20, for 38 miles. It felt handwork, especially the long relentless plod into the wind. There is an old school training theory of keeping it on the little ring until April. I'm not devoted to old school training methods. But, I was on the little ring all the way – more by necessity rather than choice.
Sunday, was another kettle of fish. This time I was joined by rising Buxton CC star, Chris Baines. A national junior hill climb champion (2012), and a northern cyclist raised in the hills of the Peak District.
Chris is new to the area so I was able to take him around some hills of the Chilterns towards Watlington and Henley. Hughenden Valley towards High Wycombe was looking beautiful. Don't tell the old school guys, but there was no sleet or hail, just glorious February sunshine. If you had to pick a day to do a four hour ride in February, it would be hard to choose a better one. Though I feel compelled to add a random old school cycling quote:
"A Paris–Roubaix without rain is not a true Paris–Roubaix. Throw in a little snow as well, it's not serious."
– Sean Kelly
The muddy roads were flooded, and I got a good splattering from hanging on to Chris's back wheel. He had a nice pair of mudguards on, but it wasn't enough to stop getting splattered with mud from the incessant puddles. But, if you're trying to emulate the old school warriors – a bit of splattered mud, is infinitely preferable to actually cycling five hours through the snow. [1]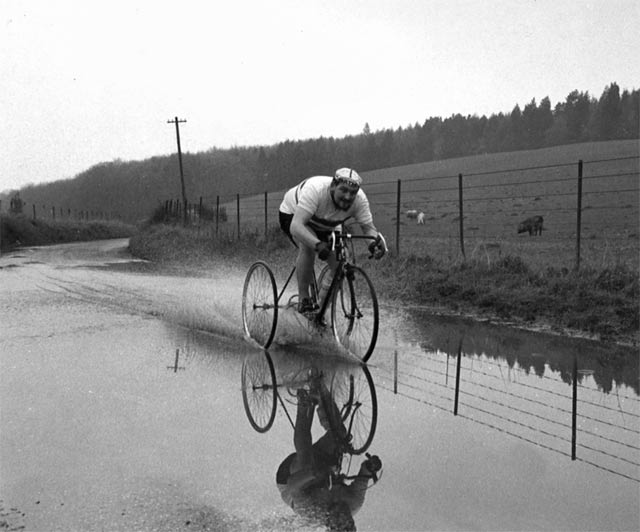 In a rush of blood, I've already entered my first race of the season, a 14 mile time trial by Kingston Wheelers next Sun. A few hours of sweet spot on the rollers and I felt like I was flying already. But, rollers can be deceptive, get on the real roads with a fierce wind, and you soon notice those 3 weeks off the bike.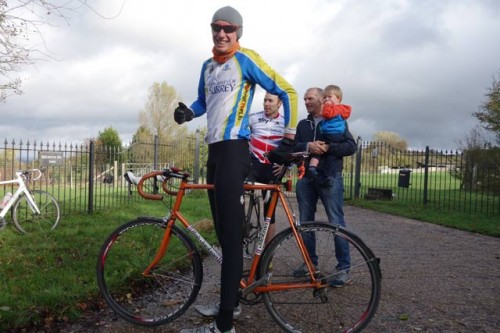 After spinning happily away on the rollers in my 56*12 last week, it was time to grovel along in the little ring and spend most of the ride sheltering from the omni-directional wind behind the Baines machine. We tackled quite a few decent climbs. At another time of the year, I would have shifted up the gears and gone all out for some invisible hill climb glory. But, a combination of missing form, tired legs, dodgy gears and a general psychological reluctance to go too hard meant I had to settle for watching my fellow cyclist effortlessly glide up the hills. (don't you just hate those stick thin hill climbers who ease away as soon as the road goes uphill?)
Well, it's always character building to get a good kicking early in the season.
After a good four hours of non-stop cycling, I was relieved to get back home. 70 miles without so much as stopping to look at a map. A good constant effort and the longest ride of the year. I'm glad next weeks race is only 14 miles, is all I can say.
Footnotes to the old school cycling
(1) Hinault's epic race through the snow in Liege-Bastogne-Liege -1980
In April 1920, the 66th edition of Liege-Bastogne-Liege was run off in a raging snow storm. After the first hour, half of the 174 starters had already abandoned. [1] Riders were just trying to stay warm and survive.
Bernard Hinault was in his element, riding away from the break he just decimated the field, winning by over 9 minutes. Hinault was nearly frostbitten with cold; It took three weeks for proper movement to return to two fingers of his right hand. But he had ridden himself into the annals of the 'old school' legend. Procycling reported:
Riders struggled on, with hands to faces to keep a view of the road. The race was an anonymous mass of plastic jackets and windcheaters. Spectators stood in goggles like upmarket snowmen, red-faced in the bitterness. Within the hour some teams had barely a man left on the road. They pulled out two dozen at a time, men like Gibi Baronchelli and Giuseppe Saronni, Lucien Van Impe and Jean-René Bernaudeau.
Related