A review of Assos T607 F1 Mile shorts after a year of using them.
Summary They are very expensive for a pair of shorts – around £160. But, they are probably one of the best cycling products I have bought in recent years. They have really made long 5-7 hour winter training rides much more comfortable. I used to get all kinds of pain and discomfort, but these shorts mean I don't even think about that aspect of cycling.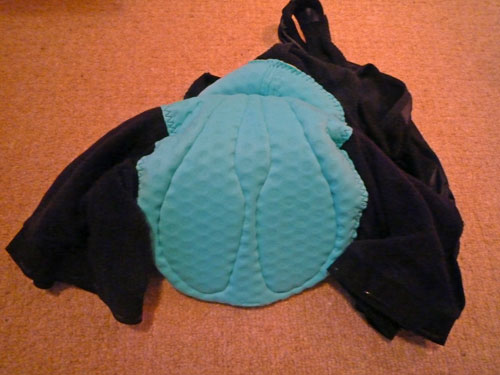 Admittedly I have worn some pretty cheap and unconvincing shorts in the past. This was a big step forward from a pair of shorts costing £40 to nearly four times the value. But, I couldn't go back to the older shorts now.
A year ago, I also bought some F1 Assos Uno cycle shorts for £117.  They are also excellent, But, I find I tend to wear these T607 more often because I prefer the insulation and they are slightly more comfortable than even the F1 Uno.
The problem with cycling is that there is always a temptation to spend lots of money – weight saving carbon fibre, cool clothing, new bike e.t.c. It's always hard to know whether spending these great sums is justified.
Firstly, it's not often you buy a pair of shorts, and with it you get an owners manual. There's some rather discouraging warnings.
Do not machine wash
Do not wash with other clothes.
Do not ride near brambles
Do not get caught in velcro
(Do not get pushed into barbed wire by TV motorbike) (youtube)
Overall, there seems to be a strong warning emanating from this owners manual – Assos shorts are not designed to last. Not the most reassuring thing to read about something just costing shy of £160. Because of this I have taken care of these shorts more than any other piece of clothing I have owned.
I have hand washed them, I have taken a pee, according to the users manual, I have even avoided jumping through bramble whilst wearing them
One year on, I have got considerable use out of them, and they are still going strong. The padding is starting to be slightly worn, but it doesn't look like it needs replacing. I'm hopefully of getting another couple of years use out of them.
Sizing
Assos warn that proper sizing is very important. Get a size too big and it won't stay still and move around. Get a size too small and it will stretch the seams and over time disintegrate (there's a lot of talk about the shorts disintegrating). Rather worryingly, they say most professionals usually start in size L, and later in the season move down to size M. All very well for professionals who don't have to pay £150 to change sizes. But, I want to get size right first time. I choose size L because it fitted my height 180-185cm, (but not the weight of 80kg).
I have worn the large sizes for over a year, and it still fits fine. There is no need of wanting to move down a size. But, for obvious reasons, you want to take care with getting the right size. Importantly, there should be a stretching of shorts when you stand up in them. The important thing is that they fit you whilst in the cycling position.
Comfort of Ride
The fabric is amazingly comfortable, the shorts are comfortable everywhere. As Assos states, when you stand up, it feels tight because it's designed to be worn in the cycle posture. And I don't think you need a Swiss owners manual to tell you these shorts are not designed for 'social use' (though the ever-thorough Swiss do actually tell you that they don't recommend wearing these shorts in a 'social situation')
The manual tells you to not pull the shorts into place, but merely let the shorts do the work. I oblige and let the fabric move into position, as I set off down the road. The dimpled padded insert is considerable and really well designed. Not like some old shorts where the rather feeble padding seems to stop at an inappropriate point.
After two hours into the ride, you realise you've hardly noticed your saddle or seating position. It's very comfortable. After five hours in the saddle, the first signs of hardness start to appear. But, this is relatively mild. At the end of the ride, I was really praising the design of the saddle. It's done a lot to improve the ride quality over other cycle shorts. It is a big step up from any other cycle shorts that I have experienced. This winter I have been doing rides of up to seven hours. I've never experienced any real discomfort. I used to suffer from a lot of the dreaded saddle sore. But, this past year, I have rarely suffered, apart from after a few time trials (where I wear skinsuit and not these shorts)
The saddle on my winter training bike is a pretty cheap Bontrager model. It only costs about £30, and is really at the bottom end of the saddle range. On my summer racing bike, I use an 85gram sheet of carbon fibre. But, the shorts do the work of a very expensive saddle. I've never really found a super-comfortable saddle. My advice is spend the money on the shorts rather than the saddle, if you need comfort.
Temperature Control
The rather unromantically named T607 shorts are also designed for cool weather conditions. This means there is a layer of insulation within the shorts to keep all the delicate regions of the short area from getting super cold (it's pretty painful when this does happen by the way). This idea of a warmer short is a really marvellous idea. In the UK, it is 'cool weather' pretty much 10 months of the year. I've worn these shorts on days when the temperature has got close to freezing. But, it still feels perfectly warm.
At the other end of the scale, I find that I can use these for about 10 months of the year. It is only when it goes above 16 degrees, that they start to feel too hot. So they get a good all year round use.
The great thing about these shorts is that I can dispense with the usual bib long -tights. I'm not keen on wearing bib shorts and bib-tights because they restrict your movement and feel heavier – you have a lot pulling on your shoulder. Just wearing shorts and leg warmers, there is a much greater freedom of movement. Making shorts insulated is a really great idea; other short manufacturers could do the same. I don't see why you can't have insulated thermal lining on £50 shorts as well as these.
Value for Money?
Cycle companies are very good at getting cyclists to part with their money. Often we spend money, when to be honest, we'd have difficulty noticing the difference anyway. But, in this case, they really do make a difference and it is quite noticeable. I only wish I had the confidence to part with the money earlier.
I'm aware that they might not last for ever, so I only use on long three hour plus rides. For short rides, I still use cheaper shorts.
Who should Buy?
Anyone who often does long four hour plus rides, especially if you have a tendency to get saddle sores. If you don't do much winter riding, you could buy the Assos Unos without the thermal lining.
Overall
The name of the short sounds like a serial number for a Swiss bank vault. For the life of me I can't remember the name of the shorts. They really should think of something better. But, despite this and the price tag, I don't regret for a minute buying it. In fact, I wish I'd bought a few years ago. I'm sure a few years ago, I would have thought a carbon fibre stem would have given much more improved ride quality than a fancy pair of shorts. But, I would have been wrong.
I reviewed these a year ago on my old blog cyclinginfo, after a few weeks. I wanted to update the review after a year because they have proved excellent value. I suppose I'm a bit of a comfy short evangelist. Disappointingly I did not receive a review product from Assos, I had to spend my own money!