Now the winter is  officially and very firmly behind us (cue return of rain, sleet and snow) it's time to take off the winter road tyres and choose the best summer road tyres for all the upcoming halcyon days of riding on dry smooth tarmac in temperatures approaching the mid 30s.
Depending on the tyre you choose, there can be a big difference in terms of rolling resistance –   up to  30 watts worth between best and worse performing. Also, The faster you go, the more you will notice the difference.
Over the years I've tested quite a few different road tyres. To some extent it becomes hard to choose between different models. But, the good news is that I feel the technology of tyres has improved in recent years, giving cyclists a really good choice of tyres. Because I have so many sets of wheels, I'm often riding several different types of tyres / tubulars at the same time, which gives an idea of how different tyres compare.
I would say the golden rule of buying tyres is don't penny pinch. It is invariably worth getting a relatively expensive tyre. The cheapest models of tyres tend to be poor value.
When choosing tyres, it is always a trade off between different factors
Low rolling resistance
Low weight
Puncture resistance
Aerodynamics
Grip on the road
Ease of maintenance – changing in case of puncture e.t.
Generally racing tyres will be light, low rolling resistance, but you sacrifice some puncture resistance. I'm often torn between using the lightest tyres and risk having to walk along a dual carriage way because of puncturing. It is only on hill climbs that I really throw caution to the wind and ride track tubulars which are ridiculously light. For my general road bike, I tend to go for a good all-rounder, like Continental Gatorskin / 4 season. For racing, I use tubulars – either Continental Competition (Good puncture protection, but definitely not best rolling resistance) or Corsa Crono Evo)
Fastest tyres
When buying tyres, it is hard to know the rolling resistance that the tyres offer. From trial and error and testing, you can notice a difference between different tyres – especially when doing time trials, but it is always tricky to measure exactly. The graph below shows the power required for different tyres, which were tested at Continental in Germany Link. If it was tested at Continental, it's interesting that Continental tyres don't come out so well on the rolling resistance.
The test shows the rolling performance at 7 bar (101psi) and the power needed to overcome rolling resistance of the tyre. This shows, there is over 20 watts difference between the worst performing tyre (Hutchinson Top Speed) and the best performing tyre. With a threshold power of 300 watts, 20 watts is a lot to give away to a slow tyre.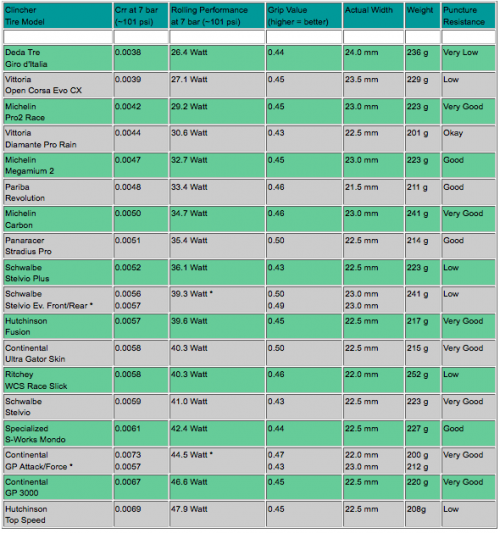 Vittoria Open Corsa Evo CX
I have used the Vittoria Open Corsa Evo, but I was probably put off re-buying by the relatively poor puncture protection. However, looking at the rolling resistance, it is a tyre which is really focused on performance, with very low rolling resistance. If you want one of the fastest tyres, this is a very good choice. The weight is just 210 grams for the 23″ option.
Vittoria open corsa evo at Wiggle RRP £49.99 on offer at £29.99