This is a review of Quarq power meters which I've been using for the past six months.
I bought the model Quarq Elsa. It weighs 735g. It was 85 grams lighter than the cheaper Riken model. The Riken has non hollow crank arms and a heavier spider. The Quarq Elsa cost me around £1,500 from local bike shop.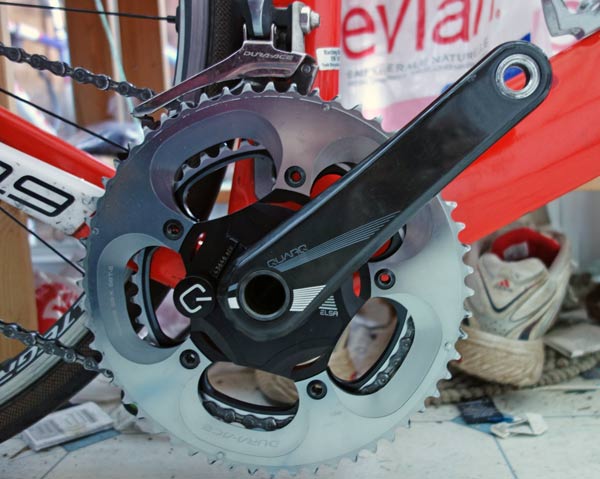 How the Quarq works
The Quarq power meters work by measuring the torque (pressure) applied to the chainset and crank * cadence. Torque is measured by tiny strain gauges, which measure how much pressure is applied. The power readings are relayed by ANT to a suitable power device.
Much of the cost of the Quarq is the cranks themselves. If you already have a good crank, you are buying a surplus crank arm. It does make it  quite an expensive power meter, especially with cheaper models coming on the market.
To swap between bikes, you need to remove the crank arm and fit to the bottom bracket. This job is OK, if you have the right tools. In theory, I should be swapping the Quarq power meter between my road bike and TT bike quite frequently. But, in practise, I don't want even that 10-15 minute job. So I just end up leaving it on one time trial bike. I like riding with a power meter, but not enough to religiously change it every time I swap bikes.
Features of the Quarq Elsa
Power Balance. The Else features independent left-right leg power measurement. Quarq say that it measures total torque on left / right leg. It doesn't just include the down-force, but also measures power from pulling up on the pedal. It displays the power balance as the % of work done with left / right, e.g. 45% / 55%. I haven't yet used this feature, because left/right is not supported by a Garmin 500. However, it is a good feature to have given my past left-right leg imbalances. I would like to upgrade my Garmin, when it seems like there is money to justify thr expense.
Small design. The measurement and battery are contained in a small electronics in the crankarm. It doesn't add much bulk or weight as power meters go.
Adaptability. A good feature is that you can use any chainring sizes with the Quarq. I fit non-standard 56 chain rings. You don't have to worry about which wheels or pedals you use.
Bottom bracket fitting. The Quarq comes with two axle formats. The first one is for SRAM's 24mm GXP bottom brackets. The second has a 30mm axle that is compatible with BB30, PressFit30, and BBright standards. I had a Shimano 7900 Dura Ace groupset and the shop gave me a new bottom bracket when I bought the power meter.
Advantages of the Quarq
It is relatively light
It works with any set of wheels (an advantage over Powertap). This was important for me. I need it for both racing and training, and I have several different types of wheels.
It's not a major job to switch between bikes, assuming you have bottom  bracket compatibility, and a modicum of bike maintenance skills (which I'm not sure I actually possess). Fortunately, the BB30 standard is becoming increasingly common.
It claims a good degree of accuracy +/- 1.5%. Though, personally, this is hard to confirm one way or the other.
It needs little maintenance other than changing  the battery every 200 hours.
Disadvantages of Quarq
It is quite expensive at £1,300 for Riken model to £1,500 for Elsa model. With Stages and Garmin Vector coming on the market, there are cheaper options for people getting into power meters.
There is still a degree of time in changing between bikes. Stages and Garmin Vector both promise a much easier job for those who want to use one power meter for several bikes.
Personal experience
I ordered a Quark in June 2013 from a local bikeshop Beeline, Oxford. It took two months to arrive (the right size wasn't in stock). After using for three weeks, the power meter stopped working. We spent several hours resetting my Garmin, recalibrating, changing batteries, trying with other Garmins e.t.c. Eventually we decided the problem must be in the power meter. It was sent back to the Quark distributors. After a few weeks, they sent it back saying it was working. But, it wasn't. They hadn't even put a battery in it. We had to send it back a second time. This time they agreed it really was broken and so fitted a new spider to the crank. I finally got it back, but by now it was January 2014, three months after the initial failure in September. It was like one of those long running sagas that never ended, I made innumerable trips to the bike shop in that period. It would have been interesting to have used a power meter in last seasons hill climb season, but perhaps it wasn't to be.
It has been working fine since I got it back. Though, for obvious reasons I was dissappointed with the poor quality of service. I was grateful I bought it through local bike shop, Beeline who were patient in spending several hours fitting and refitting and sending it back for me. The experience did show me there is a lot to be said for buying from a good local shop. It would have been hard work, if I'd bought online.
The other thing is that since getting it back, I'm not convinced it is set to the same calibration as before I sent it. I fear it is giving a lower power reading (though this could be just because I'm substantially less powerful than last year). But, another reader had similar experience – see Comment on Stages.
Using Quarq

A useful tip for calibrating Quarq. When turning on keep crank down to the ground and calibrate. A few minutes into the ride, pedal backwards to set power meter back to zero.
Overall
I have been unlucky to get a broken Quarq; the after sales service from the Quarq distributors (not sure of their name) was poor. But, to be fair, this is not overly common. Beeline say they have sold quite a few Quarq in past few years, without any problems. I do believe them. Apart from this personal bad luck, the power meter is OK. I need to investigate in more detail whether power readings are different compared to the last spider. I don't trust my own guesses of what my actual power should or shouldn't be.
Alternatives to Quarq
SRM – Supposed to be the most accurate power meter. This has for a long time been the market leader. But, it is generally the most expensive, with most models starting from £2,000.
Garmin Vector. If I hadn't bought a Quarq, I may have considered this. (even though I've been using speedplay for several years). The best thing about the Garmin Vector is ease of transition between bikes. But, I would  probably have been put off by the weight of Garmin Vector pedals (428grams) for the hill climbs  compared to speedplay (150grams)
Stages power meter. I've written more extensive thoughts on stages here. This would probably  be my preferred option, if they can sought out the problem with water leaking into battery.
Powertap. I've never fancied this model, as I have so many different rear wheels,. There is no point having a power meter just for training or just for racing.
Related pages
Other reviews of Quarq / power meters