Buxton Mountain Time trial is a long running time trial which features a lot of climbing (1,100m) over the 33 mile course. In recent years, there has been a constant growth in people riding the event. I think this year was a record entry with 181 riders entered across the different categories. It is also the second round in the National RTTC Classic time trial series. It is also part of Spocco NW – which almost makes you want to move to the Peak District
I tend to go quite well in this event, because with all the climbing it is a time trial which favours the hill climbing types (i.e skinny people). The major climb from Longnor up Hollinsclough Rake is a good couple of miles. But, unlike hill climb events, what goes up has to come down too, and there are quite a few fast descents too, especially when today there was a strong tailwind going down.
It is my first national level race of the year, and a major target of the time trial season. A recent cold, took the edge of this target, but I don't know how much difference it made.
I've ridden Buxton MTT amidst snow drifts piled high on the side of the road. But, today, was one of those early spring days, with great weather and for the first time this season, riding in shorts – which meant digging out the old razor last night and pondering the recurring question of the best way to shave the legs. Mind you – with shorts that go down to the knees and trip strips which go to just below knee, I could get away with just shaving knees. But, that might look a bit weird…
A common problem with Buxton MTT is to go out too hard. It's a very easy trap to fall into and I've done it every year I've entered. It's one thing going up the long climb when you're fresh, it's another matter after 25 miles in the legs on the third lap. I thought I took it relatively steady up first climb, but it was hard work because there was quite a strong headwind up the climb. At the top you turn left onto the A53 and here the wind was quite strong and I could feel the side-wind hitting into my discwheel and Zipp 404 on the front. It wasn't the best wheel choice, but I don't have any alternatives at the moment. I need to sell my Zipp 808 and get a good front wheel for people who easily get blown around. After a difficult cross wind section, there is a fast descent and this year there was a tailwind behind. I  have a biggest gear of 56*11 and made as much use of it I could, but at some points I stopped pedalling and just tried to recover the legs.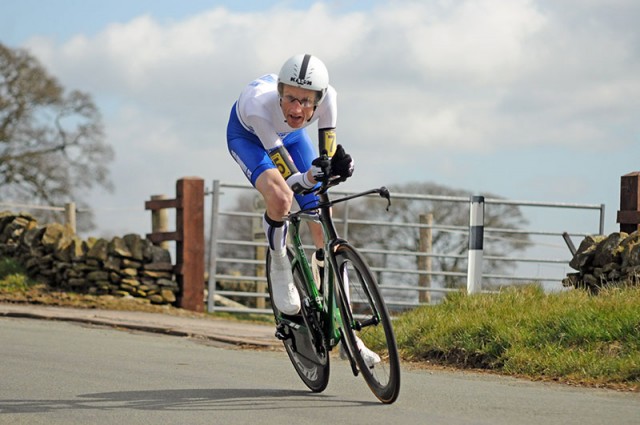 The second lap was harder and the third lap, even more difficult. The hardest point of the course is towards the end of the long climb. There is a little downhill section, but then quite a steep section where you lose all momentum, I was really grovelling in my lowest gear of 39*25 on the last lap. Out of the saddle, the only comfort knowing this was the last time.
Then it's the long descent and it's nearly over, but there are still a few lumps on the course and at the end of 33 miles they feel longer than usual.
I stopped the clock in 1.24.25, which I was quite happy with given headwind and stop-start winter. Phillip Graves (Clifton CC)  won in a 1.23.26. Graves is an international triathlete who recently has been concentrating on cycling due to injury. The thing about triathletes that sticks in the mind is Alastair Brownlee running a 29:07 10km at the end of the Olympic Triathlon. That time of 29.07 would have been good enough not to come last in the 10km 10,000 m final. It is all about what you train for, but after a long hard cycle, the idea of running 100m feels like hard work – let alone running 10km at 3 min /km pace.
My Quark Elsa power meter has broken again, so I had no power meter. Not that I would have ridden to power because it's too variable on this course. I also forgot to start my garmin until half way around first lap, so I was riding the whole course on feel and trying to maintain the pace for the three laps.
Axe Edge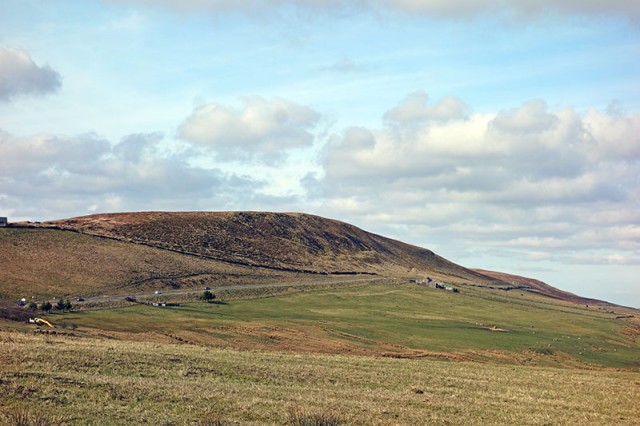 After my ride, there was a long wait for the presentation, so I went for another ride into Buxton, so I could climb Axe Edge. The legs were tired, and it felt like great devotion to the cause of 'climbing difficult hills for no particular reason' (100 climbs). I can't say Axe Edge was great fun. On a time trial bike, into a stonking headwind and legs like blocks of wood. But, at the top, I got to meet some marshalls from Buxton CC who were standing at the corner waiting for the last couple of riders.
Thanks to Buxton CC and sponsors Design Detail Engineering Limited, Hotel Milano Helvetia
Sett Valley Cycles, The Old Wooden Spoon Bakery.
Next year I'm a vet, but I will still enter the senior men category. I'd rather do three laps, even if I always 'die' on the third lap.
Photo galleries
Other photos feel free to leave a link in comments
Previous results Tejvan Pettinger
2016 – 1:24:25 – 2nd (Winner P.Graves) – Lap splits – 27:30, 28.40, 28.55
2014 – 1:23:25 – 2nd 290 watts /301 ww (winner M.Clinton 01.23.23) (report) Lap splits  26:55, 27.50, 28.32
2013 – 1:23.20 – 1st (report) Lap (26.59, 27.28, 27.56)
2012 –  1:27:21 – 2nd – (Matt Bottrill 1st 01:26:34) (report). lap splits 00:28:38 00:29:14 00:29:29
Photos
Looking down big climb.
Turn left onto A53.
Presentation.
The long slog up the climb.
Podium Ambition van and team kit.
The epic landscape you don't appreciate when going up.
Top podium placings
Senior Men (33 miles):
1 Philip Graves (Clifton CC) 1.23.26
2 Tejvan Pettinger (Sri Chinmoy CT) 1-24-25
3 Brett Harwood (Terry Wright Cycles) 1-24-58
Women (22 miles):
1 Claire Rose (Podium Ambition-Club La Santa) 1:01.06
2 Elizabeth Stedman (Fusion RT) 1:03.42
3 Sarah Storey (Podium Ambition-Club La Santa) 1:04.39
Veterans (22 miles):
1 Mark Turnbull (Torq Performance) 58.59
2 Ian Holbrook (Stone Wheelers) 59.35
3 Joe Le Sage (Rutland CC) 59.40
Juniors (22 miles):
1 James Holmes (Crewe Clarion Wheelers) 59.38
2 Sam Walsham (Team Bike Box Allan) 1:00.13
3 Lewis Hartley (Inspire VCUK-Youth Racing Team) 1:01.27
Paracyclists (22 miles):
1 Rik Waddon (Para T) 56.02
2 David Murphy (Liverpool Mercury CC) 1:02.22
3 Matthew Robertson (Woolwich CC) 1:06.59