There are different ways of riding hill climbs.
One approach is to start very hard and hold on for dear life.
The other is to start hard, but then try and put in even more effort in the last section.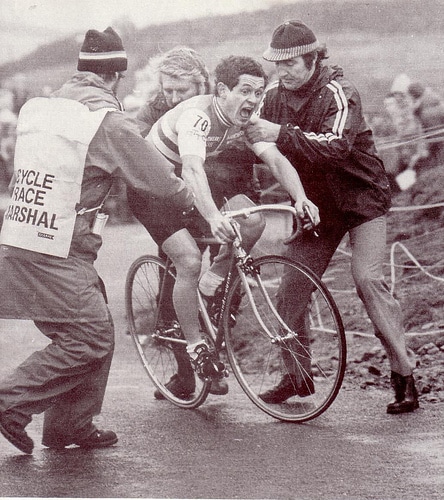 Evidence of emptying the tank.
Both have there merits and demerits, though they usually end up in a similar pain cave at the top. Also like any pacing strategy – they depend on the physiology and capacity of the rider.
If you look at splits from national hill climb – you can see quite big variations in the relative pacing strategies. Two people may finish with a similar time, but may have reached the half way point at very different speeds.
After the 2013 national hill climb, I started writing about pacing strategies, but then thought better of it and decided to forget all about it. Perhaps I didn't want to remind myself of the crazy split that emerged between myself and other riders. I took the option to enjoy the winter training without worrying about a pacing strategy that might have been better.
As a wise man once said, the best pacing strategy is the one the winner had.
Different pacing strategies
It is worth bearing in mind that one person's best pacing strategy may be different to someone else's. It depends on your physiology e.t.c. Athletes can have different composition of muscle fibres, different tolerance of acidosis e.t.c. What works for one rider, may not work so well for another.