A reader asks – do you have an suggestions warm up for a hill climb lasting 4 to 6 minutes (the hill climb, that is, not the warm up)
It's a good question. I have much experience of warming up for hill climbs, though very rarely do I manage the perfect warm up. I feel more qualified to write how not to warm up. But, last year Gordon Wright helped me think about warm ups a bit more seriously.
A potential hill climb warmup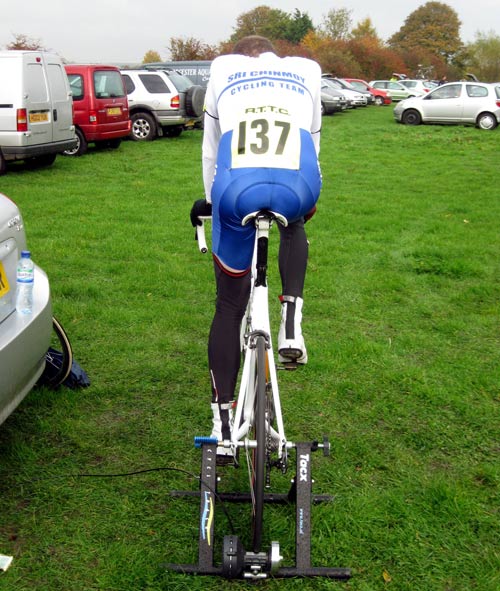 Arrive at least 90 -120 minutes before start.
If it is possible (i.e. race is not in progress) I will ride up the hill steadily, just to look at gradient and see where the wind is blowing. This will help pacing. Sometimes I arrive just in time to ride up hill.
Have all kit neatly packed and easy to find. This is important so you don't waste time rummaging around in car for something half way through warm up.
Don't make any last minute technical adjustments, you should have practised on any equipment you were going to use before race.
Spend 20-30 minutes on gradual warm up. Rollers would be ideal, you can also warm up on road. Perhaps 30 minutes to get the blood circulating. It's also good to check bike is working ok.
20-30 minutes to go. At this stage you should have loosened the muscles and be spinning quite nicely. Over next 10 minutes you can do a few micro intervals to get the body used to racing at full intensity. This can just be 30-60 seconds at maybe 90-95% max intensity. Have few minutes spinning then do a few more. Maybe 3-4 of these intervals.
The idea is to do these short race warm ups – close to the start so you get body used to racing and is ready to go from the start line. If you do them an hour before, it is no good. But, you don't want to overdo it and start tiring your muscle fibres.
10-7 minutes to go. Get off turbo, put race wheels on and get to the start.
Rollers vs Turbo vs road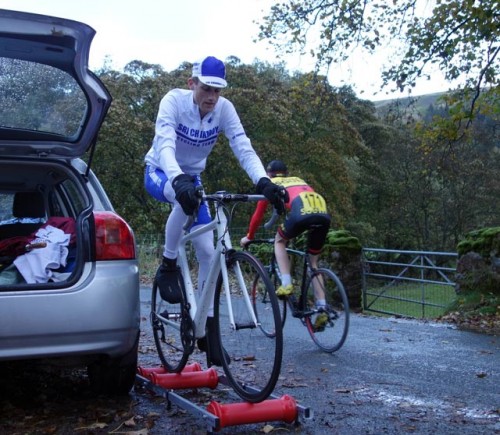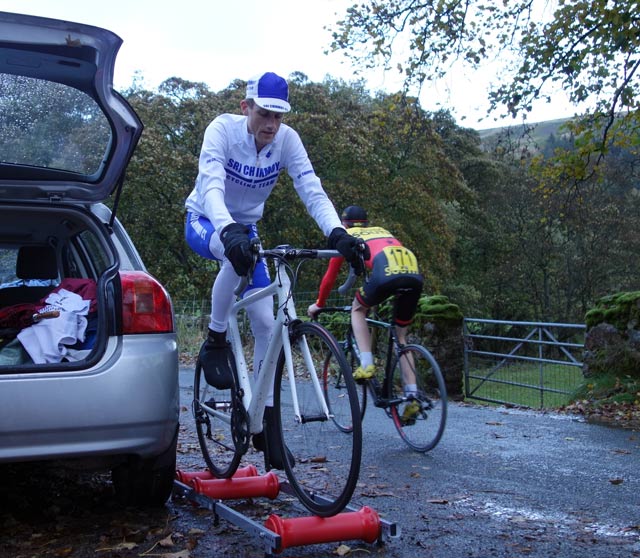 The advantage of rollers is that you can jump off rollers and head straight off to start. The disadvantage of rollers is that you can't do high intensity warm ups. Even if you do 53*11 at 110rpm it's not really a warm up for a short hill climb. Also, rollers require some smooth concrete. If you're in a muddy field, rollers need their own mat.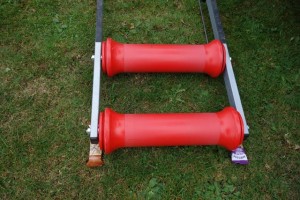 A turbo is easy to use and you can go really hard. The only disadvantage is that after getting off turbo, you usually want to switch wheels from training wheel (with correct skewer) to race wheel. This can be a little awkward if you cut it fine before race starts.
Most people warm up on turbo; it's probably better. Though I still often take rollers. For last two national champs, I took both which was good because when its wet you can't use rollers properly.
For many years I would just warm up on the road. This was partly because I was riding Continental Competition tyres (which are quite puncture proof, but relatively slow) and partly because I didn't have a working turbo or rollers and it was easier.
The advantage of the road is that you don't get hot and sweaty. You get used to the feel of the road. It's easy to make warm up efforts.
The disadvantage is that you have to do a few u-turns. There is chance of puncture, which increases a lot when you start to ride very light hill climb tyres. These days I can't really rely on the road, except for a pre-warm up on training tyres before switching to turbo.
So that's the theory of the hill climb warm-up.
Hill climb warm up in reality
The majority of my hill climb career, warm ups have gone something like this:
Arrive one hour before start instead of planned 1.30 to 2.00 hours before. Due to getting lost, taking time on motorway, not sure where HQ is e.t.c.
With great relief, arrive, get bike out of car and into skinsuit. Get number and pin it on. Look around car park and think everyone looks better prepared than you are.
Go for a random ride around on training wheels for 20 minutes. Spend most of these 20 minutes wondering where to go, and also make frequent looks at clock to see what time it is.
As part of warm-up it is obligatory to ride over to the start, so you know where it is and check the timekeeper has a similar time to you. For many years I had a watch that was reliable 38 minutes late.
Spend a considerable amount of time on warm-up – casing up various trees and hedges for that last minute all important – get rid of surplus weight in bladder syndrome.
After 20 minutes largely useless warmup, which might involve 5-10 minutes of reasonable efforts, get back to car and swap training wheels over for race wheels. Spend 10 minutes longer than expected changing wheels and getting rollers out; in process getting cold and losing benefit of previous warm up.
Get nervously on rollers and after five minutes realise you need to get off and have a drink. Stick water bottle in back jersey pocked and re-get onto rollers for five minutes.
Start nervously looking at watch, so that you don't miss start time.
Get off rollers and take some more layers of clothes off.
Suddenly panic because there's only 10 minutes to go, rush to start, and get there with 8 minutes still left.
Not sure what to do for 8 minutes, do a largely useless 200m warm up – with a few  u-turns (Always getting off bike and crossing roads on cleats – I hasten to add. U-turns near start are rightly banned for safety reasons.)
Finally start has come, throw any remaining clothes at the timekeeper and hope for the best.
(make sure you have ditched water bottle – I once did a hill climb with a full bottle of water)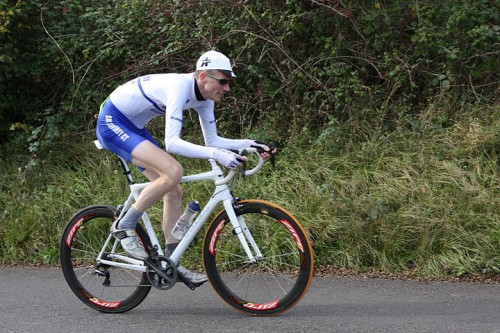 Related