After the persistent drizzle of Saturday around Holmfirth, the rain hardened to be a bit heavier for Sunday's Lyme Racing Mow Cop hill climb. I was still trying to dry off clothes from the day before. I had to dig deep into my old sock draw at my parents house. I only found a very unsuitable long fuzzy pair which looks like they were a novelty Christmas item from many years ago.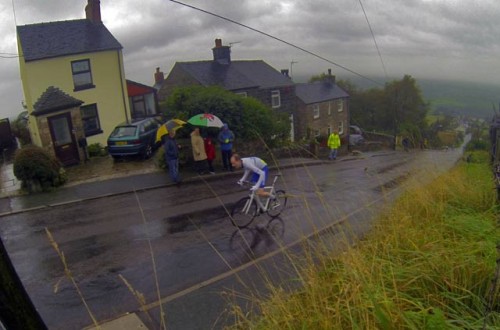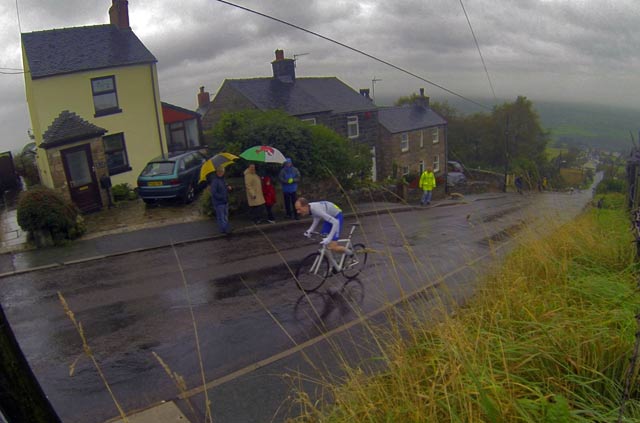 It's amazing how wet everything gets after a few short races. It's hard work racing in the rain. Back in September the British road team got roundly criticised for not finishing the World Championships because it was 'a bit wet and hard'. For the armchair critic the British team seemed like sitting ducks for strong criticism. Though my thoughts were muted by the fact I'm sure I would have climbed off  pretty early too. But, I suppose it's good to have a few races in the rain. It's good preparation should the nationals be greeted by a downpour. (which is quite possible on the North Yorkshire moors)

Mow Cop is an intriguing climb. It's one of the most visually spectacular hill climbs because after the first half, if you look up you see the finish 25% segment looming straight ahead of you. It's looks as intimidating as it is.
After a sorts, I warmed up on the rollers. The rain was fairly light at that point, but as I made my way down to the start line it became heavier. By the level crossing (where the start is), I stripped off several layers of clothes, and left them with the start time keeper. I got off to a good start. After about 7 years of doing hill climbs, I think I've finally worked out a good way of starting off. I learnt how to start by watching the track racing at the 2012 Olympics. Basically stand up and put your weight behind saddle. When you here 'go' you can push forward and get a bit of momentum. I used to just sit on the saddle. Chris Boardman said a good start can be worth half a second. Us hill climbers always like half a second – especially if it doesn't cost £500 for a 100 gram weight saving.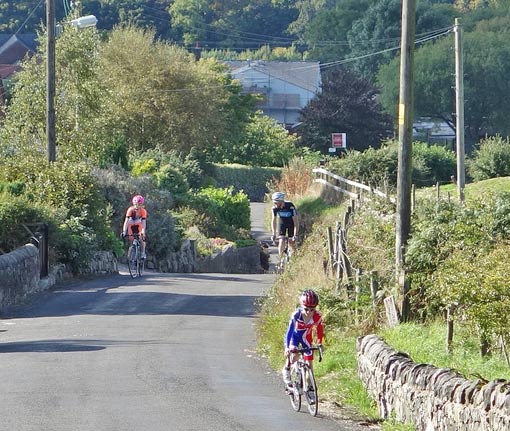 The bottom half of the climb soon becomes quite steep. The first ramp gets up to 20% and it makes you work very hard early on. From then on the gradient eases off a little, but it's still a hard climb because you already went hard at the bottom. I got in to a good rhythm for the first half – in and out of the saddle but pedalling a decent cadence. After about half way, I made a small mistake of looking up at the finish, which loomed on the horizon. I also made the mistake of looking down at which gear I was in – I was already  in the bottom sprocket (39*23) and the steep bit was still to come. It was a bit of lost concentration, but I soon forgot about it and went back to getting up the final really steep part. At one point, I experienced a bit of wheel slip (I had reduced tyre pressure to 90PS) but maybe that was still too high). On the steep bit, there was a quite a crowd cheering you on. There was even a runner, running alongside for a while. Although, it was all a bit of blur at this point, I'm pretty sure he wasn't dressed up as a tomato or wearing a mankini like you might see in some of the Grand Tours.