Since 2013 Minehead CC have organised a popular hill climb on the Toll Road 4.1 miles, with average gradient of 5.5%. It has attracted good fields and some top riders. I rode the first three events 2013 – 2015
Porlock Toll Road (HC Course)
The toll road climbs parallel to the A road (25% gradient), but the toll road is a much more gentle gradient – perfectly engineered with an average of 5.5% and max of 8%, there are a few Alpine style switchbacks and it is a great joy to ride in England when such climbs are relatively rare.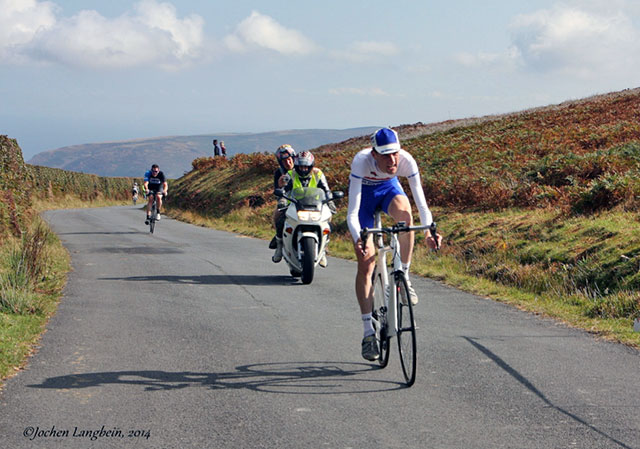 Distance – 4.1 miles
Avg Grade – 5.5%
Max gradient – 8%
Lowest Elev 160ft
Highest Elev – 1,360ft (414m)
Elevation gain (370 metres)
Blog from 2014 Hill Climb Event
See also: Porlock hill climb 2014
Sunday 29th was a 4 mile hill climb up Porlock Toll Road, organised by Minehead CC. The road was closed to traffic and it was a really great event, enthusiastically promoted by Minehead CC with support from Porlock toll road and Porlock village. There was also a very generous prize list sponsored by www.exmoorexplorer.com – a big mountain bike race held each August.
Porlock hill climb Toll road to the right, A39 climb  to the left.
Despite travelling around the country quite a bit, I rarely go further south west than Bristol. I've done very little riding around Somerset so it was a great opportunity to start riding some of the Exmoor climbs.
The village of Porlock is quite charming and for a hill climber, seems inundated with great hill climbs at every junction. (hill climbers heaven or hell, depending on your point of view!) The A39 main road climb out of Porlock features number 4, in Simon Warren's 100 Greatest hill climbs. (rated 9/10) At 25%, it is reputably the steepest A road in the country. However, the race was to be held on the alternative climb – Porlock Toll Road. This is a fantastic climb – 4 miles of pretty constant 5-6%. The road surface is good; and it's as close to riding an 'Alpine' style climb as you will get in the south of England.  On the lower slopes it is mostly in sheltered woods, though every now and then you can get a glimpse of the sea to your right.
There are two 180 degree switch backs. It's a great feeling when you're climbing and can see the road down below you've just come up. Towards the top, the climb shallows out and is a bit more exposed. I rode it once before the race started and liked it straight away.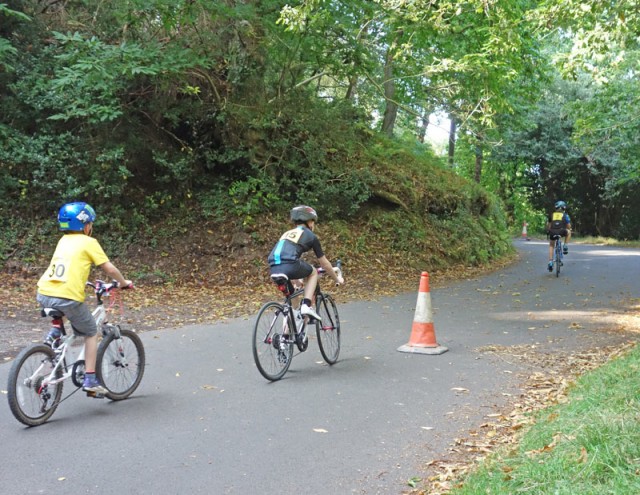 Double switch back
Veloviewer

Strava
Blog – Porlock Hill Climb 2013
I believe it is the first time that a race has been held on the whole climb, so it was hard to gauge how long it would take. I thought it would be a little like Snake Pass, just a bit longer. I started off reasonably hard. The hill is slightly steeper on the bottom. It is a good hill to get in a rhythm and I stayed in the saddle all the way to the top. The 180 degree switchbacks were interesting. I'm not used to racing on these kind of climbs. On one corner, I had to touch my brakes as I was running out of road. Towards the top, the trees disappeared, and fortunately a tailwind gave a little help to the finish. The gradient also became a bit shallower for the last mile. I finished in a time of 13.24 (just under 18mph) This was enough for first place, and I think I can claim a course record.
It was also nice to get quite a few cheers from a surprisingly large number of spectators and marshals by the side of the road.

After the race, I couldn't resist having a go at the other Porlock hill climb. It's been a light week of training and it's not often you get a category two, 370 metre hill to have a go at. That's a real brute. A wicked section of 25% at the bottom and then another couple of miles long slog to the top. I'm sure many were glad to be racing up the toll road!
After the race there was a prize ceremony with former world champion Wendy Houvenaghel giving out the prizes. The whole event was really good, you felt a lot of work and enthusiasm had gone into it from members of Minehead CC, and it was nice to see it pay off.
One nice touch, the village of Porlock were really keen to encourage the event, helping us to have good facilities and a local women's group did the refreshments.  I also received a homemade trophy by local schoolchildren. Very cool. Perhaps we can suggest something similar to the residents around Box Hill in Surrey.
Tejvan Pettinger Sri Chinmoy Cycling M 13.24
 Charles Coleman Velo Club Walcot M 14.36.7
William Harrison Taw Velo M 14.36.9
James Dobbin Artic Sram RT M 14.43
Tavis Walker VC Walcot M 14.56
Paul Jones Bristol South CC M 14.59
James Coleman Velo Club Walcot M 15.02
Sean Henderson North Devon Wheelers J 15.04
George Pym Exeter Wheelers M 15.15
Richard Oram University of Exeter M 15.27
Women
Wendy Houvenaghel Bike Chain Ricci Ltd W 16.14
Some photos of Event
James Dobbin (Arctic Sram RT – National hill climb champion 2006, 2007
Paul Jones Bristol South CC
The start.
Tejvan Pettinger at the start. What you might call hill climbers arms.
Wendy Houvenaghel (Bike Chain Ricci) World Champion Team Pursuit
Aryavan Lanham, Sri Chinmoy CT
Porlock Pedal
After the event, the road was kept closed to traffic to allow other people to have a go at climbing the hill with car free roads. Quite a few people took advantage.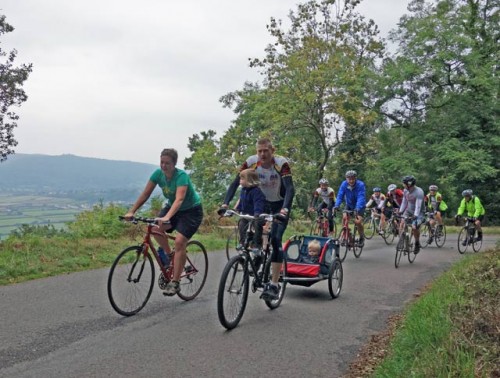 Nice views
Results 2013
Tejvan Pettinger Sri Chinmoy CT – 13.24
William Harrison – Taw Velo – 14.36
Charles Coleman – VC Walcott – 14.36
James Dobbin – Arctic SRAM – 14.43
Tavis Walker – VC Walcott – 14.56
Paul Jones – Bristol South  – 14.59
James Coleman -VC Walcott – 15.02
Women
Wendy Houvenaghel  – Bike Chain Ricci – 16.14
Wiebke Rietz – 1st Chard Wheelers – 19.16
Ayse Vahiboglu – Exeter Wheelers – 19.17
Junior
Sean Henderson – North Devon Wheelers – -15.04
Thanks to Vilas for many photos. And again thanks to those who helped put on the race. Hopefully, the event will be held same date in 2014.
Previous events of Porlock Toll Road.
Events
2013 (slightly longer course)

Tejvan Pettinger Sri Chinmoy Cycling M 13.24
Charles Coleman Velo Club Walcot M 14.36.
William Harrison Taw Velo M 14.36.9
Women
Wendy Houvenaghel  – Bike Chain Ricci
2014
Tejvan Pettinger Sri Chinmoy CT – 14.11
Ben Davis – 15.??
Wendy Houvenaghel  – Bike Chain Ricci –
2015
Tejvan Pettinger (Sri Chinmoy CT) 14:45
Dan Evans (Team Elite) 14:48.24
Richard Bussell (RST Sport-Aero Coach) 15:29.22
Women:
 Maryka Sennema (Paceline RT) 17:50
 Natalie Grinczer (Fusion RT) 19:23
Heidi Viles (Somerset RC) 19:38
2016
Ed Laverack JLT Condor 15:01.7
Dan Evans Elite/Paul Bethell Electrical 15:11.7
Charlie Meredith Giant CC Halo Films 15:41.3
Women
Maryka Sennema Female Vet Paceline RT 17:43.9
Sophie Slaney Female Senior Twickenham CC 19:48.7
2017
Dan Evans ASSOS Equipe UK 14:31.5
Ed Laverack JLT Condor 14:42.9
Charlie Meredith Giant CC Halo Films 15:10.8
Women
Maryka Sennema Female Vet Paceline RT 17:43.5
2018
Charlie Meredith -Mid Devon CC 14:36.9
Ed Laverack – JLT Condor 14:40.5
Dan Evans – ASSOS Equipe UK
Women
Lauren Dolan – Mid Devon CC 17:53.5
2019 – no event
2020
Related Pages
Purchase 100 Climbs
100 Greatest Cycling Climbs at Amazon.co.uk
100 Greatest Cycling Climbs at Waterstones