Leith Hill is the highest point in South East England (993ft). Set within an area of Outstanding Natural Beauty and National Trust site, it makes a great setting for a hill climb. Leith Hill was also climbed three times during this year's pro race – Surrey Cycle Classic. Fortunately, we were doing this hill climb without 100 km of hard racing in our legs. Just a short explosive effort. 0.8 miles of excruciating pain instead.
The hill climb goes through a mixture of woodland and open space offering views into the surrounding hills.
The Hill climb used by Kingston Wheelers for the John Bornhoft Hill climb starts a little way from the bottom of the road (by a suitable grass verge) However, this is the shallowest section.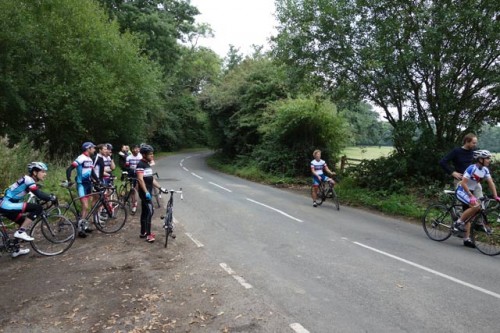 Leith Hill – John Bornhoft Memorial Event hill climb
Distance 0.9mi
Avg Grade 8.0%
Max Gradient – 18%
Height gain 115m
The gradient varies a little. I think it would still be suitable for fixed gear. I didn't change gears very much (and when I did they did seem to be rather clunky changes)
The race 2013
Conditions were good. Warmish and gentle tailwind on last part of climb. Last year I did 3.33.8. I thought with the good conditions, there might be a chance of going a bit quicker and setting a new course record.
My week previous had been quite light on training. On Monday I got a bad back (perhaps caused by riding up Mow Cop on a time trial bike). I though I could ignore it and trained on Tuesday as normal, but it made back worse, so I only did a light ride on Thurs and Fri. Shame to get another niggling injury. Anyway by Sat, I was in good shape. For a change I had a team-mate Aryavan Lanham (originally from Australia) riding. He's a super enthusiastic cyclist, mostly used to riding the track or long 100 mile rides. He was intrigued by this English phenomena of the hill climb.
So far this season, the hill climbs have been nice and long – making an easier transition from the TT season to the hill climb. But, Leith Hill is a classic 4 minute hill climb. It's the distance to suit riders with a bit of explosive power. It means you really have to push yourself over the limit – in many ways they are more painful than the longer 15 minute efforts. You can train for these hill climbs all year, but when it comes to the race, you just need that ability to push yourself into the red and hold it. It requires quite a lot of commitment – because when you feel light headed with effort, it's really pushing the body out of the comfort zone and it's instinctive to pull back. I rarely do these climbs and think I went too hard too early. Mostly I hold back for too long.
In the race, the pacing was OK, I didn't start off too hard, and could maintain a good speed all the way to the top. I've perhaps given a bit more in these kind of 3.5 minute efforts, but I still felt pretty pooped at the top and it was a good effort. It was good to get a good cheer by the Kingston Wheelers support team on the hill. Kingston Wheelers must have had about 20 riders in the race, plus quite a few turning up to support. A good atmosphere for a hill climb.
I managed to do 3.33.1 – just enough to take 0.7 seconds off the course record (to be confirmed). Hill climbs are all about fine margins.
2nd place was Vet rider Pete Tadros in 3.50 (riding fixed)
3rd place was Chris Baines (Buxton CC) who did 4.0? to gain his first podium finish at an open hill climb. Chris has moved to Abingdon near Oxford, which is ironic as I seem to spend a lot of time moving up north to ride in the hills near Buxton at this time of the year.
1st lady was Maryka Sennema, Kingston Wheelers
(sorry I don't know rest of results)
My friend Aryavan said he really enjoyed the hill climb. He remarked – with a friendly cup of tea and nice simple event in old village hall – it reminded him of 1950s England (which I think is a compliment)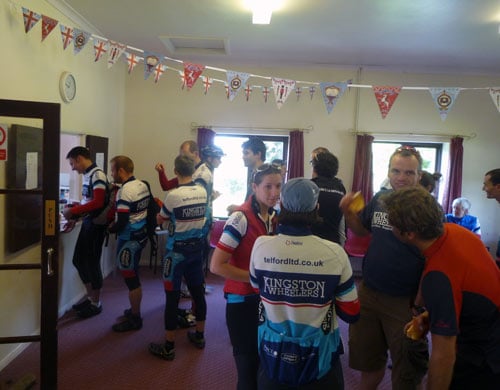 Despite the Daily Telegraphs dire warnings of raging battles between motorists and cyclists, it was all very civilised
(although, now I come to think of it, the rider due to start a minute before me said he got knocked off by a car riding to the event. I don't know details, but it was sad to hear. I certainly had no trouble cycling or driving on the leafy Surrey lanes.)
Unfortunately, power meter stopped working so I have no power result, only time. But, since the 1960s is in – I guess it's always good to ride on feel.
Thanks to Kingston Wheelers and John Bornhoft family for presenting prizes.
Related Pages
Purchase 100 Climbs
100 Greatest Cycling Climbs at Amazon.co.uk
100 Greatest Cycling Climbs at Waterstones