Kingston Wheelers hill climb on Leith hill.
It was  another balmy September day. 22+ degrees as I was warming up on the turbo. It was almost too hot and sweaty for the turbo – not usually a major problem of the hill climb season. As I was driving to Forest Green, I saw lots of cyclo sportive riders having a good time cycling up the Surrey hills. There was part of me slightly jealous of the sportive riders – it was definitely a good day for a five hour steady ride, instead I was facing the timekeeper and three and half minutes of hill climb hell.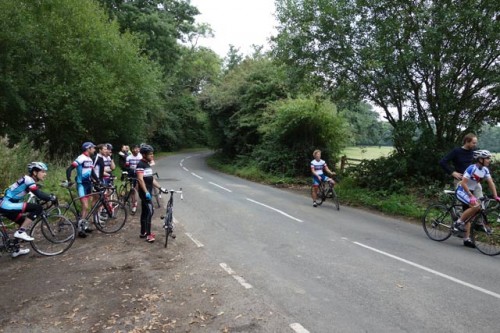 The day before, I put on a new chain, I tried to take off outer chain ring, but you seem to need two of those hexaganol wrench things so I was unable to do it. The new chain wasn't so good job either. Firstly, I made it too short, then I had to put some links back on. It was working well on training wheel, but when I put Zipp 202 racing wheel on, shortly before the start, it started to jump a little. I don't know why because it has a fairly new cassette. Still the bike was quite stripped down and light for the time keeper. I saw my minute man go off with great gusto. He probably set off faster than I planned to start.
This is the third time I've done Leith hill climb. Previous times were 2012 (3.33), 2013 (3.33.1)
Distance 0.9mi
Avg Grade 8.0%
Max Gradient – 18%
Height gain 115m
I took the race quite seriously – because it's a similar distance to the national on Pea Royd Lane, if not quite as steep.
I set off fairly steady, and seemed to hold back for quite a while. Then as you turn left the gradient increases a little and it was time to increase the effort. Round the corner there was a great crowd of people cheering you on. I just saw a sea of white and blue Kingston Wheelers jerseys.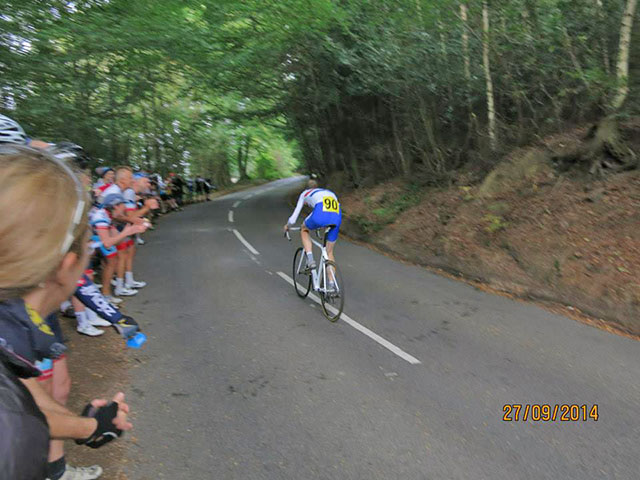 By this point it was getting a bit of a blur, I was able to hold quite a good pace and speed all the way to the line. As I crossed the line I had quite a bit of momentum – it was here after the finish line, I caught my minute and two minute men who were rolling slowly over the line. I thought I hadn't paced it so well, I wasn't as dead as last year. I felt I should have tried to go faster earlier. I also thought the course record was 3.23 for some reason.
Anyway back at the HQ I found I had taken six seconds off course record with a 3.27. From being slightly miffed at not getting the pacing right, I was quite pleased. It was definitely a quick day – no tailwind, just warm and muggy which seemed to make it fast. It would have been really interesting to have power meter from last year. I paced it a bit differently, but perhaps this year was better strategy, I don't know. Still the finish seemed to come along a bit quicker than expected.
Compared to last year, at half way point I was 8 seconds slower. In the last half I must have been 14 seconds quicker. Quite a different race.
Anyway it was a great event, and good to see a strong club like Kingston Wheelers encouraging so many to take part in a relatively minority cycling discipline. Markya Semenya (Kingston Wheelers) was first lady, so there were two national hill climb champions winning in the same race – not so common, I imagine – we both had a national jersey, which was good.
There were some good times from quite a few people, and quite a few novices to hill climbs having a go for first time.
Afterwards I rode up Coldharbour hill.
[photos, results and proof-reading to come later]
Related