The Newbury R.C. hill climb on Walbury hill was the first time the club had made the climb an 'open' event. But, it still felt like the atmosphere of a local club event. Newbury CC were out in force with 30+ entries from the promoting club. It meant another good start sheet with 70 riders, including quite a few juniors and juveniles. When I got into hill climbing a few years ago, it was quite common to have entries of 10-20 people – entries were so low, you kind of thought hill climbs were a real 'specialist' / 'nutcase' type of cycling. But, in the past couple of years, entries have really been on the up. Perhaps it's a combination of British cycling success, and the popularity of GPS tools like strava segments. These days, courtesy of Strava – everyone's become hill climber;  so I guess it's only natural to make the next step from virtual competition to real competition.
It was a good friendly event, with enthusiastic support. If you like chasing Strava records on your own, you will be surprised at how much more fun it is doing it with other people.
After just one short – but intense – effort yesterday at Leith Hill, I was relatively fresh, and I had the luxury of a short 45 minutes drive. It is one of the closest hill climbs to Oxford, and saves a drive up the M6. Although it's fairly close, I haven't been on these roads before, so I took an opportunity to ride Walbury hill, just before the race got underway. I did take some tribars after looking at the profile of climb. But, after a warm up on the climb I thought there was no point in using them.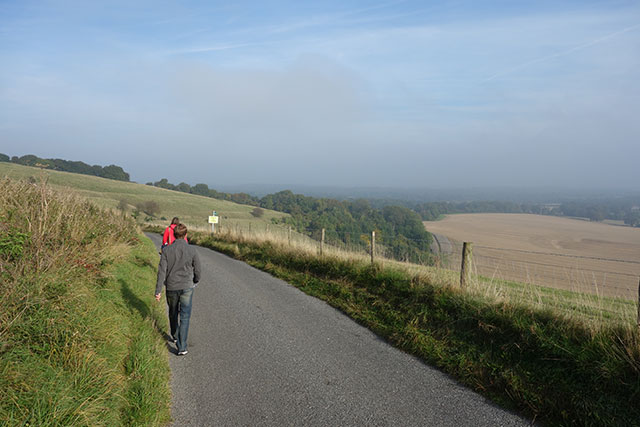 There is a 7% gradient to start off with, then a very shallow gradient of just a couple of percent. As you turn left near the top, it starts to get properly steep, giving a hard test for the last minute or so to the top of the hill. The average gradient for the hill is 5.5%
Perhaps because of the shallow gradient, I again didn't go too hard in the middle section, but as the hill became steeper I tried to give it everything. Unfortunately, my gears have been playing up. I had to put on a new chain last night, but it still gave a horrible change at the start of the steep bit – a bit of a knock to the momentum, but fortunately it stayed in place for the remainder. Just when you crested the hill – there was still a short flat bit before the line. I stopped the clock in 3.55 – beating the course record set by James Wilson VC St Raphael CC (4.09) just a few minutes before.
It was another great day for a hill climb. The weather was perfect and the view from the top of Walbury hill excellent. There was a good crowd of spectators at the top. I even got interviewed by a local radio station – I hope I was able to say something useful.
There was an excellent prize list with sponsorship from a variety of sources, including Newbury News, which gave a good first prize. I also won a copy of Mountain High for breaking the course record. I must admit to being doubly relieved not to end up with the Lantern Rouge prize. As a strict vegetarian I think I would have struggled to spend a £20 voucher for a local butchers.But, I don't think I was ever favourite for Lantern Rouge. Maryka Sennemya (Kingston Wheelers) was first lady so it was the same result as yesterday.
It was good to chat to the Newbury locals, and great to see so much enthusiasm for a hill climb.
After the race I put on training wheels and went up Walbury hill a steeper way and over the top down into Hampshire. There was the longest gradual descent of 1% I've ever come across.
Combe Gibbet #25
A bit of an unexpected bonus was riding Combe Gibbet. I rode it before the race warming up and after the race. I didn't realise it was one of the 100 climbs, until I got home. 100 Climbs
Photos, results, and possibly even videos to come soon after I've watched Men's world road race