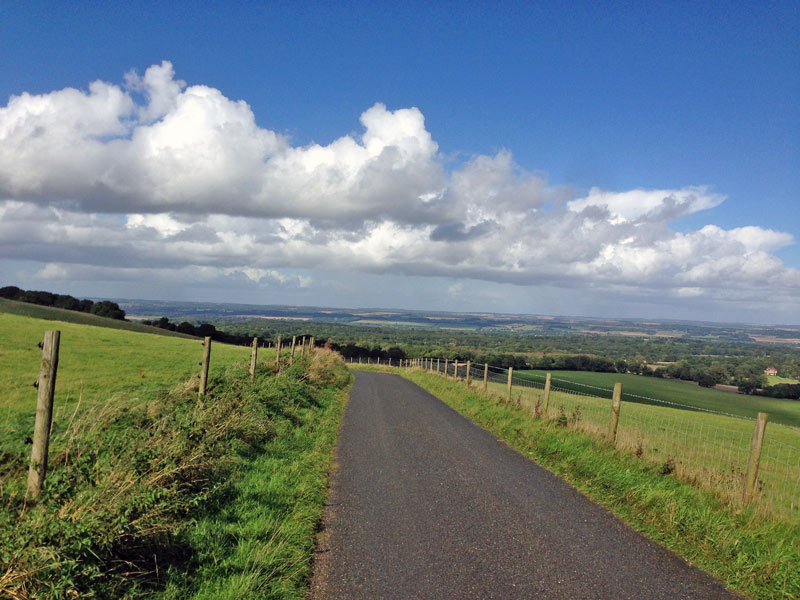 There was a record 132 entrants for the third running of the Newbury RC open event on Walbury hill. With a closed road for the event, it attracted a lot of juniors, which was good to see. There were also quite a few riders, who are not hill climb regulars – perhaps attracted by a good promotion, closed roads and a hill that is not too ridiculously steep.
The hill is 1883 m long  with a max gradient of 10%
The winner of mens event was Isaac Mundy (Oxford University CC). The women winner was Emma Grant (University of Bath Cycling Club
My event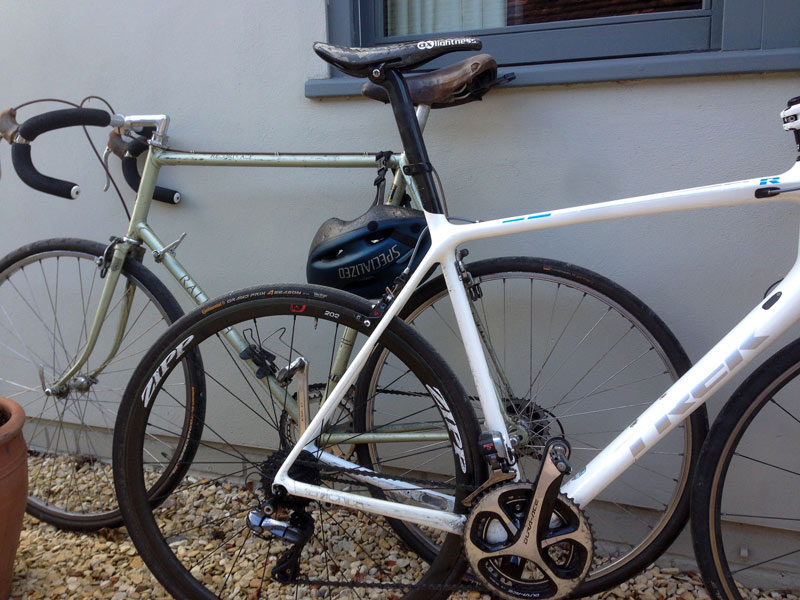 I've had some problems with hip and leg muscles for past eight weeks. I tried resting for five weeks, but it didn't get better so have started to train lightly. I haven't been far, but in the past two weeks have done some short intervals up hills close to Oxford – Boars Hill and Shotover. Two weeks ago I did one 4 minute interval at 360 watts, which was about 100 watts down on a similar effort last year – though injury may have held me back a bit. But, I think even two weeks of low mileage, and a few intervals can make a big difference. It's completely different to past five years of training.
Closed roads
It is great to be able to have affordable closed roads, which must rely on a little good will of local residents and councils. These roads seem relatively quiet so hopefully not too many people were inconvenienced. At the start a lady drove up and wanted to go to her house, which was on the right, just after the start. She was remarkable friendly, accommodating and patient. Even offering a few kind words to me as I was waiting to go. It does make a big difference when people are willing to accommodate an event like this.
I set off at a fairly good tempo. The first section isn't too steep, though there was a bit of a headwind. I just kept low and kept going. When you turn left, it gets a little bit steeper so you need to try and make a bit more effort for the last two minutes of the climb. I kept going to the top, and perhaps even had a little bit more in the tank, I can't remember the last time I've done a proper four minute hill climb effort. Perhaps it was the National championships last October 2015.
I was pleased with time of 4.07, which wasn't much slower than previous years when I was really training hard and doing innumerable intervals for the previous eight weeks. It was just good enough for third. It would have been fascinating to know what time I might have done if I hadn't been injured for the past two months.
Jim Burgin 60 years of timekeeping
After the event, there was a prize ceremony at the Crown and Garter public house, which served as event HQ. The organiser Chris Boulton, said that it was Jim Burgin's last event at which he was timekeeping. He began timekeeping in his 20s, now after 60 years, aged 80, he is retiring. That's an impressive service to the timetrialling community. Jim Burgin has also been a stalwart of West London Cycling Association (and London West CTT) for many decades too.
The main sponsor Ridgeway Volkswagen helped give a good prize list. As much as I love the Corinthian ideals of the sport, I have to admit a big prize pot, was a motivation to try and make a comeback for this race, rather than leaving it for another week or two. Though I'm pretty sore now. Especially after going up Combe Gibbet, which is nearby – two for price of one so to speak.
A close up of the old bike behind mine. I don't know if this was used in the hill climb or not. "Record Ace" – I don't think that applies to Campagnolo Record, but I could stand corrected.
Previous years

Result 2016

1 Isaac Mundy Sen Oxford University CC 04:03.1 1st
2 Mitchell Webber Sen Pedal Heaven 04:05.1 2nd
3 Tejvan Pettinger Sen Sri Chinmoy Cycling Team 04:07.2 3rd
4 Danny Axford V40 Arctic Tacx RT 04:19.1 1st vet/1st V40
5 Angus Fisk Sen Oxford University CC 04:24.2
6 Harvey Weinberger Jun G.S. Henley 04:32.3 1st Jun
7 Ed Jarvis Sen Dursley Road Club 04:32.6
8 Tom Fricker Sen Farnham RC 04:32.8
9 David Billings Sen Cycology Bikes 04:33.9
10 Samuel Holder Sen University of Bristol Cycling Club 04:36.8
11 Daniel Pink Sen Bigfoot CC 04:37.3
12 Max Girdler Sen Onit Cycles 04:37.7
13 Oliver Bent Sen Oxford University CC 04:38.4
14 Sam Harding Sen Royal Leamington Spa Cycling Club 04:38.9
15 Callum Macleod Jun Palmer Park Velo 04:42.3 2nd Jun
16 Luke Walton Sen East London Velo 04:43.3
17 Michael Harper V40 Newbury RC 04:45.1 2nd vet/1st NRC man
18 Russ Thompson V40 Performance Cycles CC 04:45.1 3rd vet
19 Edward Francis V40 Paceline RT 04:45.3
20 Ian Greenstreet V50 Newbury RC 04:50.2 1st V50/2nd NRC man
21 Stewart House V40 Arctic Tacx RT 04:50.9
22 Emma Grant SenW University of Bath Cycling Club 04:51.7 1st woman
23 Neil Hancock V40 Team Swindon Cycles 04:53.3
24 Mark Shepherd V40 BanjoCycles.com/Raceware 04:55.5
25 Giles Prentice Sen Velo Club Walcot 04:56.2
26 Simon Healey V40 Andover Wheelers 04:57.0
27 Andy Hibberd V40 Rapha Cycling Club 04:57.9
28 Philip Wadge V40 BanjoCycles.com/Raceware 05:00.1
29 Matthew Grey Jun Newbury RC 05:00.3 3rd Jun/3rd NRC man
30 Robert Adams V40 Bristol South Cycling Club 05:01.9
31 Alice Lethbridge SenW Starley Racing 05:01.9 2nd woman
32 Rachael Elliott SenW Newbury RC 05:02.4 3rd woman/1st NRC woman
33 James Scrivener Sen Reading CC 05:03.4
34 Mathilde Pauls SenW SigmaSport.co.uk 05:06.5
35 Jon Cox V40 Oxford University CC 05:10.9
36 Sam Hooper Sen Performance Cycles CC 05:12.4
37 Euan Backus U16 Zappi's Cycling Club 05:13.1 1st U16
38 Jonathan Williams V40 Climb on Bikes RT 05:14.0
39 Thomas Mead-Herbert Sen Watford Velo Sport 05:14.2
40 Martin Sigrist V50 Newbury RC 05:17.3
41 Joshua Knowles U16 Palmer Park Velo 05:17.6 2nd U16
42 Jesper Howe Jun Hillingdon Slipstreamers 05:21.1
43 Nestor Patrikios V50 Newbury RC 05:21.7
44 Andi Rivers V40 Newbury RC 05:24.4
45 Ben Thomas V40 Oxford Tri Club 05:26.3
46 Anna Morris SenW Southampton University Road Club 05:28.1
47 Ian Lakey V50 Newbury RC 05:30.7
48 Sam Farman Jun Watford Velo Sport 05:31.0
49 Sophie Herbert SenW Southampton University Road Club 05:36.2
50 Edward Genney U16 Palmer Park Velo 05:36.7 3rd U16
51 Guy Jackson V40 Newbury RC 05:38.1
52 Ian Keary Sen Palmer Park Velo 05:38.4
53 Filippo Negroni Sen Palmer Park Velo 05:39.6
54 Arthur Boulton U16 Palmer Park Velo 05:39.7
55 Zuzanna Kuran SenW Pearson Cycling Club 05:39.7
56 Paul Archer Sen Newbury RC 05:39.8
57 Nathan Hoy V40 Velo Club Godalming & Haslemere 05:41.3
58 Amber Joseph JunW PMR @ Toachim House 05:44.8
59 Peter Kilby V50 Lewes Wanderers CC 05:45.3
60 Melanie Sneddon VW40 TORQ Performance 05:46.6
61 Christopher Brooks Sen Southampton University Road Club 05:47.0
62 Ben Reeve V40 Newbury RC 05:47.3
63 Finlay Hawker U12 Hillingdon Slipstreamers 05:48.8 1st U12
64 Marwood Jeans V50 Newbury RC 05:49.4
65 Mike Wall V50 North Hampshire RC 05:52.0
66 Dougy Butterworth V40 Tri Henley 05:53.1
67 Adam Evans V40 Newbury RC 05:55.9
68 Janet Birkmyre VW50 TORQ Performance 05:56.6
69 Florence Wiggins JunW Zappi's Cycling Club 06:00.0
70 Nathan George U16 Hillingdon Slipstreamers 06:00.6
71 Matt Pritchard V40 Palmer Park Velo 06:02.6
72 Alastair Masson V40 Newbury RC 06:03.1
73 Neil Morris V40 Didcot Phoenix CC 06:03.2
74 Neil Taylor V60 Newbury RC 06:08.8 1st V60
75 Michael O'Donnell Sen Newbury RC 06:10.8
76 Cal Gorvy U14 Palmer Park Velo 06:12.2 1st U14
77 Dylan Taylor U16 Palmer Park Velo 06:16.4
78 James Wilding Sen BanjoCycles.com/Raceware 06:18.9
79 Matt Weldon V40 Newbury RC 06:20.3
80 Sam Dawson Jun Palmer Park Velo 06:22.5
81 Laurie Hillier U14 Marlow Riders 06:25.0 2nd U14
82 Huw Jenkins V50 Newbury RC 06:25.3
83 Polly Perkins VW40 Newbury RC 06:25.5 2nd NRC woman
84 Tom Stringer U14 Hillingdon Slipstreamers 06:27.9 3rd U14
85 Stephen Edinborough V40 Newbury RC 06:29.6
86 Finlay Beggin U12 Zappi's Cycling Club 06:32.4 2nd U12
87 Robin Vessey V50 Mickey Cranks Cycling Club 06:33.9
88 Billy Chester U16 Newbury RC 06:35.3
89 Alastair Jarman V50 Newbury RC 06:37.0
90 Zac Coldman-Mason U16 Palmer Park Velo 06:37.1
91 Felix Butterworth U14 Tri Henley 06:37.9
92 Mark Foden V40 Newbury RC 06:38.8
93 Finn Hawkins U12 Palmer Park Velo 06:39.8 3rd U12
94 Graham Morrison V40 Newbury RC 06:40.0
95 John Wann V60 Palmer Park Velo 06:41.6
96 Leigh Mason V40 Palmer Park Velo 06:44.6
97 Martin Dobson V50 Newbury RC 06:47.6
98 Duncan Pritchard U16 Palmer Park Velo 06:50.0
99 Jacob Starling-Marwick U16 Newbury RC 06:55.0
100 Emily Conn U16W Palmer Park Velo 06:55.1
101 Kevin Hurley V50 Newbury RC 06:57.0
102 Sarah Carter VW40 Newbury RC 06:57.2 3rd NRC woman
103 Georgia Jackson VW40 Newbury RC 07:02.7
104 Cliff Voller V60 Newbury RC 07:04.4
105 Philip Taylor V40 Palmer Park Velo 07:05.0
106 Fiona Hares SenW Southampton University Road Club 07:05.7
107 Benjamin Woolhouse U12 Newbury RC 07:07.2 Best effort
108 Peter Viney V50 Newbury RC 07:23.3
109 Alison Vessey V60 Mickey Cranks Cycling Club 07:25.5
110 Damien Abery V40 Newbury RC 07:31.5
111 Lily Burrows U12W Palmer Park Velo 07:40.5
112 Richard Genney V40 Palmer Park Velo 07:44.1
113 Ruben Hillier U14 Marlow Riders 07:44.8
114 Tony Dawson V60 Palmer Park Velo 08:11.9
115 David Hillier V40 Marlow Riders 08:17.4
116 Chloe Rabson SenW Onit Cycles 08:18.0
117 Owen Abery U14 Newbury RC 08:20.7
118 Daniel Negroni U12 Palmer Park Velo 08:21.5
119 Michelle Girdler VW50 Onit Cycles 08:48.0
120 Philip Burgin V60 Newbury RC 09:08.1
121 Alexander Keary U12 Palmer Park Velo 09:32.2
122 Helen Stevens VW50 Palmer Park Velo 09:58.0 Lantern Rouge