Today was the Newbury RC hill climb on Walbury Hill.
The start was a very civilised 10am, with myself as last man at 11.20am. It meant I could start the day watching a video of the last 20km of the women's world race championship. I didn't know the result, and when I turned it on, it didn't look too promising for British hopeful Lizzie Armistead. But, it turned out to be a thrilling race, and a really superb victory for Lizzie Armitstead (from Otley, Yorkshire). As the imperious old rugby union commentator Bill McClaren would say:
'They'll be dancing in the streets of Otley tonight."
Back to domestic time trialling in the UK, and there was not quite as much glamour driving down the A34 towards Newbury, but it was a great Autumn day and super views from the top of Walbury hill.

After last year's first open, Newbury RC have made efforts to make it an even bigger event. They managed to get a rare road closure (which is great to race on) and a generous prize fund, due to sponsorship from Ridgeway Volkswagen and several others.
There was a good field of 80 riders – no mean feat for a hill climb and quite a few spectators at the top.
I arrived in time to ride up the hill and take one or two photos of the early starters. There was a bit of a nip in the air for the first riders, but the strong sun warmed up the air quite nicely. Walbury hill is on kind of a natural amphitheatre – suited for soaking up the sun.
Newbury RC rider struggling up the steep inclines.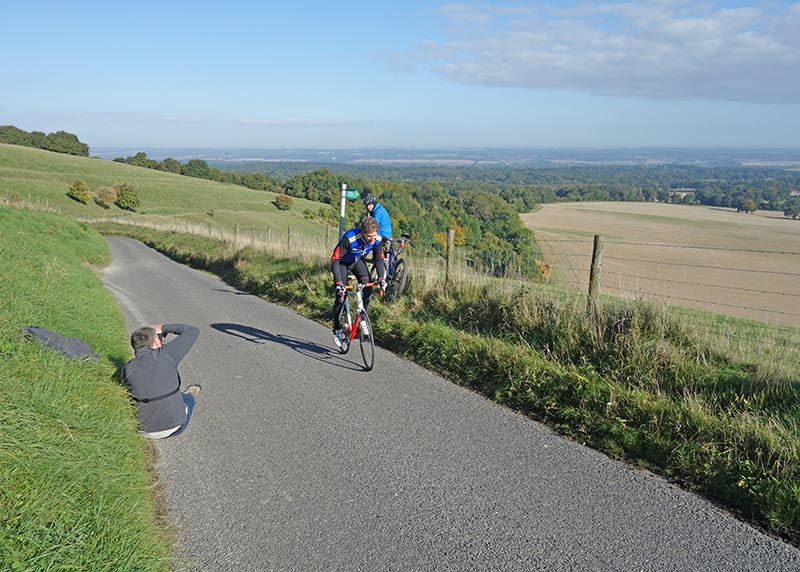 View down the hill.
After a mixed bag of warmup routine I was ready to head over to the start. The problem with a bioracer skinsuit is that my warmup routine now involves finding some kind soul to help zip it up. It's so tight, it's impossible to do on your own. And I don't like it zipped up for too long because it's so tight. I don't know whether it is a help or hindrance for hill climbs. When you're standing on the pedals cycling uphill, you can feel the suit pulling you back into an aerodynamic tuck.
It's also funny how many people came up to say they use my theoretical hill climb warm-up suggestions – I feel kind of bad, when I don't follow it myself! But, always nice to meet readers of the blog.
Walbury hill is a bit like yesterdays hill at Aston  Hill – in that initially the gradient is relatively shallow, with the hardest 15% section coming in the last half. And like most British hills, the gradient is never constant – just a series of ramps here and there.
I went off relatively conservatively and tried to pick up pace as soon as the hill got steep. I squeezed under 4 minutes 3.59.84 something. It was good enough for first place, but 5 seconds slower than last year. Markya Sennema  was first lady. Alice Lethbridge GB Cycles 2nd. Joe Norledge of Procycling Magazine RT was 2nd men. Other results to come.
I was happy with the result and prize. A bit of a shame to be slower than last season, but you can't read too much into every fluctuation in time. (I hope!)
With it being warm and sunny it didn't quite feel like the sharp end of the hill climb season. It was almost a bit too civilised. Anyway, I'm off up to Yorkshire next weekend, I don't want to tempt fate, but I doubt it will be quite as warm and sunny. I've entered Otley CC and Monsal Head.
Thanks to Chris and the Newbury RC team, a great event.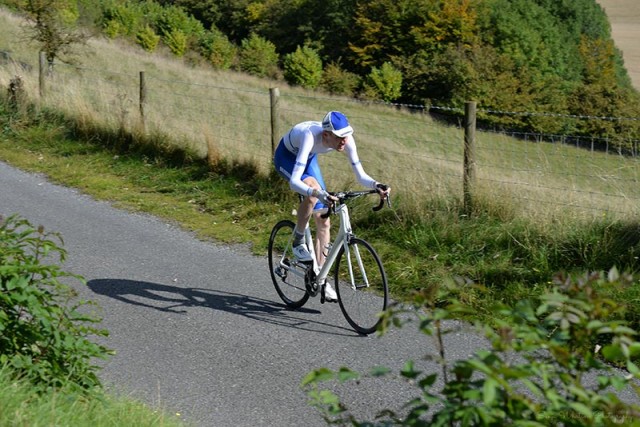 No Talk
The talk at Beeline bicycles has been cancelled due to illness.
Men
1 Tejvan Pettinger SM Sri Chinmoy Cycling Team 03:59.82
2 Joe Norledge SM Procycling Magazine RT 04:15.00
3 Richard Gildea SM Didcot Phoenix CC 04:25.40
Women
1 Maryka Sennema W Paceline RT 04:50.20
2 Alice Lethbridge W gbcycles.co.uk 05:02.97
3 Vicky Gill W www.drag2zero.com 05:16.74
 Juvenile
1 Angus Hawkins Juv Palmer Park Velo 05:10.07
2 Matt Grey Juv Newbury RC 05:20.83
3 Joshua Knowles Juv Palmer Park Velo 05:50.51
Junior
1 Sam Harding Jun Royal Leamington Spa Cycling Club 04:41.96
2 Joseph Linehan Jun RP Racing 04:51.02
3 Adam Teece Jun Newbury RC 04:57.74
Veteran
1 Alan Murchison V40 Banjo Cycles 04:35.98
2 Jim Ley V40 Paceline RT 04:43.14
3 Ian Greenstreet V50 Newbury RC 04:46.97
V40
1 Alan Murchison V40 Banjo Cycles 04:35.98
V50
1 Ian Greenstreet V50 Newbury RC 04:46.97
V60
1 Neil Taylor V60 Newbury RC 06:23.07
Newbury Men
1 Ian Greenstreet V50 Newbury RC 04:46.97
2 Adam Teece Jun Newbury RC 04:57.44
3 Thomas Higgins Sen Newbury RC 05:10.30
Newbury Women
1 Claire Kitching W Newbury RC 05:58.74
2 Polly Perkins W Newbury RC 06:26.19
3 Kate Burns W Newbury RC 08:55.38
1st team – Southampton University RC
1 Matthew Posner SM Southampton University RC 04:28.47
2 Harry Chamberlain SM Southampton University RC 04:37.73
3 Joshua Oldfield SM Southampton University RC 04:52.93
2nd team – Newbury RC
1 Ian Greenstreet V50 Newbury RC 04:46.97
2 Adam Teece Jun Newbury RC 04:57.74
3 Thomas Higgins SM Newbury RC 05:10.30
Newbury Sausages
1 Owen Abery Newbury RC
Best Effort
1 James Wilding Supernova
Related