I've been looking back through my cycling logs to have a look at previous seasons. I must admit I did think quite a bit about what happened in previous national championships and why I was just outside the podium on several occasions. This is a potted history of the past 9 national championships.
1993 – My 1st hill climb at Otley CC (placing unknown, close to last)
2004 – My 1st season racing. My first open was a Cardiff Byways triple hill climb. (3 hill climbs in one day. I finished 2nd out of 11 – a good experience, though I've never been back!). I also came second in Burrington Combe (Bristol South CC), with a time of 7.10. I haven't often beaten that initial time. In retrospect it's a shame I didn't go up to  north east for National champs it was won by Jonathan Dayus  just ahead of James Dobbin on Winter's Gibbet a fairly long climb.
2005 12th (2.39.1) – Rake  – 8 seconds behind 3rd, 12 secs behind 1st. My first national championship was at the Rake. A great experience, I finished 12th. I didn't quite know what to expect. But, it was great crowd and atmosphere. I rode it pretty well, though I had very bad wheel slip at the steepest climb. (I was still Richard Pettinger in those days. Report at Tejvan.co.uk) | 2005
2006 – 7th (5.18) Peak Hill – 11 seconds behind 3rd, 36 secs behind 1st – Devon. I did little racing in 2006. I few slow 10 mile TTs.  so I was pleased to finish 7th, only a few seconds off the podium. I thought if I can keep improving at this rate, I could get on the podium quite soon. James Dobbin was a standout winner from David Clarke. Peak hill was a great hill, flat at the bottom getting steeper and steeper. I remember it was a beautiful warm sunny day. Blog on 2006 national hill climb.
2007 – 7th (7.14) Cheddar Gorge –  6 seconds behind 3rd, 23 secs behind 1st.  Another season of little racing. I only did 2 hill climbs in the lead up to the national championship. My Guru, Sri Chinmoy passed away October 11th and I went to New  York for a week. Hill climbing took a back seat that season. Despite racing only once, I turned up to national championship and finished 7th, just a few seconds behind 3rd place. I was pleased. If I'd had more racing, I could easily have got a few more seconds. But, it didn't feel important in 2007. It's a great climb Cheddar Gorge. Steep at the bottom then a long drag to the top. James Dobbin retained his title from David Clarke. A young Alex Dowsett finished 18th.  Results at CTT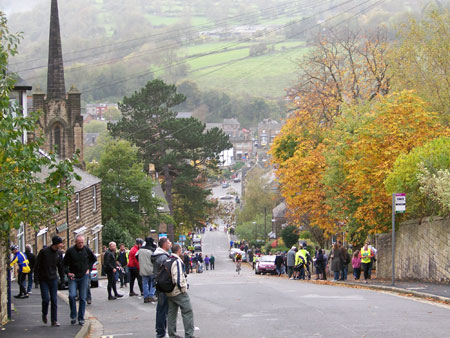 2008. 14th (2:42) Bank Road, Matlock, Derbyshire. 16 seconds behind 3rd, 18 secs behind 1st – A short and spectacular hill climb through the town of Matlock. Again a light season of racing, and a climb that didn't really suit me. I remember setting off really fast and being light-headed by half way up. I slowed down utterly exhausted. At least I'd given it everything. I remember being quite taken by experience.  The winner was Matt Clinton ahead of Bill Bell and Jim Henderson. (blog of 2008) | Bank Road