Britwell hill is a short 0.6 miles hill, averaging 9% and having 85 metre of height gain. It is 15% at the steepest, near the top. It has been used in local club hill climbs for quite a long time.  It is a simple hill – going straight up the Chiltern ridge with no attempt at devising any kind of hairpin – it provides an imposing view as you approach from the village of Britwell. It is similar in length to hills like The Rake and Streatley (though not quite as steep as these hills) It is a good test for a short two and half minute kind of climb. It gets steeper as you go up the hill. The 100 Climbs version includes a section of false flat at the top, where the gradient becomes very gentle, you have to aim for just after the house and garden at the top of the hill on the left.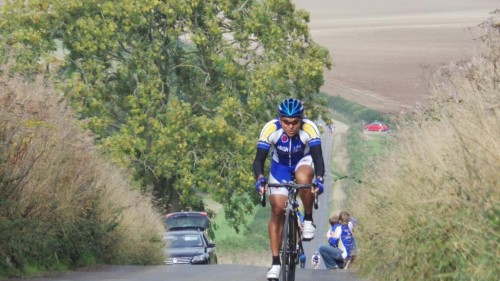 Distance: 0.63 miles
Average gradient: 8%
Maximum gradient: 15.0%
Elevation gain: 83 m
---
The road surface is good and traffic is light. Though a big drawback is that the road is quite narrow at the bottom, in places it can be hard for a bike and car to squeeze past. I was able to do several intervals without any problems, but you might be unlucky.
A windmill near Britwell hill was apparently featured in the film 'Chitty Chitty Bang Bang' Maybe the car starts flying when making the descent of the hill. You can certainly get a good speed going down, though watch out for approaching cars on the narrow bit.
I rode out Tuesday to have a go at a few intervals. Irritatingly I got the theme tune to 'Chitty Chitty Bang Bang' in my head. As much as I admire any film with the lead character of Dick Van Dyke and a person called 'Truly Scrumptious', it's not a theme song you particularly want going around in your head when you're trying to do all-out 2 minute intervals.
Fortunately, when you do an intense effort, everything gets blocked from the mind – even the most catchy song lyrics. That's another bonus of hill climbs I'd never thought of before.
At the weekend I had enjoyed the short hill climbs, so I entered the first interval with great gusto, setting off at a fearsome pace and with the tremendous optimism of holding a sprint pace all the way to the top. The first minute was fantastic, but as the gradient got steeper, the initial burst of power was evaporating and leaving that sinking feeling of running out of steam – just as the gradient become remorselessly steeper. Hopefully, it was a good training effect. but also a reminder, that even 2 and a half minute climbs aren't all out sprints, you can still badly pace short climbs. And there's no prize for getting a one minute power pb in a real race.
I did the few hill quite a few times, with a short recovery in between. My legs were well worked over at the end. I rode the 15 miles back to Oxford at around 85 watts and was grateful for a tailwind pushing me home.
I haven't done Cat and Bec hill climbs since about 2007, but part of me would like the challenge of having another go at these classic climbs. I'd like to have another go at the Rake sometime. They will never be my speciality, but it is possible in past I have carried a bit pessimistic attitude to short hill climbs. They certainly present an interesting challenge.
But, this weekend is Porlock a very different kind of hill 13 minutes + of nice 7% gradient. Looking forward to that.