A random selection of contemporary and classic cycling terms explained with varying degrees of lucidity. Some may give the impression of being entirely made up, which is probably because they are.
Cycling phrases
'Pedalling in Circles.' These days you seem to hear this expression quite frequently. A good cyclist should 'pedal in circles' ( if you have standard cranks, you may be thinking it's pretty hard to cycle in other shape and you're right) When asked for advice about cycling, Fausto Coppi replied 'trying pedalling harder'. This is the essence of pedalling in circles – keep those pedals moving. The actual idea of pedalling in circles, is that you don't just push on the down stroke, but also pull on the way up. So your exercising pressure for the full 360 degrees of the pedal rotation, and not just the 180 degrees going down. An advantage of using clipless pedals and toeclips.
Pedalling squares – Not quite the opposite of pedalling in circles. Pedalling squares means the cyclist is floundering, pushing a big gear with no élan and generally struggling. You pedal squares, when you bonk or blow up.
'Hold your Line' –  You'll hear this in road races or very serious chain gangs. The idea is that when going round corners you need to hold a set distance from the edge of the road so you don't force other people onto the other side of the road. Though people who shout 'hold your line' tend to have a very good capacity to sneak past you just after saying this. Holding your line is different to taking the racing line – you can do this when you're on your own and take the shortest distance through the apex of a corner
To Half Wheel If you're in the opposite of a serious chain gang, you may hear stately club members ask you not to 'half wheel'. This is when an overeager cyclist keeps trying to push the pace of the group higher – by riding ahead and making other riders cycle faster to keep up. This is very much against the tradition of the traditional British club run.
Wheelsucker – Someone who always sits behind another rider to benefit from drafting, and never going to the front of a group to do a turn. If a half-wheeler is trying to show off by going faster, the wheelsucker is a rider wanting to enjoy the efforts of others. It does depends on the type of wheelsucking you do. The best sprinters will never be at the front of the peleton until the last 100m of a race. But, it's generally considered bad form to be a wheelsucker on your daily commute.
Slipstream – Riding behind another rider can save up to 30% because of the reduced aero drag. This is the attraction of being a wheelsucker, especially if your close to 'blowing up'
'Good style' – It may seem curious you can have a good cycling style. But if you watch a race, you may hear the commentators say 'he has a good style – he looks very good on the bike'. This may be followed by said rider going out the back. Looks can be deceptive. Good style is very rarely compatible with 'gurning' see below. But, one of the advantages of cycling is that you may be really rubbish, but as long as you 'look good on the bike' then it counts for something.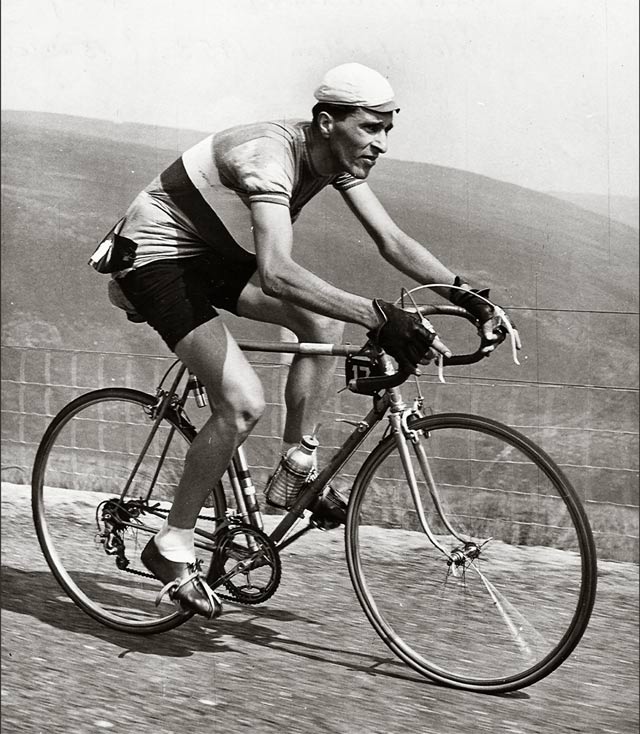 Souplesse – Synonymous with good style is the more evocative French word souplesse. It means to pedal at a high cadence and with seeming ease. An untrained cyclist will tend to 'mash' (push) a big gear at a low cadence. A well trained athlete will be able to pedal with souplesse – high cadence for hours on end.