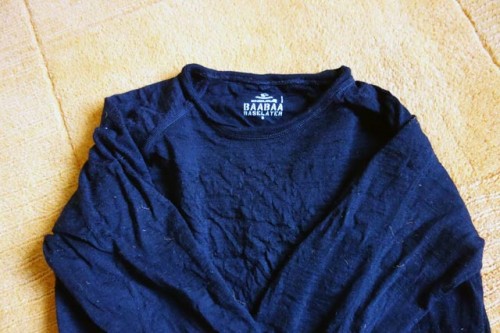 I bought this Endura BaaBaa Merino baselayer in anticipation of some cold wet early season time trials. Merino wool offers good insulation, but really comes to the fore when wet. It can retain heat reasonably well, even when it is damp day.
Sizing
Although 6 foot 3 – 38″ chest, I choose size S. I wanted it to be tight fitting to go under a skin suit. If anything, Merino wool can stretch a little over time with use, so I'd rather go for a slightly small size rather than large. It fits well, though a little short in the arm, which is to be expected given my height.
The recommended sizing is
S-36-38, M-39-41, L 45-47, XL -42-44,  XXL -48-50
Review
Merino wool makes a good base layer because it is reasonably soft against the skin (though not as amazing as some Merino advocates claim). It is also excellent at wicking away sweat. It never seems to get heavy with sweat, which some other materials can.
A surprising number of people have told me that you can wear Merino wool unwashed for two months, and you still don't get any untoward smell.  I can't say I've ever dared test this to the limit. But, you can see how that is possible.
It can be put in the tumble dryer, which is good. When you take it out, it seems dry already. Whereas other clothes take longer to dry.
It offers a good layer of insulation. It is quite warm, without being too heavy. I've used it on quite a few damp and cold rides this summer, and has always performed well.
Value
At £39.99 it is not cheap. But, it is a quality product. 100% merino wool, so can be considered a good investment, if you do quite a bit of riding in the cold and damp conditions of England, you will probably get a lot of use out of it. It may be May, but there will still be many opportunities to wear in the upcoming months.
Overall
It was a bit of a bind to part with £39.99 and it was a bit of an impulse buy. I was worried because I thought I wouldn't have enough warm base layers for a race up north when rain was forecast. I bought (from Evans Cycles, Leeds) the Merino layer because I thought it would help should I get caught out in a shower. Hopefully, it will last for several seasons to make it worth the outlay. But, the production quality seems good and I would recommend the product.
Related Pages