For drama and excitement, the Ardennes classics (Amstel Gold, Fleche Wallone and Liege Bastogne Liege) couldn't match the earlier Belgian classics, like the Tour of Flanders. For some reasons, the courses of Flèche Wallone and Liege Bastogne Liege encourage more conservative racing. Liege Bastogne Liege was also doubly disappointing if you were trying to pick out a Sky rider to support.
Still watching the peleton fragment on the Mur du Huy (during the Flèche Wallone) is a great sight; it may not last very long, but it is a great spectacle. The Mur de Huy has definitely been added to the list of climbs to do.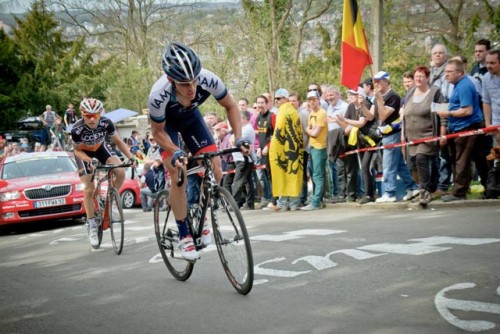 Interestingly, the profile of the Mur de Huy is surprisingly close to Pea Royd Lane – this years venue for the National Hill Climb. (Of course, the Mur du Huy is raced up after the small matter of 200km in the legs, but you know what I mean..)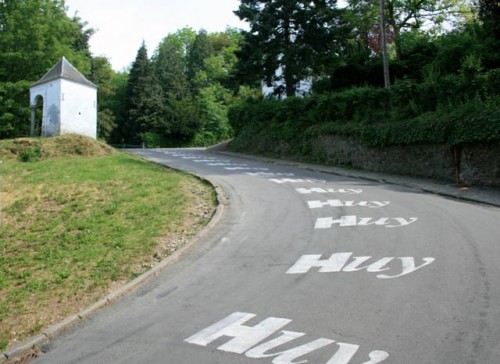 Mur du Huy
Distance 0.8 m (1.3km)
Average 10%
Max 17% (25% at apex)
height gain 119m (392 ft)
CR: around 3.30 – According to Strava, Romain Bardet did the climb in 3.36 in 2014.
Pea Royd Lane by comparison
Length –  1.1km
Average 11%
Max grade – 20%
Height gain – 129m
CR. D.Fleeman 3.19 (2009 nat HC)
The interesting thing about the Mur du Huy is that all the commentary says the trick is to time your acceleration to perfection. You have to 'go' at the last possible moment. The history of Fleche Wallone is full of seeing riders create a winning margin, only to slow down to a crawl as another rider comes past at the last moment. This is what makes it so compelling viewing. You never know who is going to come around the corner at the last moment.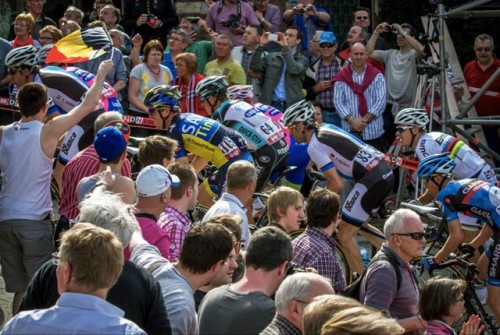 In this article on the  Mur de Huy, professional rider Marco Pinotti (69kg) says put out 440watts for the climb over 4 mins. But, says he can't ever win there because it needs a rider who can put out a bigger wattage in a short space of time.
Mur du Huy women's race of 2012
It's food for thought for Pea Royd Lane because I always thought with hill climbs – you had to go as hard as possible right from the start and try and hang on.
Sky hot and cold
Team Sky always generate a lot of hubris.Overachiever, underachievers, there's always plenty of opinions out on the world wide web. But, they have put up a reasonably showing in this seasons early classics – even if they haven't yet landed a big victory.  It was a shame strongman Ian Stannard crashed out shortly after winning an early season minor classic. Still Geraint Thomas  and Stannard are both promising prospects for future. But, with the classics, good potential is not enough, you have to have the combination of luck, judgement and being in the right place at the right time. It's also good to see Ben Swift come back to winning ways after a quite 2013.
Wiggins has blown hot and cold all through his career, but he is getting close to having one of the most comprehensive 'all rounder palmeres' in the history of cycling. There are not many track world and Olympic champions to also win the Tour de France; if he could grab a monument like Paris-Roubaix before he retires, it will be a palmeres that very few will ever be able to match.
Also, the resurgence of Bradley Wiggins could present Team Sky with that old chestnut of team leadership melodrama. There's no question, that at the moment, Chris Froome will be the named team leader, and Bradley Wiggins has all but said he can't go for another Grand tour win, but this year, stage 5 of the T de F is said to be a cobbled affair. What happens if Froome crashes or looses a couple of minutes on the cobbles? Would Wiggins (almost a cobbled specialist) wait? Or will Wiggins, perhaps suffer a communication malfunction as soon as the cobbles appear?
But, given the apparent lack of strength in depth at Sky, Froome may well need Wiggins as a super-domestic. Perhaps the TdF will be the chance for Wiggins to play the role of Gregario du Luxe. Who knows which way it will go.
Staying upright is half the battle
In other circumstances, it might be funny to see a cyclist fall off on the last corner. But, I couldn't laugh at poor old Dan Martin – falling off in Liege Bastogne Liege with the finish line in sight. It's just too close to the bone.