A look at hill climbs through the eyes of a photographer.
'Hill Climb Agony'. Photo by Bernard Thompson.
The National Championship at Winnats Pass. Spectators throng the side of the road.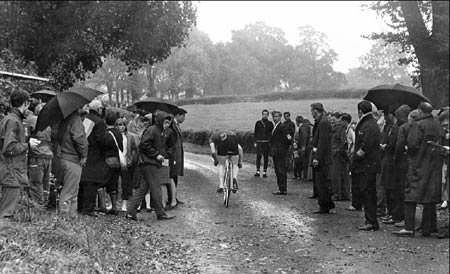 The Catford CC Hill Climb. The Catford CC hill climb can make a claim to be the world' oldest cycle race. The first race was held at Westerham Hill on August 20th 1887. In those days, it was considered an achievement to get to the top without falling off. Riders rode a mixture of 'safety bicycles' and penny farthings – all on solid tyres. Of 24 starters, only 12 made it to the top. That's how the sport of hill climbing began. You could say it was a lot harder in them days.
Pre – race Warming up
It's a strange sport sometimes. Drive up the M1, to a beautiful part of the Peak District. Spend 1 hour warming up on a turbo and rollers in the carpark. Then kill yourself up a 5 minute hill. But, those five minutes can give such an exhilaration, you keep coming back for more…