The past two weeks I have been cycling in the south of Portugal. It's been a mixed experience to say the least. Firstly I'm typing with 5 fingers (more of that later) it's interminably dull writing with one hand and I beg to be excused if there are more typos than usual.
Firstly, I was lucky to make it out if Gatwick at all. 3 hours waiting on runway for a storm to die down was not fun, but better than the 24+ hour waits of other unlucky Gatwick folk who never made it at all.
Once airborne I could begin to feel a little pleased and excited at the prospect of leaving the cold, ice and storms of Britain behind for an 'idyllic' winter training camp in the south of Portugal.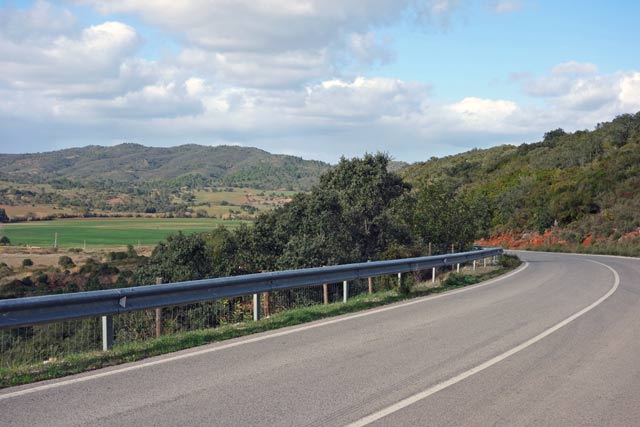 'idyllic was always going to be a little on optimistic side, The weather on the Algarve in winter is a mixed affair. quite a bit if rain, definitely warmer than England but not exactly tropical. It doesn't stop the English coming to Portugal though – the hotel foyers were full of folk from Barnsley and Sheffield, looking a tad gloomy as they whiled away the hours reading about the English storms on their ipad.
But the weather did clear up and I had quite a few nice rides. If you go along the coastal roads, it's busy with traffic, even in Dec. But head north and there is a cyclists' paradise of nice wide roads and hardly any cars; the tarmac is super smooth, which is  a big bonus. There's something particularly satisfying about climbing long gradual gradients on smooth tarmac.
I don't think Portuguese drivers are any better or worse than English drivers. I couldn't really tell because there  were so few. 1 thing about heading north – it was very hilly. climb after epic climb. there are not particularly high – up to 580 metres max, but there seems to be  ridge after ridge. On one day, I'd done 1,000m of climbing with only 20 miles on the clock.
I like climbing as much as any cyclist but even me, the hill climbing addict was starting to wish for something flat. It's not exactly steady base miles country. The gradient of many climbs was also quite steep 12-16% – though mostly more manageable.
The Dogs
At times it was eerily quiet, not a soul to be seen, but one thing Portugal has is dogs. – Not the cute pampered poodles of Chelsea and Kensington but barking, snarling and vicious sounding dogs. On one quiet road I came across a pack of wild dogs, they were snapping at my hills with real intent, it may have been Jan 2nd, but I soon learnt it's never too early in the year for flat out fartlek sprint intervals. It brought back memories of hill climb efforts as I slipped into that fight or flight mode.
Yesterday was to be the last cycling day so I went back into the hills north of Albufeira. I came across a fellow Portuguese cyclist and we shared a few km of pacing before we tackled a wicked 300m climb averaging 12% – we made a rapid ascent of this real corker of a climb.
Beginning the descent I saw again my Portuguese nemesis – a dog – it saw me and like a bullet charged into my front wheel. It was impossible to avoid it – I just kept thinking – surely it's not going to do that. But, it did and I came down with a thud, left leg stuck in the pedal. It might have made a spectacular viewing. It was a bad fall with plenty of road rash which I didn't want to look at it. I'm not as queasy as I was, but its never a nice sensation to feel your arm wet with blood, the kamakaze dog was injured itself, though I couldn't summon any sympathy. I just couldn't believe what it had done. It was a strange scene – an English cyclist laid low by a dog. The Portuguese cyclist stopped to see if I was OK. There were also 2 Portuguese peasants bemoaning something by the side of the road. It might have been their dog, I don't know. They didn't speak a word of English, but they looked upset.
The good thing was nothing seemed to be broken, I just turned round and started cycling the 25 miles back to hotel. It was without any question the hardest 25 miles I'd ever ridden. every moderate incline required a great effort and grimacing of the face. After 2 hours of grinding away I got back to the hotel.
When I stepped off the bike I couldn't walk and only with the greatest difficulty could stand. It was v painful. A doctor came and didn't think anything broken – just a torn muscle / ligament. It might be quite a long injury but could have been worse. It's not really painful, just very difficult to walk. It's strange to be able to cycle for 2 hours and then be unable to walk. but the cycling home probably aggravated the tendon / muscle.
So, if you're fighting the English winter, just be grateful we don't have kamikaze dogs. Never will I complain of English weather again! I won't be in a rush to return to Portugal. Alas the early season hillies may be missed. but we'll see.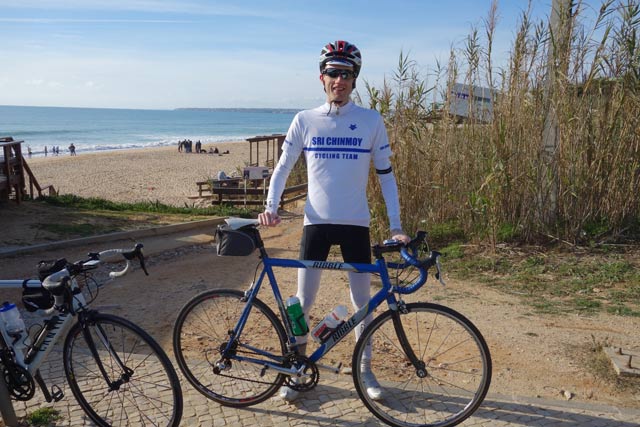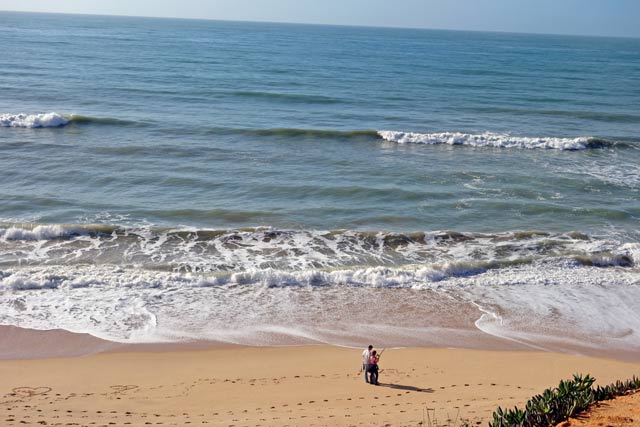 related