I've taken my bike on a plane a couple of times. It's not the easiest process and it takes  a bit of planning and motivation. In recent years, I've been flying with my bike more frequently as I've found the joy of cycling in places like the Pyranees, Sicily, Croatia and Portugal. If you love long steady climbs, you really need to fly out of the UK!
This is a post to share a few tips of taking your bike on a plane.
Cost of taking bike on plane
Warning taking your bike on a plane can cost more than the cost of your plane ticket! I travelled Easy Jet on the way out, and Monarch airways on way back.
Ryanair charge £50 / €50 for one way travel! £60 if you book at airport. That could be £120 for a return flight just for a bike box with a 20kg limit. (Ryanair – baggage charges) Ryanair – the airline which loves to annoy it's customers!
However, if you take a bike bag, you might be able to get away with not taking a suitcase. I put my clothes in the bike bag – to help protect. It means I'm over the weight limit, but they never seem to weigh bike bags… But, you never know, so it's a risk.
Easyjet charged £30 for a one way flight. (Easyjet)
Monarch airlines charged £30 for a one way flight
British Midland (BMI) charge a fee of £30 per journey if weighs less than 20kg. For over 20kg then you're looking at a £60 surcharge per flight.
British Airways allow a bike to be taken for free if it doesn't exceed your regular allowance.
The other cost, is that you need to book a bigger taxi to transport it. Oxford taxi company charged an extra £5 to take a bike.
I have been worried about availability of bigger taxes at the different airport, but in the end they were plentiful and didn't seem to charge extra.
Preparing the bike for travel
Clean the bike first!
To get your bike in a suitable bag or box, you will just need a few allen keys and pedal spanner. It's generally easy to take apart, but it's a bit more skilled putting the bike back when you unpack at the destination. I advise not leaving it to the last minute. If you take a bit more time when putting the bike in the box, it can make it easier to reassemble.
Remove pedals with pedal spanner. – Taking great care not to misplace your pedals. A small speedplay pedal is easy to leave behind; I speak from experience! Also, make sure you pack the same spanner with pedals so you can put back on later.
Measure saddle height – either with tape measure or mark the seat post. Then remove seat post and saddle with allen key .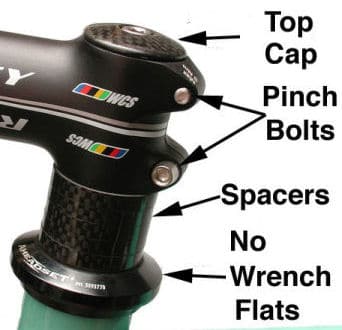 Then remove handlebar stem. For threadless headsets (which fortunately most modern bikes have) You will need to loosen top cap and pinch bolts. Then the handlebars will be free from the headset and you will be able to tie the handlebars securely to the top tube on the frame.
Then remove wheels. For the back wheel, a chain keeper can be useful for keeping chain in place. But, most bike boxes have a mechanism for securing the frame, where the rear and front drop-outs are.
The wheels can then be packed to the side of the frame.
Then everything wants to be secured using ties or straps. This is important to stop things moving around in transit and scratching frames or worse. I use quite a few plastic bags to secure over the oily cassette and chain.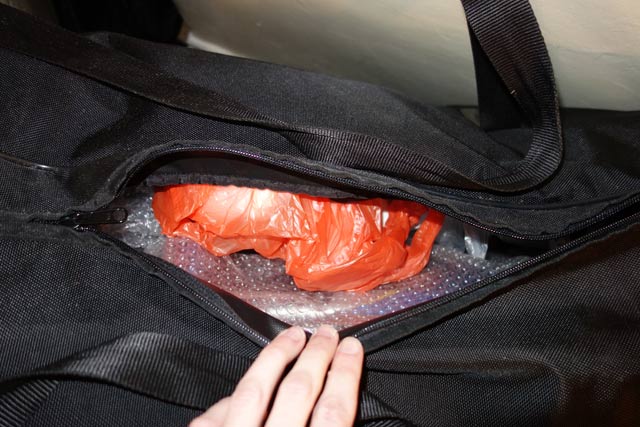 Protective insulation. The final step is to place protective insulation around the bike and wheels to protect against knocks. This is more important for soft shell bike bags.
Rear derailleur. The most delicate part of the remaining bike will be the rear derailleur. Quite a few people have reported bent derailleurs. To be on the safe side, you could use an allen key to remove dereailleur and keep separate. To be honest, I have not bothered to do this, and – so far – have been OK.
Putting bike back together
Putting the bike back together is harder than dismantling (at least for an unskilled bike mechanic)
One potential problem is that you get a rattling around the headset. This occurs if you tighten up the headset too much before tightening the stem.
If you get a rattling around the headset, undo both top screw and side screw and try to tighten them up together, i.e. do a few turns on top screw then a few turns on pinch bolts. There's a better article (than I can explain)  for dealing with a loose headset.
Tips
With a soft shell bag, I put the majority of my clothes and shoes (packed in plastic bags) around the bike. There was a lot of gaps between soft shell and bag.
This acted as more protective insulation for the bike
It saved money in airline costs because I didn't need to take a big suitcase.
I thought this was clever, but coming home (when I could barely stand up) it was a real struggle to pack. It's more time consuming, and a lot of my clothes ended up with oily stains because they fell out of the plastic bag. I didn't mind this because I find oil can be got out in the wash. But, be warned!
Also, when researching this article, I actually found Easy Jet don't allow packing clothes in a bike box for health and safety reasons!  (Guardian, which is most friendly airline for packing bikes?) Though they do have a bigger weight limit of 32kg than most airlines. I can't really see airline staff checking the bag for evidence of clothes, but you never know.
If you put your helmet in the bike bag, make sure that is protected too. A helmet looses it's protective power if it keeps hitting the concrete floor when it is thrown around by airline crew.
With a soft shell, it is quite time consuming to make sure the bike is properly protected. Things keep moving around. On the way back, I couldn't really do a proper packing job. The result was some superficial damage to the bike frame.  In my case, it didn't matter, it is a battered winter training bike, and has more than enough scratches from crashes anyway. But, if it is your pride and joy, be warned!
Make sure that you can transport bike box to and from airport. It is very bulky and may not always fit in standard cars.
Best bike bag?
After travelling a few times, I wanted to upgrade from my cheap Prorace soft shell bike bag. There was limited packing, and I didn't like the wheels being loose in the bag. After many hours research I ended up purchasing the Scicon Aerosport 2.0 bike bag.
You don't have to remove handlebars
You don't have to remove seat post (though it may be advisable.
Wheel pockets.
It is good value. I picked up for £230.
I would give if four stars out of five, because it does have some limitations. You can see full review here.
Scicon Aerocomfort 2.0 at Wiggle
Soft shell or hard shell?
When I first bought a bike bag many years ago, I bought a flexible soft shell bag.
It is cheaper and lighter
It is quite flexible for stuffing more clothes in.
It offers no real protection if dropped, you have to add your own insulation – which can be quite time consuming and difficult to get right.
Soft shell bike bags at Evans Cycles start from £39.99
However, there are many who suggest hard shell is better.
I would be too nervous to take my best road bike in a soft shell with little protection
From what I can gather, I think it would be quicker and more efficient to pack a hard shell.
The problem is that hard case shells are significantly more expensive, perhaps £250. e.g. hard shell cases at Evans
Also, even hard shell cases are not immune from damage to bike.
Unless you're travelling frequently, that can be quite pricey.
Hiring bike boxes
It may be worth looking to see whether you can hire bike bags. For example, Bike box online, specialise in hiring and selling bike bags
Related