Cycling offers significant health benefits from the increased aerobic fitness. Given the rise in health problems associated with physical inactivity and obesity, cycling could play a major role in improving the nations health.
Health benefits of regular physical exercise
Reduces the risk of dying prematurely
Reduces the risk of dying prematurely from heart disease
Reduces the risk of developing diabetes
Reduces the risk of developing high blood pressure
Helps reduce blood pressure in people who already have high blood pressure
Reduces the risk of developing colon and breast cancer
Reduces feelings of depression and anxiety
Helps control weight
Helps build and maintain healthy bones, muscles and joints
Helps older adults become stronger and
promotes psychological well being
However in cost-benefit analysis of transport, health issues are often ignored. Unfortunately, concerns over the safety of cycling deter many from one of the most accessible forms of exercise. The tragedy is that as people lead increasingly stationary lives this causes hidden problems such as rising levels of diabetes and heart disease.
The rise in motor transport and decline in cycling / walking
The post war period saw a sustained fall in pedestrian and cycle transport. In the post war period, transport policy was driven by the attempt to accommodate the growth of motor transport. However, combined with a decline in manual labour, this era saw a sharp fall in physical exercise and a resultant increase in health problems.
Rather belatedly, transport policy has begun to acknowledge wider issues such as health, quality of life in determining transport policy.
For example, in 1998 the Integrated Transport White Paper A New Deal for Transport: Better for Everyone made the acknowledgement that
"The way we travel is making us a less healthy nation."
Cycling and Health Statistics
Perceptions about the dangers of cycling deter many from cycling. But, in perspective, mortality rates from cycling are much lower than the 'silent killers' , such as heart disease.
UK Deaths in 2003
All Cyclists – 113
All road users – 3,471
Cancer due to inactivity – 28,016
CHD / Stroke due to inactivity – 57,322
Source: McPherson, Klim. (2002). Coronary heart disease: estimating the impact of changes in risk factors; Klim McPherson, Annie Britton and Louise Causer. – London
Despite cycling often being perceived as a 'dangerous' exercise. Society is arguably ignoring the hidden dangers of sedentary lifestyles.
Net health benefits of cycling
There have been various studies which show the net health benefits of cycling.
One of the largest was the Copenhagen Center for Prospective Population Studies It involved 13,375 women and 17,265 men aged 20-93 from a population of 90,000 living in central Copenhagen. Of this group 14,976 cycled regularly.
The study found that even including risk factors from cycling (injury), those who did not cycle experienced a 39% higher mortality rate than those who did. (Study)
Copenhagen has a low accident rate  helped by good cycling infrastructure. But, the size of the study shows the great potential for health gains from a city which encourages cycling.
Risk factor of mortality depending on levels of fitness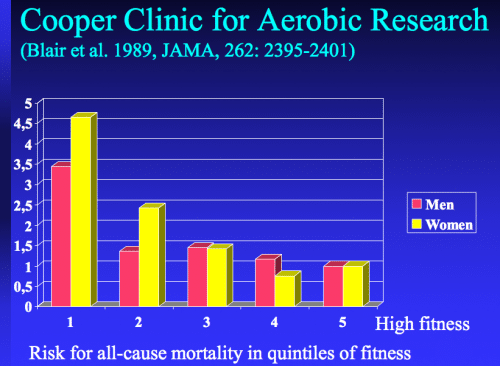 Another study suggesting an inverse relationship between mortality rates and levels of fitness.