This year 2016 National hill climb championship was held on Bank Road, Matlock. Adam Kenway 2.18.2  (Metaltek Kuoata RT) and Lou Bates 2.57.1 (Veloschils Interbike RT) were the respective men and women champions.
Adam Kenway has been in great form this year from winning the very short Monsal Head (1.16.5) to much longer climbs like the Cat and Fiddle, and Long Hill. However, nine days before the championship he was involved in an accident (training on Bank Road ironically). However, despite lingering issues and only deciding to race at the last minute, he managed to produce a superb time. In 2nd place, Isaac Mundy kept up the very good tradition of hill climbs for Oxford University CC. 3rd place was James Lowden (Team ASL360)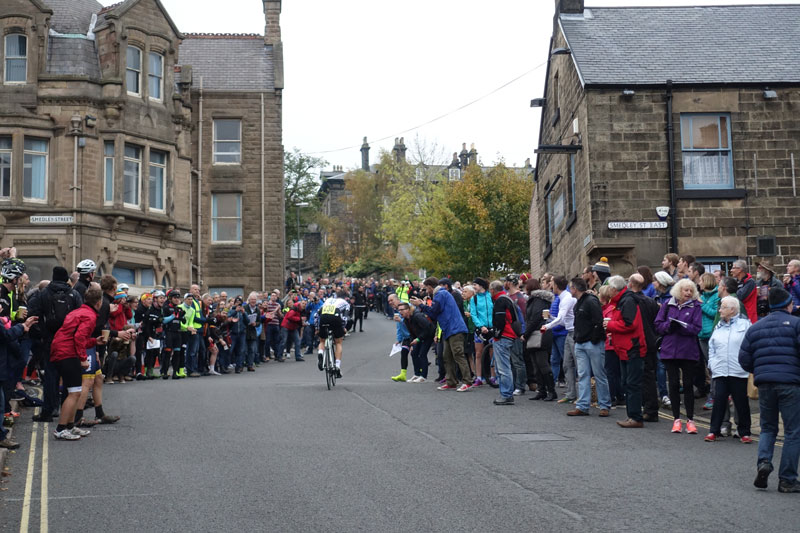 In the women's championship Lou Bates finally made the top step of the podium after finishing 2nd and 3rd in previous years. Becky Lewis 2nd (Wrexham RC) and Joanne Clay 3rd (TORQ Performance)  made up the podium. Though as someone who has finished 4th on a couple of occasions, honourable mention to Joscelin Lowden (Lewes Wanderers CC) who was just 0.1 second off the podium. Marginal gains and all that.
(Haven't seen results for juniors / vets yet. But, it was good to see Bill Bell flying the flag for vet men. Bill was very narrowly 2nd to Matt Clinton at the last HC champs in 2008 on Bank Road. I'm now starting to pay more attention to the vet category now…
Harvey Weinberger, junior men champion
Anna Henderson, junior women champion
It wasn't the best day for former national hill climb champions with four men  (Richard Bussell, Dan Evans, Matt Clinton and Tejvan (me) and two women (Lynn Hamel and Maryka Sennema all missing out on a podium finish (I don't think I've missed any more). I spoke to Jim Henderson before the event, he had thought about entering, but after suffering on the Rake a few weeks ago, decided against it and settled for cycling 88 miles out from his home to watch the suffering by the side of the road. Perhaps I will be joining him in a few years.  Last years champions R. Bussell and M.Sennema both finished 7th.
Short steep hill
It is the nature of the hill climb championship than alternating hills suit different riders. Both men and womens champions won Monsal Head this year. The number of different winners in recent years show how difficult it has become to retain the title. The last person to retain the mens title was Dan Fleeman in 2010.
Also, they say these short hill climbs are a young persons game, and looking at the result it's understandable.
Though what a short hill loses in length, it can make up for in atmosphere. I can't remember seeing so many spectators at a national hill climb championship. It was certainly packed and noisy towards the steepest bit of the climb. It was good to see so many riders and spectators enjoying the day. It takes a lot of effort to close a road for three hours these days. So thanks to Matlock CC and the marshalls who helped make it possible. The catcher marshalls were also doing a very good job.
The weather was unusually good for late October. Warm, dry and barely a drop of wind (makes a change from past 3 years). With the top seeds distributed throughout the start sheet it was a blessing that the wind wasn't variable to potentially influence the outcome.
Personal race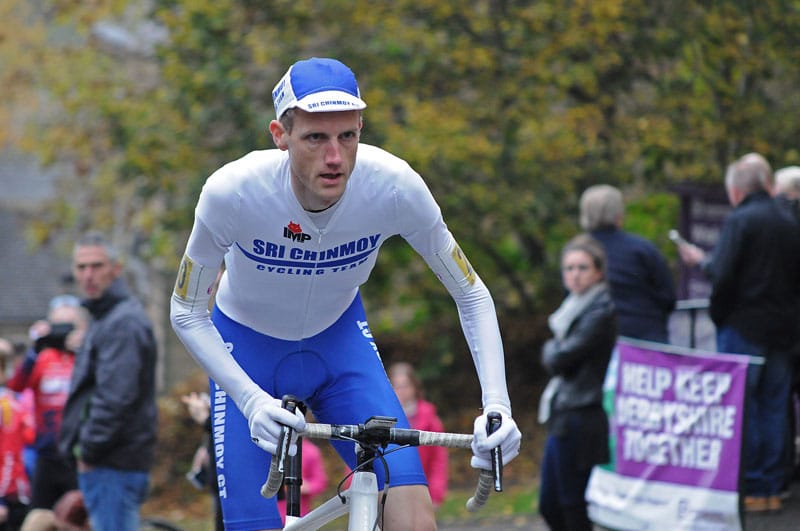 For myself, it hasn't been a vintage hill climb season. I've been struggling with a hip injury since a 12 hour TT in June. It still persists and I've only done sporadic training in recent months. I've have been up a short hill in Shotover in Oxford a few times, but every time I tried, I went slower – so in the end gave up. On top of this, I developed a cough and cold so spent quite a bit of time deciding whether to race. I had several logical reasons to dns – injury, cold, wrong hill, little training. But, in the end I still wanted to be there and take part.  It wasn't particularly rational to spend five hours driving for a 2 minute steep hill climb with a cold – but then entering hill climbs isn't particularly rational in the first place.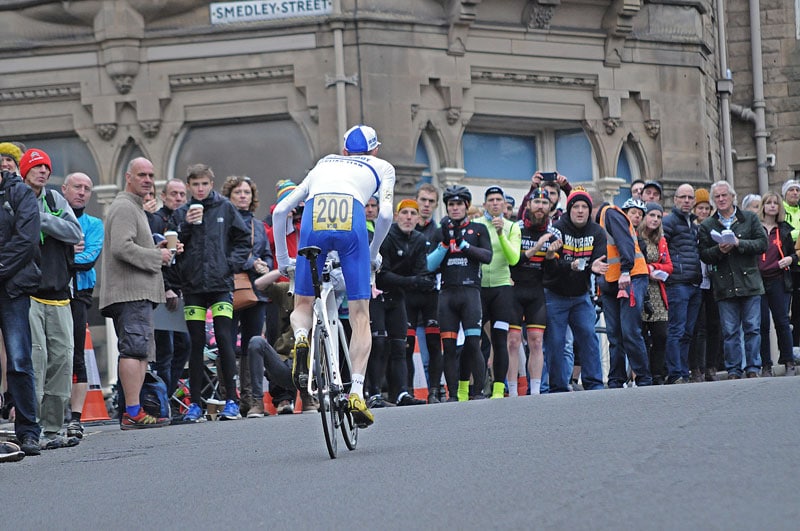 I arrived and parked near the climb. I warmed up by cycling up the back of the hill and taking photos of some early riders. I then only did 20 minutes light riding on the rollers so as not to aggravate the cold, then I went to the start and set off. I haven't ridden the course since 2008, so didn't remember it particularly well. I kept a reasonable pace and tried to go harder when it got steeper. With chesty cough and lack of focus for this championship, I didn't really push the limits like in some hill climbs, but still kept a respectable effort. 41st place isn't great when you were the champion a couple of years ago, but all things considered I was reasonably happy with a time of 2.40. If I had been fit and healthy for past three months I would have gone quicker but probably not too much. At least with 41st place, I've probably secured entry for next year's championship.
By comparison with 2008 I did 2.42 and finished 14th. So at least I did go faster than 2008. In 2008, I think I did just one or two races, I didn't keep a record in those days. My blogs were much shorter too – 2008 National Hill climb
A nice problem to have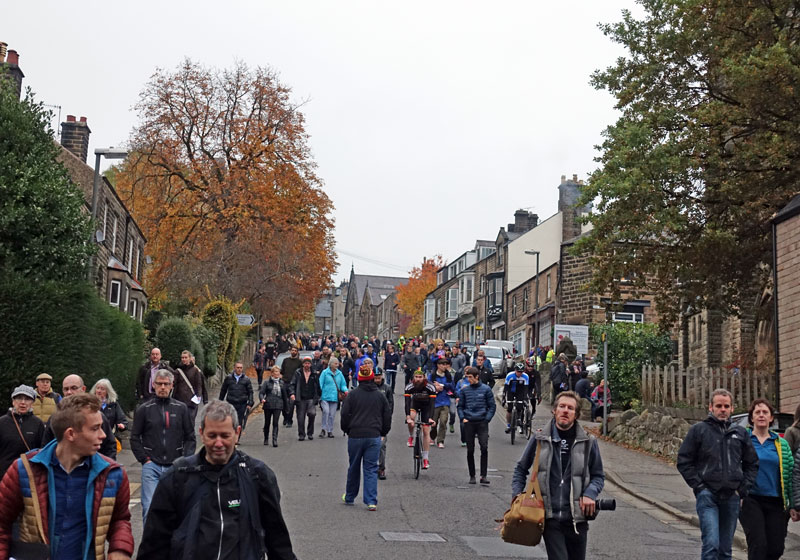 I've left it to the last, but one feature of this hill climb championship was its incredibly popularity with around 450 entrants for just 180 minutes of closed roads. As some have already said, it is a nice problem to have and when it is this oversubscribed – whatever you do, some people will be disappointed not to make the cut. However, there were a few issues with how the field was selected and set out – for future years, there are some things which can be improved. I may write a separate post later in week. In short – I do hope the top women get minute intervals for future fields. And bad luck to Andy Cunningham who has been going well, but didn't get a ride this year. However, maybe 30 second intervals can work for non-favourites – I heard it worked out quite well on this kind of climb.
Nevertheless I enjoyed the day. It's the first time in many years I've turned up to a hill climb championship without any pressure or expectation of trying to get on the hill climb podium. I was pleased I got a chance to congratulate Adam Kenway just as he was heading off in the car. It brought back memories of the year I won, it's a good feeling.
The best thing about this hill climb season was winning at Burrington Combe last weekend (2 mile climb). If I can blow my own trumpet to make up for coming 41st today, I did actually beat Isaac Mundy into second place last weekend – which shows how different climbs suit different physiologies. I did tell him he would go very well this weekend. Hopefully there is more to come.
2017 National hill climb championship
The 2017 National Hill climb championship is in the North East. Around 1 mile, average 8%. Current fastest time around 4 minutes – so more like Jackson Bridge, though not quite as steep. It will be organised by a keen hill climber – Ben Lane of G.S Metro – good luck !
Stats
weight of me 61.5kg (day before) with clothes on day 63.5kg. Bike 5.7 kg. See photos of bike
Time: 2.40.
Power: 473 watts
Results:
Men:
Adam Kenway (Metaltek Kuota RT)         2.18.2
 Isaac Mundy (Oxford University CT)        2.20.4
James Lowden (Team ASL360)     2.20.8
Kieran Wynne-Cattanach (Rhos-on-Sea CC)         2.23.6
Joseph Clark (Envelopemaster Giant Sheffield)    2.23.9
Leon Wright (Team PB Performance)        2.24.4
Richard Bussell (AeroCoach)         2.25.7
James Hayward (Woolwich CC)    2.26.8
William Bourne (Handsling Racing Team)            2.27.6
Shaun Dolby (Birdwell Wheelers)            2.28.2
Women:
Lou Bates (Veloschils Interbike RT)          2.57.1
Becky Lewis (Wrexham RC) 3.01.5
Joanne Clay (TORQ Performance) 3.01.8
Joscelin Lowden (Lewes Wanderers CC)  3.01.9
Fiona Burnie (Bishop Auckland CC)         3.07.1
Lynn Hamel (Team Lusso 72 Design.com)            3.09.8
Maryka Sennema (PacelineRT)      3.10.9
Alice Lethbridge (Starley Racing)  3.11.5
Rebecca Goodson (Sheffrec CC)   3.15.4
Jessica Roberts (Team Elite/Paul Bethell Electrical)       3.20.8
Photos
Start
A good setting for hill climb.
Joe Clark, who set new course record up nearby Riber last week.
Dan Evans has been going well on the longer climbs this year.
Great crowds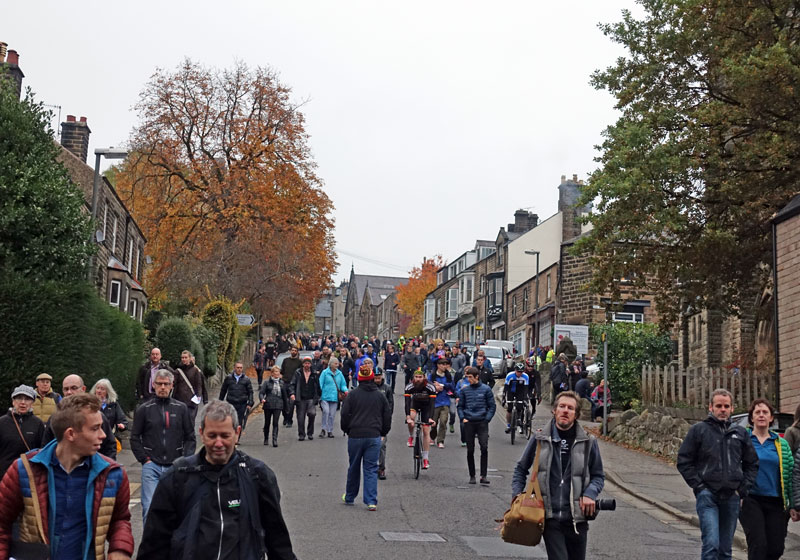 its getting steeper.
225 Jack 'O Neil.
135
Bank Road.
Matlock is great place in late October.
Trees in autumn colour.
Spectators giving encouragement. 
Fixe gear bike looking sleak.
big crowds
it's steep.
it's steep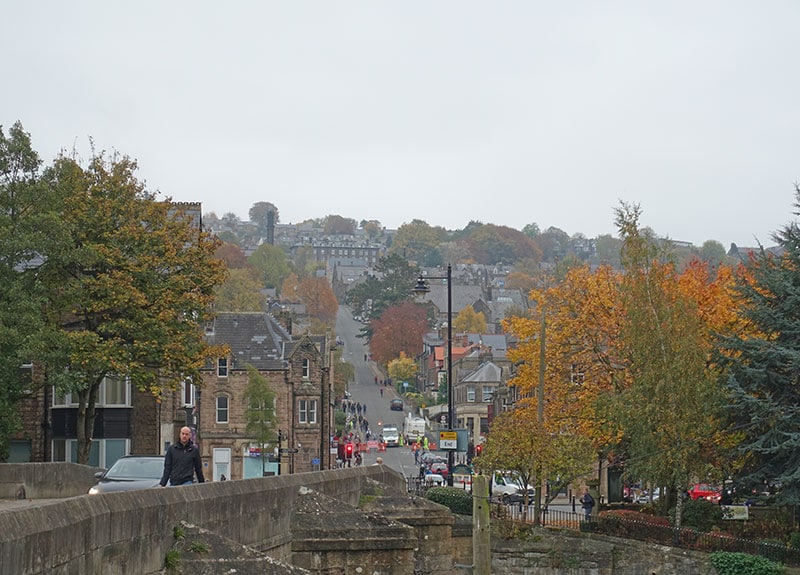 238
2016 Results
1 Adam Kenway Metaltek Kuota R T 02:18.2 Male
2 Isaac Mundy Oxford University CC 02:20.4 Male
3 James Lowden Team ASL360 02:20.8 Male
4 Kieran Wynne-Cattanach Rhos-on-Sea CC 02:23.6 Male
5 Joseph Clark Envelopemaster Giant Sheffield 02:23.9 Male
6 Leon Wright Team PB Performance 02:24.4 Male
7 Richard Bussell AeroCoach 02:25.7 Male
8 James Hayward Woolwich CC 02:26.8 Male
9 William Bourne Handsling Racing Team 02:27.6 Male
10 Shaun Dolby Birdwell Wheelers 02:28.2 Male
11 Dan Evans Team Elite/Paul Bethell Electrical 02:28.5 Male
12 Kieran Savage Team B38/Underpin Racing 02:30.0 Male
13 Andy Nichols Team B38/Underpin Racing 02:31.1 Male
14 Jack O'Neill Team B38/Underpin Racing 02:31.6 Male
15 Calum Brown Sheffrec CC 02:31.8 Male
16 lee baldwin Champion System/VCUK 02:32.5 Male
17 Rowan Brackston Imperial College Cycling Club 02:32.7 Male
18 Mike Morris NFTO Race Club 02:32.8 Male
19 joe norledge Bristol South Cycling Club 02:32.9 Male
19 Matt Clinton Mike Vaughan Cycles 02:32.9 Male
21 Patrick Clark Team B38/Underpin Racing 02:33.7 Male
22 David Huck Lakes Road Club 02:35.0 Male
23 Chris Dyke Manchester Bicycle Club 02:35.1 Male
24 James Allen Sheffrec CC 02:35.2 Male
25 Glyndwr Griffiths 73Degrees CC 02:53.3 Male
26 Robert Borek DRK Racing 02:35.5 Male
27 Harvey Weinberger G.S. Henley 02:36.5 Male
28 Eugene Cross SSLL Racing Team 02:37.4 Male
29 Courtney Blockley-Campton Lutterworth Cycle Centre Racing Team 02:37.5 Male
30 Archie Cross Team B38/Underpin Racing 02:37.6 Male
31 John Johnston Matlock CC 02:38.1 Male
32 Jude Taylor Team B38/Underpin Racing 02:38.3 Male
32 Jonathan Morris Derby Mercury R C 02:38.3 Male
34 Peter Cocker Witham Wheelers 02:38.7 Male
35 Aidan Holgate North Lancs RC 02:38.9 Male
36 Benjamin Harmer GS Creazzo 02:39.3 Male
37 Steve Tait Mapperley CC 02:39.5 Male
38 Bill Bell Bigfoot CC 02:39.8 Male
39 Callum Stewart Sheffrec CC 02:40.1 Male
40 Niall Paterson Velo Club Cumbria 02:40.3 Male
41 Tejvan Pettinger Sri Chinmoy Cycling Team 02:40.6 Male
42 Russell Peace Dursley Road Club 02:40.8 Male
42 Chris Bevan Veloviewer 02:40.8 Male
42 Thomas Hanlon Harry Middleton CC 02:40.8 Male
45 Peter Tadros In-Gear Quickvit Trainsharp RT 02:41.1 Male
46 Henry Cash Holmfirth C C 02:41.4 Male
47 Tim Wilcock GS Metro 02:41.6 Male
48 Robert Rogers Birkenhead North End CC 02:41.9 Male
49 Tom Wiley Rapha Cycling Club 02:42.1 Male
50 Matthew Smith Muckle Cycle Club 02:42.5 Male
51 Danny Featherstone Andy Moore Autocentres Racing 02:42.8 Male
52 Elliot Harrison LeisureLakesBikes.com 02:42.9 Male
53 Thomas Brook Lancaster CC 02:43.0 Male
54 Hamish Mcdougall Leicester Forest CC 02:43.1 Male
55 Richard Marsden Manchester Wheelers 02:43.6 Male
56 Angus Fisk Oxford University CC 02:43.9 Male
56 Richard Cartland Team Boardman 02:43.9 Male
58 Michael Harris HD Revolutions 02:44.1 Male
58 Lewis Askey RST Racing Team 02:44.1 Male
60 Oliver Hayward University of Birmingham CC 02:44.6 Male
61 Tobias Dahlhaus London Dynamo 02:44.8 Male
62 Joshua Aiken Stowmarket & District CC 02:45.4 Male
63 Ben Norbury Congleton CC 02:45.8 Male
64 John Gull Espresso Library 02:46.1 Male
65 Tony Kiss Stratford Cycle Studios 02:46.2 Male
66 Kenny Cliffe Leicester Forest CC 02:46.5 Male
67 Mason Hollyman Holmfirth C C 02:46.8 Male
68 Alex Reid Kingston Wheelers CC 02:47.1 Male
69 Jamie Johnson Barnesbury CC 02:47.3 Male
69 Chris Myhill Peak Road Club 02:47.3 Male
71 Tom Simmonds Velo Club Walcot 02:47.6 Male
71 Rick Bailey Cycles in Motion 02:47.6 Male
73 Laurie Lambeth Beacon Wheelers 02:48.0 Male
74 Gordon Kalwak Mercia – Lloyds Cycles CC 02:48.1 Male
75 Arne Beswick Buxton CC/Sett Valley Cycles 02:48.3 Male
75 Laurence Douglas-Greene Somerset Road Club 02:48.3 Male
77 Mark Tickle Leigh Premier Road Club 02:48.5 Male
77 Joshua Sandman Climb on Bikes RT 02:48.5 Male
79 Matthew Davies Rhino Velo Race Team 02:49.9 Male
80 charles coleman DRK Racing 02:50.3 Male
81 Nick Martin East Grinstead CC 02:50.7 Male
82 George Evans Team Bottrill 02:50.9 Male
83 mick jones GS Metro 02:51.2 Male
84 Tom Fricker Farnham RC 02:51.6 Male
85 Andrew Whiteley Sheffrec CC 02:51.7 Male
86 Tony Cope Leek Cyclists' Club 02:51.9 Male
87 Thomas Weir Swansea University Cycling Team 02:52.5 Male
88 Jack Gilbert Manchester Bicycle Club 02:52.8 Male
89 David Watson Ride Coventry 02:53.3 Male
90 Paul Newton Derby Mercury R C 02:53.4 Male
91 James Noonan THR Racing 02:53.7 Male
92 Alex Whitmore Ratae RC 02:54.1 Male
93 Josh Coyne Okehampton CC 02:54.3 Male
94 Christian Smith Manchester Bicycle Club 02:55.4 Male
95 Graham Kemp Graham Weigh Racing-Deeside Olympic 02:55.7 Male
95 James Coleman DRK Racing 02:55.7 Male
97 Daniel Nieto TBW Bottecchia Wigmore RT 02:55.8 Male
98 Michael Cooke Nottingham Clarion CC 02:55.9 Male
98 Geoff Comley Derby Mercury R C 02:55.9 Male
98 hayden allen Albarosa CC 02:55.9 Male
101 Rob Howson Leek Cyclists' Club 02:56.2 Male
101 John Hunt Beacon Roads CC 02:56.2 Male
103 Chris Mann Wrexham RC 02:56.8 Male
104 Christopher Statham Matlock CC 02:56.9 Male
105 Andy Warby AeroCoach 02:57.1 Male
105 Lou Bates Velo Schils Interbike RT 02:57.1 Female
107 Josh Curtis Lovelo Cinelli RT 02:57.4 Male
107 Colin Atkinson EMC 02:57.4 Male
109 Simon Froberg Dinnington Racing Club 02:57.7 Male
110 Doug Forrester www.Zepnat.com R.T. 02:57.9 Male
111 Francis Chesters ABC Centreville 02:59.6 Male
112 Ollie Williams VC Meudon 02:59.7 Male
113 Jamie Joshua Dene Welwyn Whs 03:00.7 Male
114 Tim Webster Wakefield Tri Club 03:00.8 Male
115 Nicholas Després Guernsey Velo Club 03:00.9 Male
115 Ed Jarvis Dursley Road Club 03:00.9 Male
117 Devon Round Mid Shropshire Wheelers 03:01.1 Male
118 Becky Lewis Wrexham RC 03:01.5 Female
119 Joanne Clay TORQ Performance 03:01.8 Female
119 Jamie Holmes Mid Shropshire Wheelers 03:01.8 Male
121 joscelin lowden Lewes Wanderers CC 03:24.9 Female
122 Chris Green Matlock CC 03:02.4 Male
123 Ash Coning Parentini Test Team 03:02.6 Male
124 Adam Lathbury Rutland Cycling Club 03:03.0 Male
125 Paul Rowley Manchester Wheelers 03:03.2 Male
126 Ben Speller Kingston Wheelers CC 03:03.3 Male
127 alex coates Lyme Racing Club 03:03.6 Male
128 Luke Hind Bolsover and District CC 03:03.8 Male
129 Joseph Hanlon Harry Middleton CC 03:03.9 Male
129 Archie Irving Beacon Wheelers 03:03.9 Male
131 Theo Tadros In-Gear Quickvit Trainsharp RT 03:04.6 Male
132 Dan Charlton Hetton Hawks CC 03:04.7 Male
133 Tom Andrews University of Sheffield Cycling Club 03:05.1 Male
134 Callum Dixon NFTO Race Club 03:05.7 Male
135 Emile Alexander Lichfield City CC – Zipvit Sport 03:06.6 Male
136 Fiona Burnie Bishop Auckland CC 03:07.1 Female
137 steve savage Melton Olympic CC 03:07.2 Male
138 Adam Jarps Manilla Cycling 03:07.4 Male
138 Nicholas Candy North Road CC 03:07.4 Male
140 Russ Thompson Performance Cycles CC 03:07.5 Male
141 Ben Huddart Lancashire RC 03:08.2 Male
142 Oliver Bent Oxford University CC 03:08.9 Male
143 Neil Reynolds Winchcombe Cycling Club 03:09.4 Male
143 Huw Owen Energy Cycles 03:09.4 Male
145 Lynn Hamel Team Lusso 72 Design.com 03:09.8 Female
146 Chris Smith Condor RC 03:10.3 Male
147 Thomas Mead-Herbert Watford Velo Sport 03:10.4 Male
148 Francis Woodcock Bury Clarion CC 03:10.5 Male
149 Maryka Sennema Paceline RT 03:10.9 Female
150 Alice Lethbridge Starley Racing 03:11.5 Female
151 Thomas Brazier Team Elite/Paul Bethell Electrical 03:11.7 Male
152 Kevin White Matlock CC 03:12.1 Male
153 Joseph Dobson Manchester Bicycle Club 03:12.4 Male
154 Michael Harcourt Wheelbase Altura MGD 03:12.7 Male
155 Ian Coe Hafren CC 03:12.8 Male
156 David Stammers Bury Clarion CC 03:13.6 Male
157 Huw Spacey Harrogate Nova CC 03:14.6 Male
158 Dave Preece Worcester St. Johns CC 03:15.3 Male
159 Rebecca Goodson Sheffrec CC 03:15.4 Female
160 Harry Buxton Broomwagon RT 03:15.6 Male
161 Jamie Humphries Westmead Team 88 03:15.7 Male
162 Sam Mansfield Manchester Bicycle Club 03:16.1 Male
163 Euan Backus Zappi's Cyling Club 03:16.2 Male
164 Will Beech Nottingham Clarion CC 03:16.8 Male
165 Jessica Roberts Team Elite/Paul Bethell Electrical 03:20.8 Female
166 Jack Corah Mike Vaughan Cycles 03:21.7 Male
167 Josh Charlton Hetton Hawks CC 03:21.9 Male
168 Patrick Wood Macclesfield Wheelers 03:23.3 Male
168 James Storey SportCity 03:23.3 Male
170 Rebecca Richardson Hafren CC 03:24.2 Female
171 Jonathan Groves Rapha Cycling Club 03:24.6 Male
171 Emilie Verroken Langsett Cycles Race Team 03:24.6 Female
173 George Jones Chippenham & District Wheelers 03:24.7 Male
174 Christian Fox Manchester Wheelers 03:24.8 Male
175 Theo Jefferies Westmead Team 88 03:26.1 Male
176 Anna Henderson Lovelo Cinelli RT 03:26.7 Female
177 Nicola Soden Velo Schils Interbike RT 03:27.2 Female
178 Elliot Dason-Barber Team Milton Keynes 03:27.5 Male
179 Ben Rathbone Macclesfield Wheelers 03:27.8 Male
180 Simon Bromfield Charlotteville Cycling Club 03:28.7 Male
180 Halley Woods SportCity 03:28.7 Male
182 James Scrivener Reading CC 03:28.8 Male
183 Pete Laud Common Lane Occasionals 03:28.9 Male
184 Bhima Bowden Buxton CC/Sett Valley Cycles 03:32.4 Male
185 Joanne Jago Performance Cycles CC 03:33.6 Female
186 Jake Backus Zappi's Cyling Club 03:33.8 Male
187 Daniel Gee Ashfield RC 03:35.8 Male
188 Hannah Rhodes-Patterson Durham University Cycling Club 03:36.5 Female
189 Alana Prior Manilla Cycling 03:37.1 Female
190 Paul Dable Team Bottrill 03:37.2 Male
191 Marc Allen Swindon Road Club 03:40.4 Male
192 Jack Millar East Lancashire RC 03:41.3 Male
193 Corinne Side The Racing Chance Foundation 03:42.8 Female
194 Michael Cross Yorkshire Road Club 03:43.4 Male
195 Joe Thorp Macclesfield Wheelers 03:43.5 Male
196 Ewan Mackie Matlock CC 03:44.1 Male
197 Gemma Sargent Kent Valley RC 03:44.4 Female
198 Helen Roby HD Revolutions 03:44.6 Female
199 Yasmin Marks Derby Mercury R C 03:45.1 Female
200 Holly Flannery Triology/Bike Science North East 03:46.7 Female
201 Lily Greenhalgh East Bradford CC 03:50.3 Female
202 Arthur Boulton Palmer Park Velo 03:50.5 Male
203 Richard Birkin Nottingham Clarion CC 03:51.6 Male
204 anita cavell WCS Racing Team 03:51.7 Female
205 Jessica Rhodes-Jones Beacon Roads CC 03:52.9 Female
206 Mark Plummer Yeovil Cycling Club 03:54.3 Male
207 Ralph Keeler Cambridge CC 03:55.4 Male
208 Felicity Gledhill SportCity 03:55.5 Female
209 Henry Hollyman Holmfirth C C 03:55.7 Male
210 Liam Rees Ilkley CC 03:58.3 Male
211 Jayne Dickens Vision Racing (Delamere Dairy/GRM Property Consultants/Swinnert) 03:58.7 Female
212 Steffan Jones Energy Cycles 03:59.3 Male
212 Wiebke Rietz 1st Chard Wheelers 03:59.3 Female
214 Natalie Hodson Velo Schils Interbike RT 03:59.8 Female
215 hannah bayes Scarborough Paragon CC 04:01.5 Female
216 Mark Sanders Mid Devon CC 04:02.4 Male
217 Jasmine Gray Elite Velo Kalassportswear R T 04:02.8 Female
218 sandra mackay Velo Schils Interbike RT 04:02.9 Female
219 Cal Gorvy Palmer Park Velo 04:04.7 Male
220 Holly Carter Manchester Wheelers 04:08.6 Female
221 Sarah Briggs Matlock CC 04:08.9 Female
222 Fiona-May Aylward Leicester Forest CC 04:11.8 Female
222 Huw Parry Anglesey Cycling Group 04:11.8 Male
222 Stella Cross Yorkshire Road Club 04:11.8 Female
225 Heather Despros Guernsey Velo Club 04:13.3 Female
226 Nicola Holloway Sheffrec CC 04:14.2 Female
227 Oliver Cole Nottingham Clarion CC 04:14.3 Male
228 Andrew Newey Ribble Valley CRC 04:14.7 Male
229 Alexandra Thomas Port Talbot Whs CC 04:18.5 Female
230 Andrew Bolton Otley CC 04:27.8 Male
231 Karen Brooks WCS Racing Team 04:38.6 Female
232 Eve Lyon Team Terminator 04:45.8 Female
233 Charlie Knowler West Suffolk Whs & Triathlon Club 04:49.9 Male
234 Carolyn Gaunt WCS Racing Team 04:55.9 Female
235 sharon clifford WCS Racing Team 05:20.3 Female
236 Thomas Heighton Stockton Wheelers CC 05:22.4 Male
237 Nigel Finch Mercia – Lloyds Cycles CC 05:26.8 Male
238 Alison Vessey Mickey Cranks Cyling Club 06:11.6 Female
Related
Related