Recently a reader asked for any tips on good value winter cycle clothing. Over the years I've tested and used a huge variety of winter clothes – not always the best quality. These are some of the good options for staying relatively dry and warm in winter, without breaking the bank. I've never been inspired to spend a lot on winter clothing ( I waste my money on 70 gram saddles instead.) Though at this time of the year, I do often look rather wistfully at the well made winter jackets you can get these days.
Skull Cap
I've heard 50% of heat is lost through the head – I'm not sure if it's this much. But, if it is less than 8 degrees I like to wear something under helmet, such as a thin skull cap to keep the heat in. I also like a skull cap that covers the ears. These can burn with cold otherwise. I have a Craft skull cap, which is very warm and breathable. (
Craft
at Wiggle) I also have a neoprene hat, but this had a tendency to be sweaty when not really cold. Some people tape up holes in their helmet – a cheap way of keeping more heat in.
Leg warmers
I will use leg warmers at anything between 4 degrees and 17 degrees. Below 4 degrees, and one pair of leg warmers may be inadequate and I will use some thermal tights.
Castelli nanoflex
are quite good because they are water-resistant. Though over the years, they have become stretched.
I've never worn those knee warmers. My logic is that if it's cold enough to cover knees, you might as well cover all your legs, but that's just me
Thermal shorts
As previously reviewed, these
Specialized thermal shorts
are great for winter, allowing you to wear shorts and leg-warmers almost all year round. I also have the thermal
Assos T607
– which are really excellent, but expensive. But, any model of thermal shorts will have same benefit of keeping warm.
Base Layers
The worst thing in winter is to get that feeling of cold sweat drying as the temperature falls in the late afternoon. For this reason, I dislike goretex based jackets, I find that they are not good at breathability. They retain a strong layer of sweat, which can soon get cold. I tend to wear a few thin 'wicking base layers' close to the skin.  I have a few varieties. For a long time I had a few simple vests from Marks & Spencers. But, they aren't the best at wicking away sweat.  I have tested
Craft base layers
 at   for a few months, and they are good. Comfortable and have good wicking properties. Another good value base layer is the dhb Corefit long sleeve Base layer for £16.49 , at only £16.99 it is good value and does the job. I bought a
Castelli Flanders Base layer
a couple of years ago, and it is one of the best made. Not tight around the armpits, it is quite close fitting and wicks away sweat very well. It also comes in a long-sleeved version
Warmer mid layers
After a tight fitting base layer, I then use some thicker layers to keep warm. For example, this Merino wool base layer.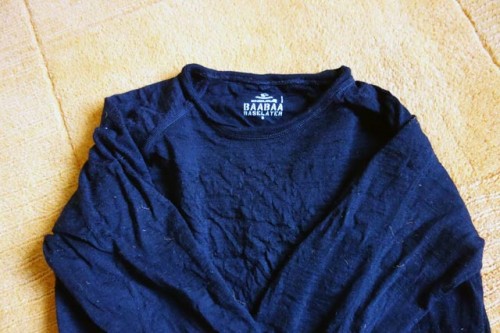 I can wear 3 or 4 of these mid layers between base layers and winter jacket. Merino wool is great, especially when wet. It is very quick drying and doesn't get heavy with sweat. It is also pretty good at keeping warm. Endura Baa Merino wool layer
When building up the mid layers, I use one or two layers which have been cut at the armpit – to avoid getting tight with all the material around the arm-pits.
I also recommend the Marks & Spencers base layers. You can get varying layers of thickness, but they are all quite good.
One thing is to avoid wearing cotton T-shirts. They become heavy with sweat.
Winter fleece Jackets
For winter, I use a fairly cheap club fleece jacket from Impsport – it was about £50. It is reasonable insulation, but a bit on the 'thin' side. A cold wind in Croatia easily blew through it. The long zip is important for opening when you get hot. The main thing I like about the jacket is that it is fully breathable; it isn't going to get any excess layer of sweat underneath. You can pay up to £200 to get a top of the range Goretex wind proof jacket. I haven't ever got round to getting a really good jacket. This is one area where I often look admiringly at the Castelli jackets in bike shops. I could  get a better winter jacket, but instead I just put on several base layers to keep warm. It means it takes a bit longer to get ready. I also had an old Impsport neoprene type water-proof winter jacket. But, I can't wear it because it is so poor breathability – you get soaked from the inside. Some of the better quality
Castelli jackets
at Evans Cycles
Race cape
I always carry a packable, lightweight racing cape. In winter it is essential to be dry. The old saying – you can deal with cold or wet – but not both at the same time – is quite true. ) I have an Alture night Flite winter jacket, which is brilliant for waterproofness / lightweight. It does start to seep around the ends of the arms after a prolonged downpour. But, it can keep the worst off for two hours (I haven't tried longer. The only downside is that the zip broke so it's a bit of a pain to put on and take off.
Altura Night Flite Winter Jacket review
Gillet
A gillet is even smaller than a race cape, and can be packed up tight to carry in a back pocket or saddle bag. It is good for providing a wind proof layer and prevent wind chill on long descents. It is easy to take on and off, so is good for alternative descents and ascents. Most gillets are not really designed for waterproofing. But, the one I have from Impsport, is quite good for those brief showers. Combined with a race cape, it can provide two layers of shower proofing.
Some of the accessories I use to get through winter.
Hot pads
These are an excellent accessory. For me they are a necessity to get through winter. I buy a pack of 40 in October. When the temperature is cold, I open a pack and put the hot pad in between 2 layers of socks. The heat generated keeps feet nice and warm! If it is really cold I put a pack in my gloves as well. However, I find in gloves to be less effective, as you can't get the pads so close to your fingers. But, it definitely  helps. They don't work as well when they get wet. But, they do last for seven to eight hours and make all the difference. I
How to keep hands warm
Try two layers of gloves- a thin base layer, underneath some ski type gloves. The thin base layer help to soak up any sweat. Ski type gloves tend to be more waterproof, but less  breathable. Wool based gloves have base breath-ability. Merino wool is best quality. Make sure hands are warm to start off with. If they get cold, clapping your hands on bike definitely helps getting some blood to them. You can practise riding with no hands.
Another tip is always wear arm warmers. I use these for closing the gap between all the base layers and jackets and gloves. Keeping the wrists warm is a good start for keeping the whole hands warm.
How To keep feet warm
Make sure you don't have too many layers of socks which restrict blood flow. I buy shoes with sufficient space for 2-3 layers of socks. Then on top of the shoes, I have a pair of Neoprene overshoes, which are useful for both insulation and keeping spray out of socks. Once you're feet are wet, it is much harder to keep warm. Use hot pads if necessary.
Winter Tyres
In winter the number one priority is to minimise time spent on side of road mending punctures with frozen hands. See:
best winter cycling tyres
Mudguards
Mudguards are essential for a winter training bike. You will keep your  bike, clothes and riding companions –  drier and cleaner. I use some clip on SKS Mudguards. The advantage is that they are very easy to put on and take off; the disadvantage is that they coverage is not 100% and you can still get some mud on the bike. See:
SKS Mudguards review
Lights
I wouldn't be without lights on a winter training bike. Even at midday, it can be worth having them on, if it is misty and foggy. I also have a fluorescent jacket for these kinds of days.
Seated Heat
A Heated cycling seat
Well, its pretty cold out there, but, I can't help but think this heated cycling seat is going to be another of those cycling inventions that just don't catch on.
Related