Leisure Lakes and Bikes offered to send a free product for me to review. I chose the Specialized RBX Expert Winter Bib Short. This choice was inspired by using the Assos T.607 winter bib short. A very good product, but very expensive.
At this time of the year, I prefer to keep riding shorts and legwarmers – rather than winter bib tights which are less manoeuvrable and tight on the shoulders. It is easy to get warm leg warmers, but most of your shorts are thin lycra, which can leave you feeling cold in those parts, you would rather didn't get too cold. I mentioned in the review of Assos, other companies should offer more insulated shorts for winter because I feel there is a big market for them, especially in the UK.
Review of Specialized RBX Expert Winter Bib Short – £61.99
Firstly, design is as simple as you can get – 100% black, no fuss, no design. When it comes to design, my only preference is – any colour except black. However, with shorts I make an exception because shorts are nearly always black. So they look like 80% of other shorts.
Insulation
There is a thin layer of Lombardia fleece, which gives the same degree of insulation as your typical pair of winter leg warmers. For this time of the year, this short is ideal. You could comfortably ride this shorts in any weather from 4 degrees to 18 degrees – which in the UK is a good percentage of the year. A pair of winter bib shorts should be on anyone's Christmas list.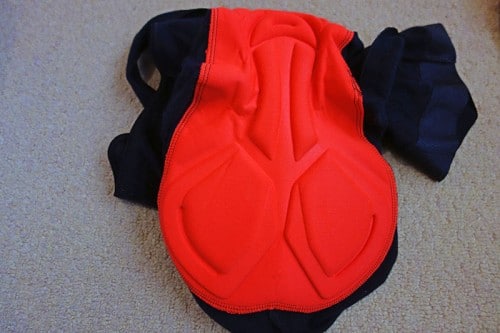 Padding
The padding insert is firm. There isn't much sponginesss, but it is well made and put in the right parts. There are no irritating seams or padding cut off at the wrong point. I went out for a three and half hour ride yesterday, it was fine. Though they are not as comfortable as the Assos; there is a definitely a difference between the two.
Fit
At 187cm and 61kg, 30inch waist, getting a good fit is not so easy. I plumped for the large which proved a good fit. If anything it was a little on the big side, there was no stretching to fit in it. If it was a summer short, I might be better off with medium, but in winter, you have extra inner layers and are not so worried about super aerodynamics. I like the leg grippers, they stay in place with very little elastic. My Impsport skinsuits have these very powerful leg grippers which leave marks on your legs.
Overall
There's not too much to say about these winter shorts. They are well made and are a good concept. I will get a lot of use out of them. I will use them on the 2-3 hour rides when I don't want to use the Assos. I will save the Assos for longer rides. For £61.99 they are fair value. Affordable, but a good pair of shorts.
Specialized RBX Expert Winter Bib Short – £61.99 at Leisure Lakes Bikes
Throwing cheap shorts away
In the weak before the national hill climb, I rode some old cheap cycling shorts because I was just doing an hours recovery ride; I thought it doesn't matter to wear rubbish shorts. Unbelievable I got my first saddle sore of the year. I've done 300 mile weeks on a time trial bike – nothing. Yet, one hour on some rubbish shorts and I got the first one of the year. With this new pair of shorts, I've got round to throwing away some old shorts into the bin. (including some old Impsports custom kit, unfortunately.) Like tyres, cheap shorts are a false economy.
Leisure Lakes and Bikes
Leisure Lakes and Bikes have 8 stores nationwide and an online shop, you can visit here. – Leisure Lakes Bikes